Engcon to launch new mechanical and hydraulic pallet fork attachments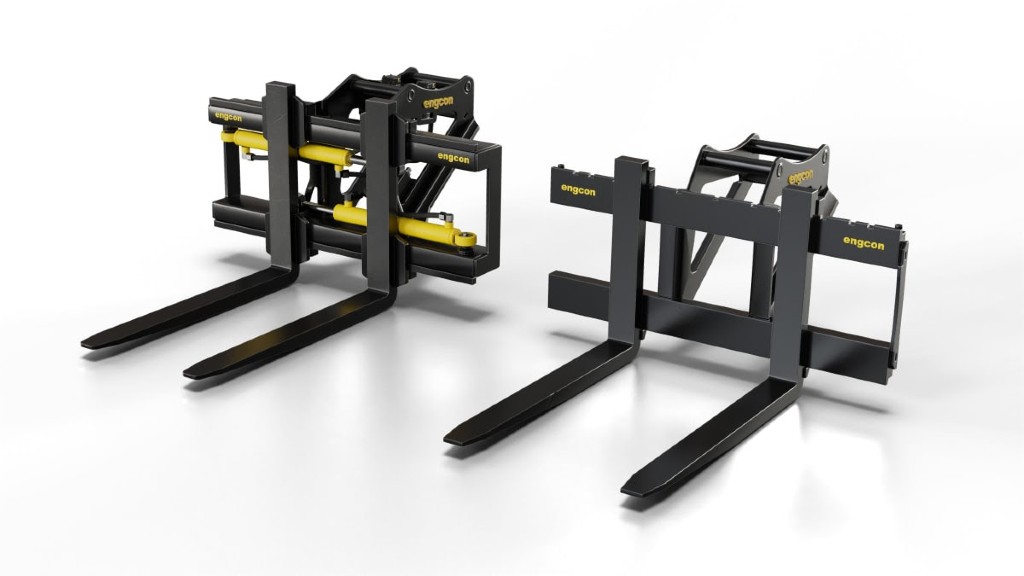 In the spring of 2022, tiltrotator manufacturer Engcon will launch a lightweight pallet fork for two to six metric ton excavators. As a result, the work that can be done by these machines is further expanded.
With a tiltrotator on the excavator, the type of work that can be done increases. With the ability to tilt and rotate the bucket, as well as connecting a variety of attachments under the tiltrotator, it makes an excavator a smart tool carrier.
Engcon has offered pallet forks for excavators, which has become increasingly popular. In line with the increased demand, Engcon has developed a lightweight pallet fork for two to six metric ton excavators.
"Pallet forks for excavators will soon be as common an attachment as the bucket on excavators working on construction sites or performing various service work," said designer Mikolaj Tepper, who has been involved in the development of the new pallet fork.
The new pallet fork comes in two versions, one hydraulic and one mechanical and it can handle a load of two metric tons of TP500 which means that it is rated for two metric tons of load 500 mm out from the back edge of the forks. The weights are calculated at 141 kg for the mechanical and 151 kg for the hydraulic pallet fork and the standard length of the forks is 800 mm.
The hydraulic version is adapted for Engcon's automatic quick hitch system EC-Oil enabling the driver to connect the pallet fork and its hydraulics automatically without stepping out of the cab.
"The hydraulic pallet fork with EC-Oil fits perfectly with our new EC206, which later in the year will be equipped with our automatic quick hitch," said Mikolaj Tepper.