5 things to look for in your next telehandler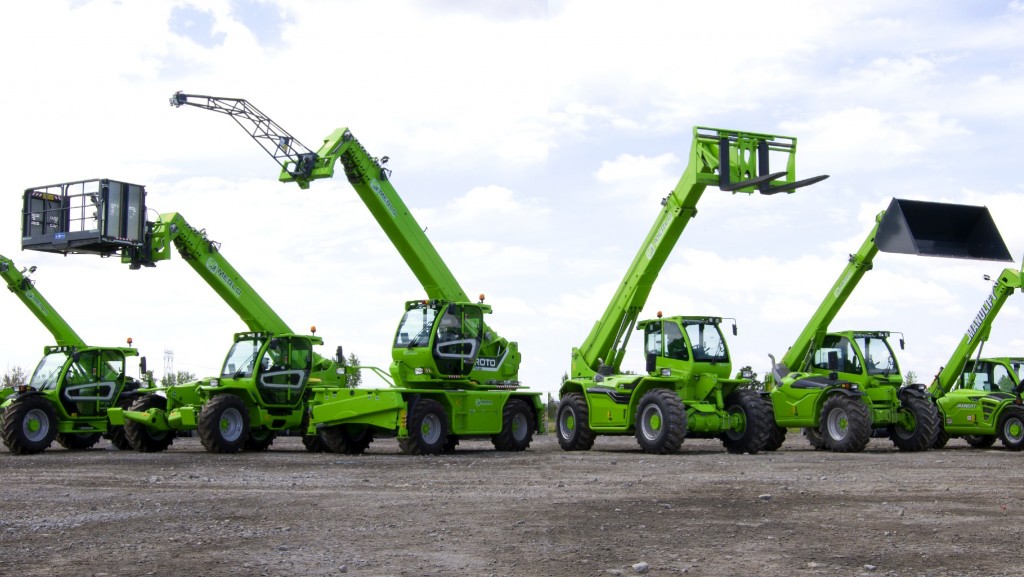 Telehandlers are a vital part of many job sites. Thanks to their versatility, ability to increase productivity, safety advantages, maneuverability and ever-improving technology, they're key to optimizing operations.
Adding a telehandler to your fleet requires knowing what to look for. Here are five essential details to keep in mind when buying your next telehandler.
Find a model that fits your needs
The last thing you want is to have a telehandler sitting idly by on your worksite. The best way to maximize your operational gains with a telehandler is by using it as much as possible.

To find the right model, you need to know if you require long boom reach, lifting capacity, a machine for the farm or for a construction job site, a compact machine to fit in tight spaces or a rotating telehandler to lift material or humans high up. Your daily task and your trade will influence your choice. For example, a 360-degree rotating telehandler, such as the Merlo Roto, is extremely popular on residential construction sites with roofers, framers, form workers and steel erectors since the machine can work 10 hours a day, lifting material far out and high up, without ever changing position.

Working with the right telehandlers can offer increased productivity, even when you're not inside the cabin. A remote-control option is great for when you must work in tight areas or from a basket or platform.

When a telehandler is on a worksite, operators can save time and effort thanks to the efficient build, the ability to switch attachments fast and their versatility to be used for almost any task.
Capability considerations
Your telehandler is a jack of all trades, and should be capable of handling any task on your worksite. Need to load or unload materials from a delivery truck? Use a telescopic forklift. Need to lift bricks to your masons on the fourth floor of a residential building? Lift it with the telescopic boom. Working on an excavation project? Telehandlers equipped with a bucket can provide plenty of digging power.

On the search for your next telehandler, versatility should be near the top of your list. Telehandlers can be found working on landscaping projects in downtown Montreal or driving through the Alberta prairies. This level of versatility is key for your operation. Unloading, handling, lifting materials or workers, stacking, digging: most owners put telehandlers at the centre of their operations.

It's the reason telehandlers can be seen on high-profile projects such as Toronto's Eglinton Crosstown LRT project, the Calgary west road, the Montreal light train and several bridge maintenance jobs across the country.

Your goal when purchasing your next telehandler should be to find a machine that can replace the capabilities of two or three of your other machines – such as a forklift or skid steer.

Look for capability that will deliver the best solutions to your operations. Factors to consider include:
Performance
Speed – how fast can the machine travel from one site to another?
Power – how much can it lift?
Precision – a hydrostatic transmission can ensure millimetric variations in the movements of the machine and in the positioning of the load.
Stability – a perfectly balanced machine with no extra rear counterweight, strong outriggers and automatic frame levelling.
Efficiency
Maneuverability – a short turning radius and 4-wheel steering can allow you to turn on a dime.
Size – a compact and lightweight machine enables better access to tight spaces and guarantees safety, maneuverability, productivity and lower fuel consumption.
Comfort
Cabin – a large cabin with AC/heating and 360-degree visibility will keep operators comfortable and safe.

Cabin and boom suspension – good suspension allows for faster operation without compromising operator comfort or the load.
Don't skimp on safety
Before anything else, safety is the most important aspect of any operation. From a construction site to a dairy farm, the safety of your machine operators and workers comes first.

When you're using a machine as much as you use a telehandler, your operator needs to always feel safe and comfortable. This not only helps prevents injuries and accidents but also increases productivity and efficiency. Many safety features on telehandlers are also designed to provide operational gains.

Features such as 360-degree visibility allow the operator to see the entirety of their surroundings, and also let them work more quickly as they don't have to check for blind spots.

Other safety features can be more subtle, yet just as effective. Load sensors will warn you if you're carrying too much weight before you tip. Some brands offer a reinforced "Ring of Steel" that wraps around the chassis and protects the machine, as well as its internal components.
The latest technology
Telehandlers equipped with sensor technology, such as those on Merlo machines, can track load weight, the attachment, height and angle in real time on an LCD screen in the cabin.

This technology should extend to every part of your next telehandler. Features like a tilting cabin are often the difference between buying or not buying a rotating telehandler.

"The tilting cab is a must-have because it just changes your visibility, never sitting there with your head bent, you can go up and down as you need to," said Winston Miller, owner of Winston the Framer, a production framing company in the Ottawa region. "It just makes your day so much more comfortable."

Features such as a large cabin, boom side-shift, cabin suspension system and auto-levelling are all appreciated by operators who spend hours working in the machine each day.
Selecting the right dealership
Another key is to find a dealer that will become a partner to guide you well before and after the sale. Telehandler specialists, like Manulift, have experts that are 100 percent dedicated to telescopic handlers. This means that they offer expert service, machine training, fast response, specialized road and workshop technicians, financing experts and good selection and availability of parts. When keeping these details in mind during the purchasing process, your next telehandler will help you take your business to the next level.