JCB North America launches its first-ever rotating telehandler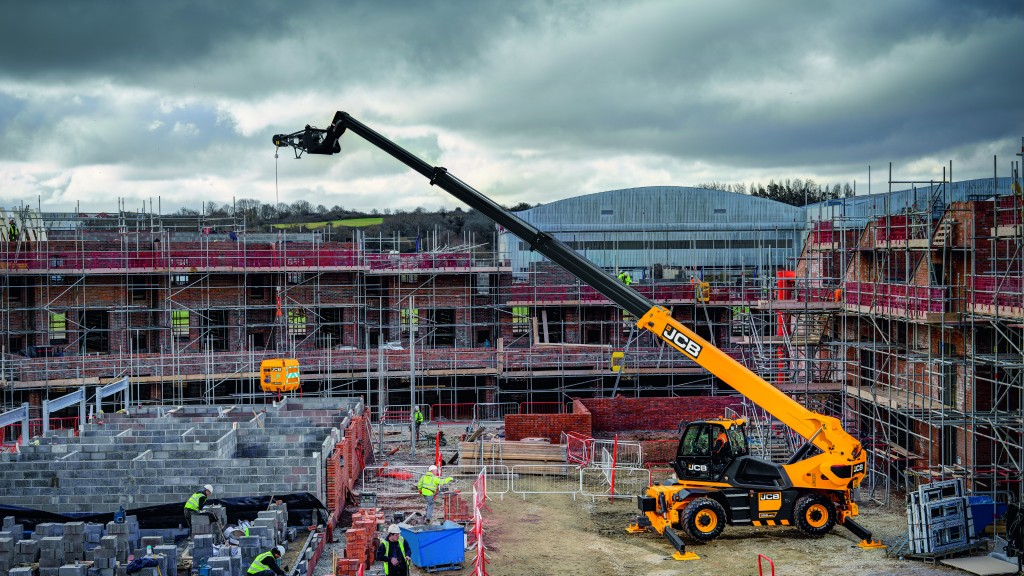 JCB North America is extending its portfolio with the launch of a totally new rotating telescopic handler range. Recognizing the growth in popularity of rotating machines with heavier lift capacities across the globe, the North American market will see the introduction of the 512-83R, offering a maximum lift capacity of 12,000 pounds (5.5-tonne) and a maximum working height of 83ft (25.5m).
Features include:
Eight stories of reach with a lift height of up to 83 feet (25.5 m)
Maximum lift capacity of 12,000 pounds (5.5 tonne)
Rapid set-up time boosting productivity with auto deploy, level and retract functions
7 inch display screen with programmable envelop limits
Wide range of attachments with RFID tags for active load charts including winches and aerial work platforms
Powered by 145HP (108 kW) JCB EcoMax engine and 2-Speed Hydrostatic transmission with a top travel speed of 25 mph (40 kph)
To ensure that set-up time is minimized, the stabilizers have Auto one-touch deployment, stowage, and levelling. Competitive lift end cycle times and high auxiliary flow rates for efficient winch work, boost productivity further. With a lower chassis mounted engine layout, the machine offers enhanced access and serviceability. A low, clean boom design provides all-round visibility, augmented by comprehensive work light options and camera kits, including a boom head camera for precise placement at height.
The machine is powered by JCB's efficient 145 horsepower (108 kW) Ecomax engine, offering a high degree of parts and service commonality with other Loadall models. The JCB LiveLink telematics system comes standard with 5-year subscription and will incorporate features that enable operators to take advantage of the performance of this versatile machine.
With a maximum lift capacity of 12,000 pounds (5.5 tonnes), the machine offers competitive load charts. In many cases, the machine features up to a 10 percent higher lifting envelope advantage over competitive machines.
The 512-83R can be used with a wide range of attachments. This includes pallet forks, carriage winch, jib winch, a reduced height jib, a lifting hook, light duty bucket, 360° rotating forks and a range of useful fork-mounted accessories. The machine also offers remote-control lift-end operation and the availability of aerial access platforms, in effect making the 512-83R three machines in one: a telehandler, a crane and a mobile elevating work platform. A range of specially developed JCB attachments using RFID technology can be identified by the machine, to automatically offer the correct load chart for the operator.
The 512-83R has been designed to meet the changing requirements of contractors and rental companies across the world. As an increasing use of off-site fabrication calls for heavier lift capacities and additional versatility, JCB's rotating telescopic handlers offer a genuine cost-effective versatile replacement for smaller fixed and mobile cranes, with rapid set-up, ease of use and the ability to carry out a wide range of technical lifting operations.