Big mining excavators: a roundup of all the major releases from 2021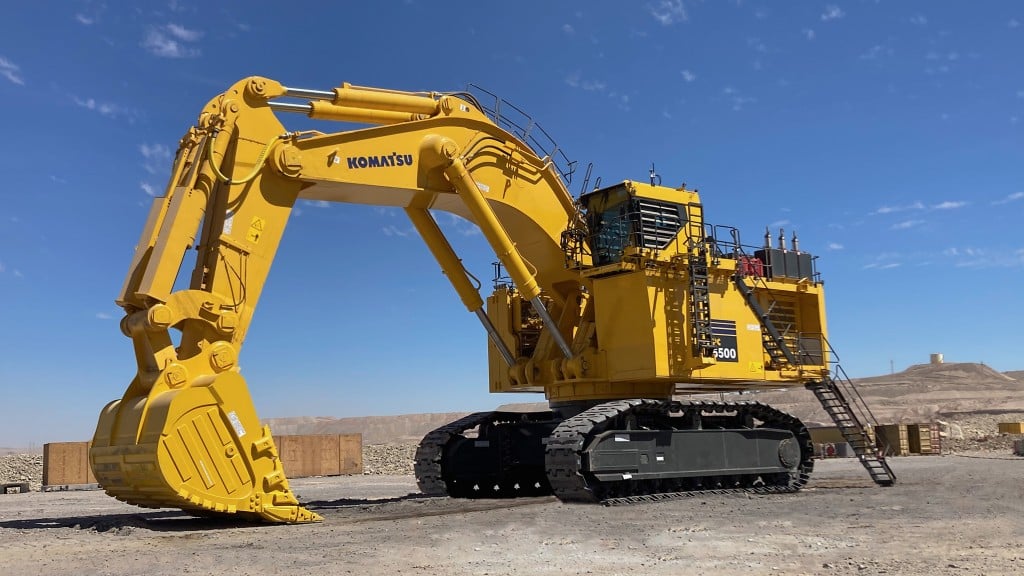 It has been a big year for mining excavator introductions – check out the year's new machines below. For more on the latest machines and technology for mining and quarry operations, follow our MINExpo coverage.
Komatsu's PC5500-11 mining excavator
The Komatsu PC5500-11 is a rugged excavator weighing 533 to 552 mt (588 to 608 st) depending on configuration. The twin-engine PC5500-11 offers a combination of sturdy construction and advanced technology to match with 150 to 240 st trucks.
With operator care a priority, the excavator has been developed and designed to meet the standards of the European Machinery Directive and Earth Moving Equipment Safety Round Table design philosophies.
Designed with operators in mind, the 45-degree ladder system offers comfortable ascent and descent, and the updated emergency exit system allows ease of egress from two independent locations. For situational awareness around the machine, KomVision can provide the operator an expansive view of the surrounding work area from inside the cab.
Equipped with two Tier 4 engines, the PC5500-11 delivers plenty of power with sustainability as a priority. Its exhaust aftertreatment system reduces particulate matter, sulfur oxides and NOx, while offering easy solutions for maintenance intervals.
To limit downtime and promote availability, the PC5500-11's newly revamped monitoring system, Komtrax Plus 2, helps create data reports that identify performance opportunities to help enhance productivity. Machine data is accessible via satellite for instant monitoring.
Cat 7495 and 7495 HF mining shovels
The 2021 Cat 7495 and 7495 HF electric rope shovels (ERS) combine multiple standard feature upgrades that increase operating efficiency up to 10 percent to improve machine productivity. Component enhancements, increased frame durability and improved serviceability help reduce cost per ton of material moved by as much as 15 percent.
Updates to the 7495 AC electric drive system deliver greater reliability, improved maintenance access, enhanced safety, and expanded high-altitude and temperature capabilities. A liquid-cooled motion regulator cabinet efficiently dissipates heat generated by electrical components and enables operation at -40 degrees C/F to 50 degrees C (122 degrees F) and altitudes as high as 5,250 metres (17,220 feet) without derating. A faster propel transfer switch cuts lag time by 75 percent to improve productivity, while common motors in multiple applications means fewer parts to stock, improved parts availability and simplified maintenance.
Slashing maintenance time by days while enhancing safety, reconfiguration of the crawler carriage allows drive shaft and tumbler replacement from the outboard side without removing the propel transmission. The new circulation filter employs two smaller, easily accessed filters that do not require roof panel removal for replacement. More affordable than the previous single-filter design, the new configuration also reduces replacement time.
Liebherr's R 9600 mining excavator
Liebherr's R 9600 enters the market after gaining a year of field experience in Australia, the largest market for 600-tonne-class excavators. A total of eight units will be operating in Australia by the end of 2021 before entering serial production at the end of this year.
The R 9600 is equipped with two QSK50 Cummins engines with advanced combustion technologies. Understanding that fuel costs form the major portion of the TCO for mining machines, Liebherr has developed and implemented LPE solutions (Liebherr Power Efficiency). These proprietary management systems for the engine and hydraulic system controls substantially reduce fuel consumption without compromising the overall productivity of the machine. An electric drive version will also be available soon, a productive choice for mine sites with the required electrical infrastructure.
The R 9600 attachment makes use of smart component design such as the patented "EVO" backhoe bucket, hydraulic cylinders, shift levers, bucket links and attachment pins. The result is an increased overall production rate without compromising component lifetime. Designed to be used in all applications globally, the R 9600 is built to last over 80,000 machine operational hours.
The R 9600 is also equipped with the Liebherr Assistance Systems. These advanced on-board applications are designed to support the operators in becoming more efficient through analytics and actionable insights from live data.
The Truck Loading Assistant helps the operator attain optimal productivity and efficiency. With 99 percent measurement accuracy, the system measures the instantaneous bucket payload and provides real-time information to the operator. The Truck Loading Assistant strategizes the number of passes required to achieve the target payload of the truck, and also provides a progressive update in achieving the strategy.
The first Liebherr hydraulic excavator (HEX) Automation Product introduced to the mining industry is the Bucket Filling Assistant, an adaptive or semi-autonomous digging product which is available as an option for the backhoe version of machines. This allows for easier and faster bucket filling with a consistent bucket fill factor, load after load even in tough digging conditions.
Liebherr's electric crawler excavators
Liebherr's R 976-E electric crawler excavator, along with the R 980 SME-E, replaces the ER 974 B for mine and quarry extraction. The latest electric excavators are not just converted diesel machines: the excavators and their electric power system were designed and produced entirely by Liebherr.
Robustly designed and capable of withstanding extreme conditions, they weigh 90 and 100 tonnes respectively and are available in backhoe and shovel versions. The machines feature a low noise level, optimum versatility and zero greenhouse gas emissions during operation.
The electric system in the new Liebherr R 976-E 400 kW crawler excavator is supplied with 6000 V power via a cable connection, with the cable inlet in the centre of the undercarriage, or on the sides if requested. A motor cable drum is also available as an option. The machine is powered by a high voltage 6000 V/50 Hz current collector. A switch cabinet transformer (high voltage/low voltage) and a low voltage cabinet for power distribution and control of 690 V, 230 V and 24 V networks are located on the upper carriage.
Due to its constant speed regardless of the load, an excavator with an electric engine has a longer service life. Also, the high availability of transient power for complex machine movements enables high productivity.
The R 976-E's low-voltage electric squirrel-cage engine drives the hydraulic system. The engine features heat shielding on bearings and motor windings. Integrated into a frame with a reinforced flange, it enables safe, soft starting. The two robust electrical cabinets are assembled by welding into a structure specifically designed to withstand extreme working conditions. The lockable watertight doors are fitted with safety switches and an emergency stop. The high voltage cabinet is a dedicated contact for power connection and voltage transformer, while the low voltage cabinet is used for power connection monitoring.
Learn more about Liebherr's new electric crawler excavators here.
Cat's 6040 hydraulic mining shovel
The Cat 6040 hydraulic mining shovel features an added engine configuration that meets U.S. EPA Tier 4 Final and EU Stage V emission standards.
The new configuration includes two fuel-efficient Cat C32 engines, offering a total gross power rating of 1,550 kW (2,079 hp). The engine package includes maintenance-free diesel oxidation catalysts (DOC) and does not require diesel exhaust fluid (DEF)/AdBlue or diesel particulate filters (DPF).
The new engine option joins the twin C32 configuration with optimized fuel efficiency settings to meet China Nonroad Stage III emission standards, equivalent to U.S. EPA Tier 2 as well as China Smoke Category III limits.
The 6040 shovel load rollers and idlers now feature duo cone seals, steel-back bronze bearings and fixed axle technology to increase service life and eliminate overheating during travel.
With its 39.6-tonne (43.7-ton) bucket payload, the 6040 shovel offers optimal 4-pass match with Cat 785, 5-pass match with Cat 789 and 6-pass match with Cat 793 mining trucks.
Product Link Elite integrated technology comes standard on the 6040 shovel and delivers data communication to both the local server and cloud simultaneously. Information transfer from the equipment can be configured via cellular, satellite or mine network connection.
Hitachi Construction & Mining Division's EX2000-7 mining excavator
Hitachi Construction & Mining Division unveiled the EX2000-7 at MINExpo - its latest EX-7 Series mining excavator that provides enhanced efficiency, reliability and durability. The new excavator joins the EX1200-7, EX2600-7, EX3600-7 and EX5600-7.
With the new Cummins QST30-C, the EX2000-7 features less fuel consumption for significant cost savings and lower environmental impact. Main pump electronic regulators, high hydraulic efficiency regeneration, and a cooling package work together as sustainability technologies that help reduce fuel consumption by up to 20 percent (compared to the previous EX1900-6 model with Cummins configuration).
The EX2000-7's hydraulic system conserves energy as each individual control valve is closely adjusted to direct the exact required amount of pressure to each cylinder and swing motor from the pumps. The result is lower fuel consumption and improved pump life.
A larger hydraulic oil cooler with variable speed fan also helps reduce energy demand and creates a more reliable hydraulic system. The oil cooler is kept separate from the radiator to effectively reduce hydraulic oil temperatures, increase hydraulic service life, and improve maintainability.
In terms of durability, the EX2000-7 features a stronger, more durable mainframe than previous models. Stress is now more evenly dispersed across the improved frame shape, increasing machine durability and reducing downtime. The connection between the EX2000-7 arm and boom has been upgraded from one connecting pin to two connecting pins, increasing front attachment durability.