Hammer and breaker attachments for skid-steer loaders
Turn your skid steer into a demolition machine with these attachments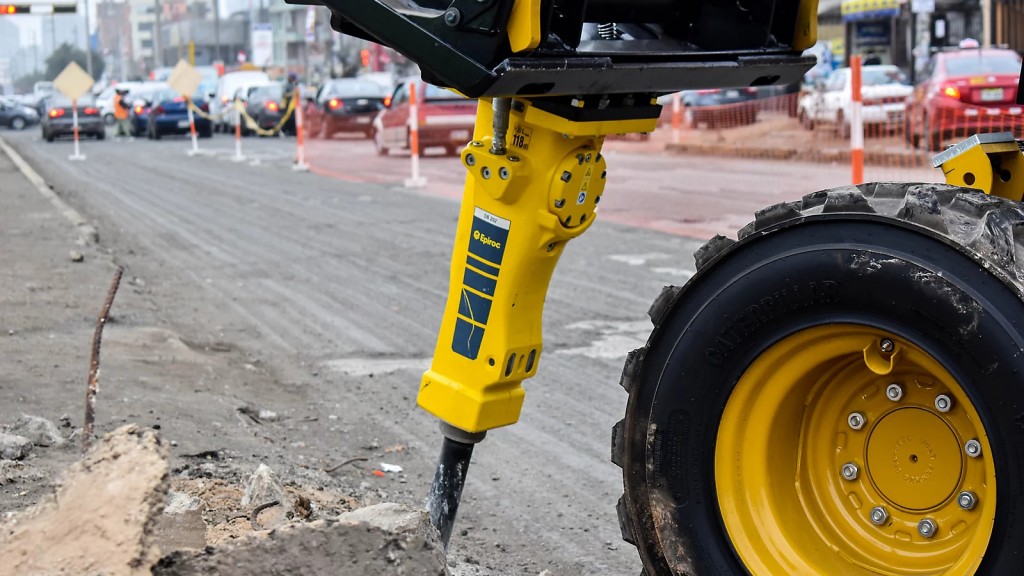 Used to break asphalt, concrete, rocks and other hard material, hydraulic breakers and hammers are common attachments used in excavation and demolition projects. When paired with a skid-steer loader, contractors are able to access tighter spaces and add more versatility to the job site while maximizing the machine's capability.
Epiroc SB202 Solid Body breaker
Epiroc's SB202 Solid Body breaker is ideal for demolishing small concrete structures and asphalt pavements, both outdoors and indoors, performing earthworks, scaling in underground operations, and cleaning ladles and converters in foundries. The Solid Body concept integrates a percussion mechanism and guide system into a single block of special cast iron, decreasing the total number of parts. It also eliminates components like damping and guiding elements and tie rods or stud bolts completely for a compact shape to simplify handling.
Connect Work Tools CH Series concrete breakers
The breaker attachments from Connect Work Tools' CH Series are highly productive hydraulic breakers that are designed for excavation, highway, building maintenance, and demolition projects in urban areas. The durable hammer can be maintained with standard tools, and slip-fit tool bushings allow for easy maintenance without requiring liquid nitrogen or specialty equipment.
Bobcat hydraulic and nitrogen breakers
Bobcat's hydraulic skid steer breaker attachment
Bobcat's HB880 hydraulic breaker attachment is designed to break through concrete, rock, and asphalt with ease. The breaker delivers maximum efficiency by matching the hydraulic capacity of the skid steer to the breaker, allowing consistent machine to breaker performance. It also provides a quieter and smoother operation while still maintaining the optimal amount of blows per minute.
Bobcat's nitrogen skid steer breaker attachment
Bobcat's line of six nitrogen breaker attachments covers compact excavators, compact track loaders, and mini track loaders, in addition to skid-steer loaders. The nitrogen breakers have minimal internal parts, a single lower bushing and easily accessible grease ports. These design features reduce the breaker's maintenance requirements and make rebuilds easier. The unique valve design of the concrete breakers lessens hydraulic pressure fluctuation, which reduces stress on the skid-steer loader's hydraulic pumps.
John Deere hydraulic hammers
John Deere's hydraulic hammers feature 30 percent fewer parts than previous models for simplified maintenance. They have also been redesigned to provide two to three times more blows per minute (BPM) than previous versions, for increased efficiency. Like all John Deere attachments, these hammers are optimized to work with Deere skid steers, compact track loaders and compact excavators. They're also compatible with most competitive machines.
Caterpillar H45S, H55S and H65S breaker attachments
Caterpillar's H45S, H55S and H65S breaker attachments for skid steers can be used in a wide range of construction and light demolition applications, such as breaking concrete sidewalks and driveways, pavement, roads, masonry, site prep and landscaping, and breaking frozen ground for utility repairs. Fully enclosed, silenced housing lowers overall noise level for a quieter, safer job site, while the internal power cell is protected, designed and engineered to eliminate stress points.
Stanley MB Series concrete breaker attachments
Stanley's MB Series of mounted concrete breakers focuses on simplicity, easy maintenance, and powerful breaking performance. All MB breakers have only two moving parts, which means less frequent service intervals. Steel reinforcement has been added to protect the power cell and keep operations running longer. The valve design allows for a wider range of pressures and flows, lowering stress on components. Plus, the light tool weight contributes to a broader carrier range.
Allied Rammer series of compact breakers
Allied's range of small and compact hydraulic hammers are designed for any breaking application for carriers between 0.6 and 15 tons. A built-in pressure adjusting valve maintains hydraulic pressure levels to ensure that every blow delivers the maximum power possible for optimum productivity. The series also features RD3, a monitoring system that provides detailed information about the operating hours, service intervals and GPS location of the concrete breaker.
Montabert SC-Series compact breakers
The SC compact breaker line from Montabert is designed to provide ease of maintenance and operation to ensure maximum uptime with a low cost of ownership. Nine models are designed for use with skid-steer loaders between 1 and 14 tons. Maintenance and overhaul are quick and easy due to fewer wear parts and no tie rods; bushing, pins, and tools can easily be replaced in the field without removing the breaker from the carrier.
CASE CE hydraulic hammers
Ideal for demolition, construction, and road maintenance, CASE hydraulic hammer attachments for skid steers feature a low pressure gas charge, a low hydraulic surge and just two moving parts. The hammers utilize an innovative blend of a simple design and advanced accumulator-free technology. With a complete range of 13 hammers on the same design philosophy, CASE hammers are ideal for a wide variety of applications, increasing the versatility of the carrier machine.
Okada small hammers
Okada small hammers are suitable for use with skid-steer loaders as well as mini excavators and tractor loader backhoes. Typical applications include demolition, excavation and trenching. Customized upper mounting brackets (UMBs) and quick coupler systems are available for all Okada breakers. Thirteen models of ORV breakers provide a broad range of skid-steer solutions for customers.
JCB HM026T breaker
JCB's HM026T contractor breaker is designed for use on compact excavators, skid-steer loaders, compact track loaders and compact backhoe loaders. The HM026T is available with three hanger options - top-mount, fixed side-mount hanger, and universal, without hanger bracket and hoses, for use on non-JCB machines.
Kubota BR Series of breakers
The Kubota-branded line of BR Series breakers is ideal for skid steers, compact excavators and compact track loaders. The BR310, BR360, BR460, BR510, BR560 & BR860 are ideal for demolition, frozen ground, and as a rental tool where optimum power and breaking efficiency is required. The hydraulic breaker is built to last a long time, with a service interval of 1000 hours. The breaker is also capable of up to 2600 bpm (bumps per minute), allowing it complete jobs faster.