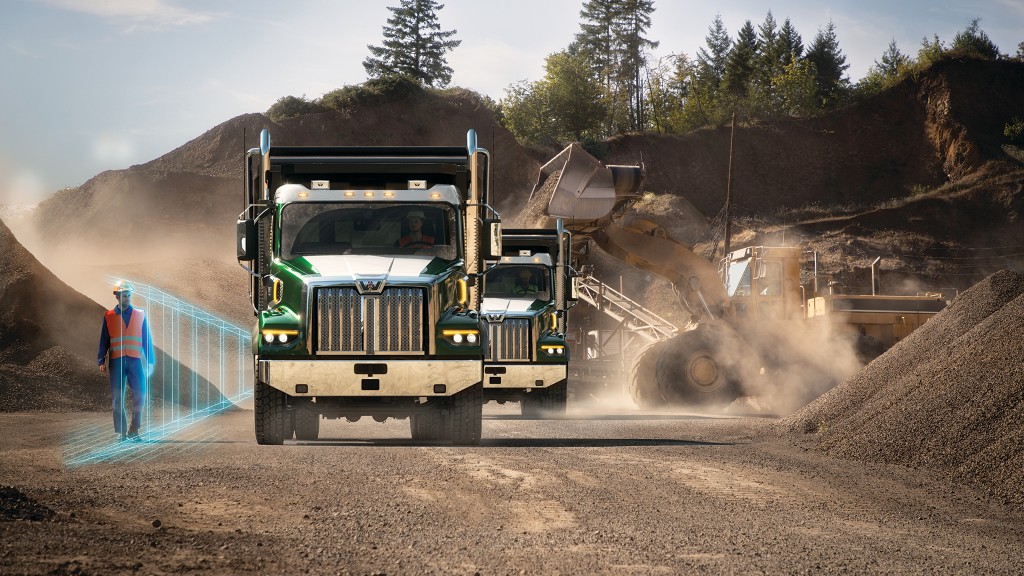 Vocational trucks are a ubiquitous sight on job sites of all kinds. They haul material, carry cranes, pump concrete and even remove refuse and recycling. They are also frequently used in tight spaces and around pedestrians, both on site and through the city streets. These multiple-use vehicles need to be as safe as possible for the driver and those around them. Heavy Equipment Guide asked vocational truck manufacturers to outline the ways in which they approach their design and technology for maximum safety.
Good foundation the start of safety
The range of applications and operating environments that vocational trucks must handle require a strong foundation - a chassis that can take a beating no matter what the day's operation might be. For Volvo Trucks, that means keeping in mind how the chassis and various bodies combine and evaluating safe operation.

"Vocational truck manufacturers for the most part only produce the cab and chassis - they don't have control over what an upfitter or body company might add to the chassis after it leaves the assembly plant," said Andy Hanson, Volvo Trucks product marketing manager. "Volvo Trucks works with body companies in both the design phase and after a truck is completed to make sure various applications don't adversely impact the overall performance of the vehicle."

The company approves its VEST (Volvo Enhanced Stability Technology) for each application, rather than by vehicle model, giving engineers an opportunity to see how various applications impact the safety systems on each chassis, Hanson added.

Autocar, in comparison, focuses on custom engineering specific to each application from the factory, which changes the approach to some extent - but still focuses around a safe, solid chassis, according to president Jim Johnston.

"There aren't many heavy-duty vocational trucks whose roles can be varied. The biggest challenge in the industry is quite simple: ensuring trucks are built right with a solid foundation from the very start, taking all the truck's components, technology and chassis and making sure that there is seamless body installation," Johnston said. "Trying to adapt a truck's application or adding different components and technologies after the truck is built reduces its efficiency and could affect safety. We pre-engineer our trucks so they are built right the first time; that avoids any disassembly or modifications at the body company."

Custom design work in the factory ensures that necessary modifications, whether to the body, electrical systems or other factors, are correct for the desired use, and all components are integrated from the start, Johnston said.

Understanding the specific applications and potential safety risks that might be experienced on the job informs the development of components that go into Mack trucks, according to Mack Construction Product Manager Tim Wrinkle. The addition of safety features from the start of development helps keep drivers safer, and improve the bottom line. Even something seemingly small can make a big difference.

"For example, Mack suggests setting the speed limiter while the dump bed is raised to help drivers remember to lower it before leaving a job site," Wrinkle noted. "This helps eliminate the risk of hitting overhead structures like bridges or power lines."
Overall design incorporates safety considerations
Designing for safety doesn't stop with the chassis, of course; it is part of the whole process of developing a truck for today's job sites.

Daimler Trucks North America, for example, recently introduced the new Western Star 49X, and the ground-up development included safety as a main pillar, starting with lighting options and incorporating many other features.

"The Dual Stage Intelligent LED headlights feature a 45-degree light pattern and have the ability to melt a layer of ice or clear condensation, so operators can see clearly in any condition," said Greg Treinen, product marketing manager heavy vocational with Daimler. "We design-engineered visibility into the 49X with a one-piece windshield that is one of the largest in the market, as well as a sloped hood design and three-piece rear window so operators can easily see all around."

Mirrors might not be the first thing to come to mind when considering safety design, but the 49X C-Bar mirror system is a key part of safety and visibility - its placement and the reinforcements in the door that make the system robust enough to reduce vibrations both make a big difference.

A corporate target of zero accidents is one of the Volvo Group's visions, and that extends to vocational trucks. Both passive and active safety elements are designed into the company's VHD, starting with the placement of the engine and transmission between splayed frame rails to provide a lower centre of gravity and more aggressively sloped hood for better visibility, Hanson noted.

"This low placement also allows the engine and transmission to fall below the occupants during a front-end collision," he added. "In addition, the VHD is built with high-strength steel and very tight manufacturing tolerances. This strong and tight construction, along with sound insulation, provides a quiet driver environment which reduces driver fatigue and distractions."

Mack trucks also focus on a strong cab for safety; Wrinkle said the Mack Granite exceeds rollover crashworthiness requirements as well as the company's own integrity standards for A-pillar and rear wall strength. Getting in and out of the cab safely also became a focus for Mack in the Granite design.

"Mack promotes safe driver entry and exit of the cab through full-length exterior grab handles and an interior door-mounted grab handle, standard on Granite models, to promote three points of contact for entry and exit," Wrinkle said. "The Granite model also features a low ground-to-cab floor distance, step spacing to accommodate most stride lengths, and a stair-like entry for safely entering and exiting the cab."

Knowing how, and where, customers intend to use their trucks is important to addressing safety for Autocar, Johnston noted. The company's design process considers the application, environment and operator as key elements.

"Designing vocational trucks with operating safety in mind starts with learning each customer's business and application's unique demands, as no two are alike, whether the application is in concrete, refuse, water blasting or airport refuelling," Johnston said. "The environment is often overlooked, but it plays a large role in our designs. Environmental considerations result in whether to include enhanced air conditioning, more condensers, extra insulation or ventilation, for example.

"Designing a truck explicitly built for vocational use requires design elements specifically for operators - demands such as driver visibility, turning radius, cab space and other design features to minimize distractions as much as possible," he added.
Advanced technology increases safety tools
Technology features are constantly expanding on vocational trucks, and many of them bring added safety to the mix, whether it is a new transmission, simple additions like backup alarms, or active braking assists.

Active steering systems like Mack's Command Steer help improve safety through ensuring the driver is more focused on the job, Wrinkle noted.

"Driving a heavy-duty vocational truck is demanding on the body, and the Mack Command Steer active steering system, available for Mack Granite axle back models, has been shown to reduce driver effort by 85 percent," he said. "Reduced fatigue and muscle strain promote job site safety and greater driver productivity."

Focus on the driver continues with Volvo's efforts to reduce driver distractions and provide a sound work environment. Hanson said that an automated transmission like Volvo's I-Shift can improve safety by reducing those distractions.

"The driver is no longer required to manually shift and can keep both hands on the wheel and focused on the obstacles outside the cab," he noted.

Other automation of key systems, like automatic wipers and headlamps, for example, are frequently overlooked but can be helpful by removing actions that the driver would otherwise have to focus on, possibly while navigating a complicated job site, and improve their focus on the task at hand.

One of the best safety features any truck can have is an operator with full control over all of their vehicle's functions without distractions, Johnston said.

"The key to designing severe-duty vocational trucks is integrating multiple safety and other technology features that make the modern truck cab a sophisticated communications centre," Johnston noted. "However, no amount of safety technology will make a truck safer if the operator's tools require more attention to technology than to operation."

Helpful technology additions aid drivers in recognizing concerns around their vehicles, and more and more handle emergency situations for them in extreme cases. Autocar's severe-duty cabover vocational trucks can take advantage of a suite of Advanced Driver Assistance System (ADAS) technologies that include auto braking, collision warning, blind spot detection and more.

The Western Star 49X came to the market with the Detroit Assurance suite of safety systems, which feature a range of options, Treinen noted. Side Guard Assist, for example, uses a variety of methods to recognize pedestrians and other obstacles in spots that drivers might not notice them; Active Brake Assist, Adaptive Cruise Control-to-Zero MPH and other features all aid in reducing danger to operators, workers, pedestrians and motorists around the truck.

Volvo has also introduced active safety through its Volvo Active Drive Assist (VADA) 2.0 system, an option on the VHD. "This safety system incorporates camera and radar technology to offer automatic emergency braking, alert prioritization, adaptive cruise control and can be paired with a lane departure warning system," Hanson described. Backup camera systems on vocational trucks are also becoming more popular, he added.

Bendix Wingman Fusion, a camera- and radar-based driving assistance solution, is offered on the Mack Granite, Wrinkle noted, along with Road Stability Advantage, which offers full electronic stability control technology by leveraging existing

ABS wheel speed sensors, steering, yaw and lateral acceleration inputs to deactivate the throttle and selectively apply brake in sharp curves or sudden maneuvers to prevent potential rollovers.
Evaluating safety needs for buyers
"Safe operations are good for business and the bottom line," said Wrinkle. "Promoting safety through company culture and safe equipment helps improve driver retention and can lower insurance costs. Initial up-front investments in advanced safety features outweigh the costs associated with crashes and other incidents affecting drivers, loads, equipment or other motorists."

There may be some additional cost to improved safety, but buyers should balance that against the potential costs of injury and higher insurance before shrugging them off, Hanson noted. Many features are standard on Volvo and other trucks. He advised that a full design plan be considered prior to picking the safety options. "A forward collision avoidance system becomes ineffective if the chassis has a hose reel mounted to a front frame extension, or a blind spot detection system might become ineffective if a plow truck has a wing plow blocking the radar," Hanson said. "Vocational truck building requires extensive planning and the ability to integrate many systems for many suppliers."

That planning should start by establishing a strong relationship with manufacturers, to work through pain points and evaluate job needs, Johnston said. Autocar's discovery process works through customers' requirements and targets practical approaches to find solutions, including for safety considerations that can vary from vocation to vocation and customer to customer.

"We work with customers to train key staff to understand the benefits of Autocar's process and how to operate the truck's features. We take responsibility for the entire lifetimes of our trucks and partner with our customers every step of the way," he said.

Buyers should look at safety from a holistic perspective when considering the truck to buy, according to Treinen. "Everything from visibility, to ingress and egress, to operator comfort to reduce fatigue, combined with active safety systems that are offered give the buyer a complete picture of how well they can keep their operator and the public safe."