Ford F-150 Lightning's electric debut: five takeaways for the construction industry
The first fully electric pickup truck has plenty of benefits to offer fleets and busy contractors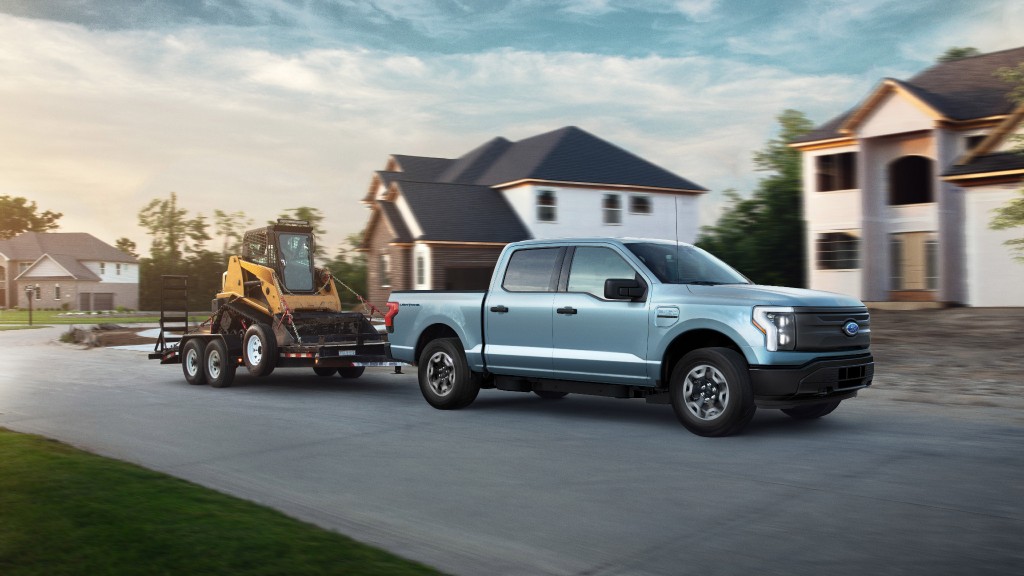 Ford's announcement of the 2022 F-150 Lightning created a huge buzz across the pickup world, and for good reason. This is the first major manufacturer to jump into the electric vehicle ring with a full-sized pickup - and not just any pickup, but the best-selling and hugely popular F-150.
EV technology is still evolving quickly. It will take some time to know just exactly how much of what Ford announced in its introduction event will truly come to fruition, but what we saw suggests there are plenty of potential benefits for contractors. From a base price well within reach of most buyers to the capacity for use as a backup generator, the F-150 Lightning Pro - targeted directly at fleets and businesses - promises good things for buyers in the construction sector.
Here are five points that caught our attention, and that are likely to be of interest to contractors:
How much can the F-150 Lightning haul?
Right off, it must be noted that Ford has not officially verified any of the performance numbers offered during the launch, but if its expectations are met when the F-150 Lightning Pro is ready to hit the streets then buyers won't have any problem with getting their equipment from point A to point B.
Two versions of the Lightning Pro, both offering always-on 4-wheel-drive, will be available - the base vehicle targets 426 horsepower, a 2,000-pound capacity and up to 5,000 pounds of towing, extended to 7,700 pounds with an optional Max Trailer Tow package. The extended range model is aiming at 563 horsepower and 775 lb.-ft. of torque, and has the potential to tow up to 10,000 pounds.
You can add to that some new storage space for equipment and materials where there used to be an engine - the Mega Power Frunk offers a hefty lockable, watertight space that can manage up to 400 pounds. All of this is found in a package that Ford has said will carry the same durability as any other F-Series offering: high-strength steel frame, military-grade aluminum, and additional components and shields to protect the electric motors and batteries.
What is the range of the F-150 Lightning?
Ford says its telematics data shows most fleet and commercial owners drive less than 174 miles in a typical day, so the range and charging options that come with the F-150 Lightning make sense for those users.
The base model will come with an estimated range of 230 miles, while the extended range battery will give up to an estimated 300 miles for longer drives. In addition, the truck comes with a complimentary 32-amp Ford Mobile Charger that gives small and medium-sized businesses a good start for arranging their charging infrastructure. An 80-amp Charge Station Pro comes with the extended battery; when combined with the onboard dual chargers, this enables affordable overnight charging using AC power rather than requiring more expensive DC installation.
A rapidly growing charger network - including Ford's own charge station options - gives drivers plenty of opportunity to top up, and the elimination of fossil fuel burning engines means a 40 percent reduction in maintenance costs, Ford estimates.
How can the F-150 Lightning power my job site?
In a remote site and need access to some juice to run some equipment? Like its predecessor, the hybrid F-150 launched in 2020, the 2022 Lightning Pro comes with Pro Power Onboard - a built-in AC power source that comes standard with 2.4 kilowatts of power available through standard plugs in the frunk, the cabin and the bed. A 9.6-kW version adds two more 120V and a 240V outlet in the bed. Users can run lighting, small appliances, power tools and much more from the truck's power supply.
Power draws from the battery, and range is automatically adjusted so users don't overdo it - fleet managers can set the charge level at which power is automatically shut down to keep trucks from being stranded.
In power loss emergencies, the F-150 Lightning has the ability to fill in the gaps. The available Ford Intelligent Backup Power allows the truck to offload 9.6 kW of power, which can be used to power lights, appliances, and so forth in a house that's lost power.
What technology tools come on the F-150 Lightning?
On such a technologically advanced truck it's no surprise that there are new tools that go beyond what we're used to in vehicle technology. One of those features is the Intelligent Range system, which pairs with the electric system to track the true distance that can be managed on a charge - an adaptive monitoring system tracks a variety of key factors to ensure that drivers know exactly where they stand when it comes to range. Terrain, weather, cargo and trailer load are all part of that calculation, and work through Ford's Power My Trip cloud-based feature and the installed SYNC 4 12-inch colour LCD touch screen and 12-inch productivity screen. Onboard scales are available to help monitor payload and fine-tune that range calculation even more.
Fleet managers can get a look at how their vehicles and drivers are performing through a range of telematics readings. EV-specific data like kilowatt-hour consumption, charge speed and others, help give a snapshot of vehicle health; in-cab driver coaching, remote vehicle pre-conditioning and severe incident notifications are all available as well, among other features.
How much will the F-150 Lightning cost?
One of the biggest roadblocks for EVs has been cost. Ford has definitely done its best to bring the price point of the F-150 Lightning Pro in at a level that will attract buyers in both the commercial and consumer ranges.
The base F-150 Lightning Pro for the commercial market will come in at about $58,000 Canadian - which, when compared to base model gas-powered F-150s, is not that much higher. Federal and provincial EV rebates (still to be determined) may be able to bring that price down even more, making the electric version even more competitive. The commercial XLT model will start at around $68,000 and come with a number of added features compared to the base model.