Lightning strikes as Ford launches fully electric F-150 pickup
New truck available in 2022 with onboard power, towing capability, technology upgrades and more
Ford has introduced the first fully electric pickup bearing a serious job site resume with the launch of the F-150 Lightning, a step ahead for the iconic truck that will offer a 300-mile range along with hauling and towing capacity at a low price point.
The new truck will be built in a new high-tech factory, using sustainable manufacturing practices, in Dearborn, Michigan. Ford is investing more than $22 billion into a global electric vehicle plan that, along with the F-150 Lightning, already includes a zero-emission version of the Mustang and will add the Transit work van later this year.
For the F-150, the design focus was to provide a pickup that is comfortable on the job site or off-road, at a price point similar to the existing F-150 models on the market - just under $40,000 US. Ford Canada's website states the MSRP will run from $68,000 to around $110,000. "The F-Series has always been more than just a truck. It has become a symbol of American strength, endurance and resilience," said Bill Ford, executive chair. "When we committed to making an electrified truck, we set a high bar. It had to be good enough to be called F-150."
Dual inboard motors and advanced battery bring high performance
Ford has upgraded the frame of the F-150 to support the advanced battery, which along with the dual inboard motors is also protected by heavy duty skid plates and crash-absorption protection to ensure strong off-road performance. A lower centre of gravity helps provide stability, and paired with the first independent rear suspension on an F-Series truck helps improve isolation from the road. The four-wheel-drive truck features four selectable drive modes: normal, sport, off road and tow/haul.
Performance-wise, the F-150 Lightning is expected to live up to its name.
"It hauls ass and tows like a beast," described Jim Farley, Ford president and CEO. "Range will never be a concern with this truck. You charge it overnight, and dual onboard chargers make it charge fast. If you need to charge it on the go, you will have access to the largest charging network in North America."
Ford says the F-150 Lightning targets 563 horsepower and 775 lb.-ft. of instantaneous torque, more than any previous F-150. It's expected to have a mid-4-second 0-60 mph time when equipped with an extended-range battery with 300 miles of range (the standard-range battery is targeting 230 miles). In the standard model, payload is targeted at 2,000 pounds, and towing is expected to have a maximum of 10,000 pounds of available capacity with additional packages.
Pro Trailer Hitch Assist will be available, allowing for automated control of steering, throttle and braking to align the hitch ball and trailer coupler. A range of other trailering assists are also available.
Power tools, job sites and houses from onboard
The Lightning is equipped with an enhanced version of Ford's Pro Power Onboard system introduced in 2020 on the F-150 hybrid models. The truck has a base availability of 2.4 kW available, with some models able to generate up to 9.6 kW. There are 11 outlets available around the truck, along with numerous other charge points. 360-degree zone lighting packages allow users to light up their job sites or campsites.
A new feature is Ford Intelligent Backup Power, available to make the truck a backup power source for the owner's home in the case of a power outage. Depending on power use the F-150 Lightning will be able to generate enough power to run a full home for up to three days - or up to 10 if power is rationed.
Up front, the truck boasts a 400-litre frunk that is waterproof and lockable, with power open and close. The space features a number of power outlets and charge points, and can carry up to 400 pounds of cargo.
Technology expands for Lightning launch
The F-150 Lightning offers seating for five and plenty of room to work - including the interior work surface introduced in the 2021 F-150. The redesigned cab features a massive 15-inch touch screen centre display that runs Ford's SYNC 4A system as well as a 12-inch instrument cluster. Over-the-air updates will ensure that the truck's systems are constantly improved. Owners will be able to use Ford's Hands Free Blue system on more than 100,000 miles of U.S. and Canadian divided highway - allowing for true hands-free driving in specific locations.
Interior technology isn't all available on the new truck. For example, owners who want to monitor their truck's payload can take advantage of onboard scales that will measure payload weight and note where payload is located in the truck. That can combine with other features to help calculate driving range with greater precision.
The F-150 Lightning will be available in early 2022.
Related Articles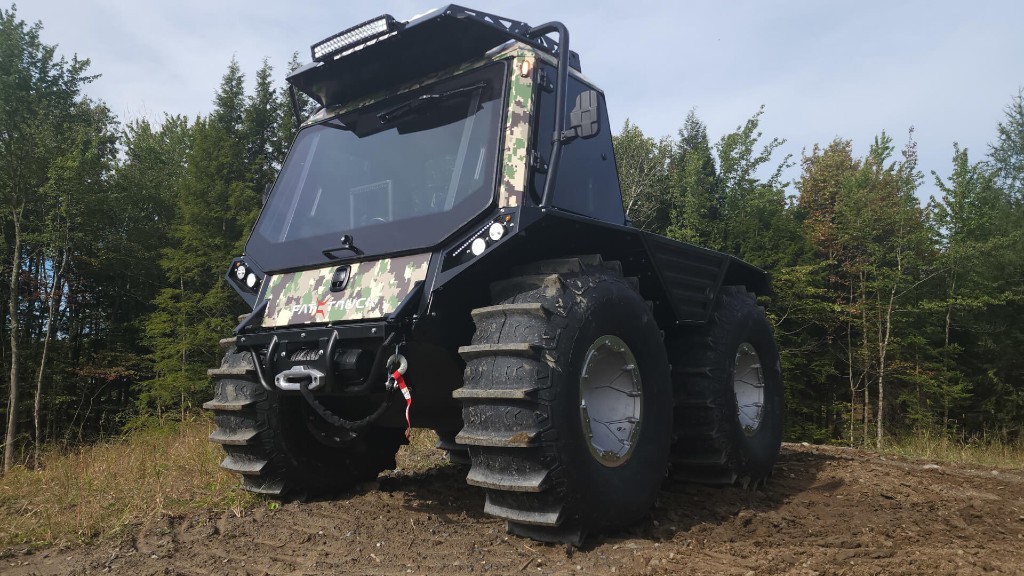 Zeal Motor rolls into The Utility Expo with new amphibious pickups, haulers, and wagons