In-depth report: Compact wheel loaders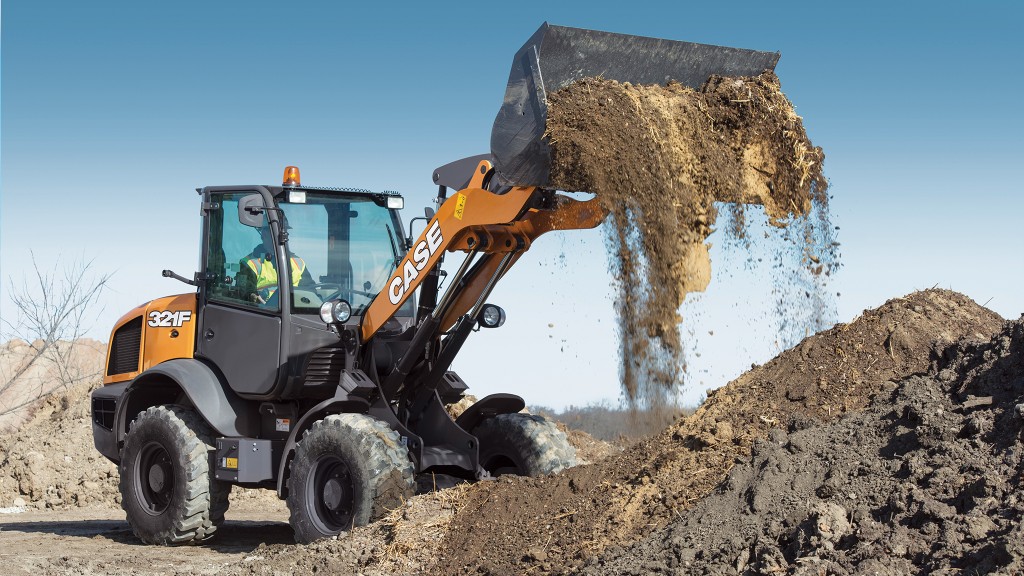 Compact wheel loaders have evolved from material moving machines outfitted with bucket or forks to more versatile equipment with options for higher hydraulic flow and expanded attachment use, more operator comfort features, and steering configurations that can be matched to the job site. We spoke with experts from across the industry to get the scoop on the latest options for compact wheel loaders, as well as application benefits and how these machines compare to skid-steer and compact track loaders.
What is a compact wheel loader?
When looking at a range of manufacturers, the definition of what classifies as a compact wheel loader isn't straightforward. Like compact excavators, there is no standard across-the-board definition for a compact wheel loader, as different manufacturers use different metrics to define their lineups. Bucket capacity, engine horsepower, application and operating weight are all parameters used to define the compact segment.
CASE Construction Equipment defines its compact wheel loaders using horsepower, designating models with an engine under 80 horsepower as compact, but the company compares its larger wheel loaders using lifting capacity and bucket size.
Caterpillar uses application as a guide, and Scott Britton, product application specialist, noted that "a typical compact wheel loader is used in utility-type applications, that is to say the operator is on and off the loader, working for short periods of time feeding the prime movers with materials as needed. Even though some customers will put their loaders to work for extended shifts seeing upward of 4,000 hours a year, we try to make it user friendly for multiple operators to quickly be familiar with a simple interface."
John Deere Construction & Forestry classifies its five compact wheel loaders with two categories: articulating loaders with a low profile and Articulation Plus machines that offer 30 degrees of articulation as well as 10 degrees of steering from the rear wheels.
Volvo Construction Equipment bases its classification on weight, with anything weighing in at under 10 tons considered compact. Jonathan Gardner, product manager for construction equipment with Kubota Canada, said that customers typically look for horsepower range and bucket cubic yards when buying a wheel loader, and Wacker Neuson classifies machines based on the capacity of the bucket in cubic yards.
What applications benefit from compact wheel loaders?
Compact wheel loaders pick up where skid steers and compact track loaders leave off in essential metrics like lift capacity, ground clearance, cab height/visibility and application versatility, according to Brad Stemper, North America product manager for compact construction equipment at CASE Construction Equipment. Choosing a compact wheel loader over a different type of compact equipment will depend on factors such as material weights, truck height or hopper height, and target bucket size. These factors will also determine the correct wheel loader size for an application; from there, application-specific options such as linkage, axle options and transmission type are available.

Compact wheel loaders excel in a variety of applications such as construction, site development, snow removal, landscaping, road work, agriculture, waste management and other industrial applications. In construction applications the compact wheel loader is an ideal piece of support equipment when outfitted with a bucket or forks for delivering materials to the working area.

Lee Padgett, product manager with Takeuchi, noted that these machines are also excellent support equipment for site cleanup during land clearing and demolition applications when outfitted with a grapple. In road construction and maintenance the higher travel speeds of these machines can save time.

Those travel speeds can be limited in applications where safety might be a concern due to tight spaces such as indoors or on narrow streets, according to Darren Ashton, product manager for compact equipment at Volvo Construction Equipment. Their low profile is also optimal for loading and unloading containers, he added, and their low centre of gravity provides added stability on rough terrain.

According to Luke Gribble, solutions marketing manager with John Deere Construction & Forestry, configuring a compact wheel loader with a high-lift option makes filling trucks in applications such as construction, landscaping and agriculture easier.

For snow removal, contractors are looking to reduce fuel costs and boost productivity, said Jay Quatro, field application and training specialist for Wacker Neuson. A compact wheel loader with articulated steering and higher travel speeds is the ideal machine to meet those needs.
Compact wheel loaders vs. skid-steer and compact track loaders
There are several considerations that come into play when deciding whether to use a compact wheel loader rather than a skid-steer or compact track loader, including visibility, ground clearance, articulated steering, lift capacity and travel speed.

"The compact wheel loader versus skid steer debate comes up all the time," said Britton. "Both are great machines in the right applications. One of the biggest advantages of a compact wheel loader over a skid steer is the position on the job site."

Greater visibility for the operator also delivers a safety advantage for wheel loaders in tight spaces, said Ashton.

There are several TCO advantages. Padgett noted that wheel loaders generally offer better fuel economy than skid steers or compact track loaders, and Ashton said that a compact wheel loader will usually have a longer service life compared to skid-steer loaders that may need replacement after four or five years. Quatro added that tires on compact wheel loaders don't need to be replaced as frequently compared to skid steers.

Gardner from Kubota said that wheel loaders are more comfortable for operators and will cause less fatigue leading to greater productivity.
Compact wheel loader trends
Industry experts have observed a number of trends in this category in recent years including size, operator features and attachment use.

According to Britton, wheel loaders weighing under 14,000 pounds are a growing category due to size and the benefits that come with being easier to transport as well as smaller and more maneuverable on tight job sites.

Stemper mentioned electro-hydraulic controls on CASE compact wheel loaders, which is a trend that carries over from its larger wheel loader line. "EH controls provide more opportunities for control enhancements in general, making the machine easier to use and increasing operator productivity."

For example, "CASE recently launched EH controls for their loaders, hydrostat and brake system. The EH loader controls provide the opportunity to adapt operator customization to adjust the responsiveness of the lift and tilt functions for improved control, efficiency and versatility on the job site."

Stemper added that bucket metering, which provides operators with more precise and consistent movement of the bucket edge while metering or sifting material into a truck, and an E-inching pedal to provide precise movements at slow speeds are trends for the compact segment.

Gribble sees the growth in the number of attachments that can be used with compact wheel loaders as the most significant trend of this product category, and high-flow capability offers more versatility.

"We've seen customers choosing compact wheel loaders to work in smaller spaces when a skid steer or compact track loader just isn't right for the job. Because some of the smaller compact wheel loaders can now use a wide range of attachments, they can be just as versatile as a skid steer or compact track loader, but with a higher ROC and more power," Padgett said.

"In general, the expansion of high-flow auxiliary hydraulics, advanced machine controls and available hydraulic attachments have made compact wheel loaders far more productive, versatile and easier to operate."
Attachments for compact wheel loaders
Along with other compact machines, the growing number of attachments that are compatible with compact wheel loaders is a significant trend that contributes to these machines' versatility, said Gribble.

The industry's first wheel loaders were designed with the sole purpose of scooping material, moving it and dumping it. Today, wheel loaders can do so much more, noted Ashton.

When using a compact wheel loader, about 75 percent of the time the required attachment will be either a bucket or forks, according to Britton. However, there are plenty of other work tools that are compatible with wheel loaders that will make them more versatile, such as cold planers, wheel saws and brooms. "At one point they could be performing a load and haul task, the next it can be cleaning the job site without the need for a secondary machine on site."

"In the past, only skid steers and compact track loaders with high-flow hydraulics could be outfitted with attachments like snow blowers, snow blades and plows, sweepers. pickup brooms and grapples," said Padgett. "Today, they can use all those attachments on their compact wheel loaders which makes it far easier and faster to get an excellent ROI on these machines than ever before."

Skid-steer style couplers offer the advantage of outfitting the compact wheel loader with skid-steer and compact track loader work tools and Quatro said that most compact wheel loaders in North America have switched over to a universal attachment plate.

Gardner noted that Kubota wheel loaders are becoming much more popular for snow removal with the availability of snow blowers, snow pushers, hopper brooms and sweepers, and Britton added that another trend Caterpillar is seeing is large, configurable snow wings on compact wheel loaders for clearing larger areas.
Articulated vs. four-wheel steering for compact wheel loaders
Whether to select a compact wheel loader with four-wheel steer or articulated steering will depend on several factors, including size of the job site and needed steering angle, the surface type, maintenance considerations and application.

According to Gardner, while four-wheel steer will provide a tighter turning radius, it does require more maintenance. Articulated loaders are more durable on rough terrain.

Ashton echoed the maintenance concern and added that "With an articulated wheel loader, there is a sort of rule: when you have to turn right or left in narrow places and your bucket is not touching the wall or structure, the counterweight will also not touch. The outer positions of the machine stay in the same radius. That's not the case with four-wheel steering."

According to Quatro, articulated wheel loaders work well on hard surfaces due to lower tire wear because of the steering mechanics. Meanwhile four-wheel steered machines have three possible steering modes: front wheel, all wheel and crab. The advantage of four-wheel steering is added stability. "Because the centre of gravity is not affected by the steering of the machine, the lifting capacity is not reduced at full turn with all-wheel steer. The off-road stability of the rigid frame makes an all-wheel steer loader a versatile and profitable addition to a fleet in high-speed construction applications."
What features should contractors consider when spec'ing a compact wheel loader?
Spec'ing equipment with the right options, and choosing the right size, will keep operators comfortable and productive and ensure your machine is suited to your job site. Features to consider include ride control, Tier 4 engine solution, hydraulic needs and more.

Quatro said the most important question to ask in choosing a wheel loader is the type of material and volume to be moved. He recommends consulting an online material density chart.

According to Stemper, contractors and fleet managers should look at options that reduce overall downtime, including easy ground-level serviceability and non-invasive Tier 4 Final engine solutions. When right-sizing a machine for your fleet, Stemper recommends knowing the weight and density of material that needs to be moved, the size of bucket needed and the size of trucks and hoppers that will be filled. Visibility and operator comfort are also important to consider – and a bigger wheel loader isn't always better.

Gribble agreed that operator comfort is key to consider, and noted that John Deere has taken steps to improve operator comfort including a comfortable air-ride high-back seat and the addition of ride control. A cab with heating and cooling will keep operators comfortable in all climates.

Gardner recommends considering terrain, weather and traction needs when selecting a wheel loader, and noted that differential lock is standard on all of Kubota's wheel loaders to maximize traction. Industrial or winter tires should be utilized if needed.

"Sizing a compact wheel loader, compact track loader, skid steer, mini excavator or any machine should always come down to task>tool>machine. What are you trying to do, what is the best tool to do that task with and what host machine will power/move that tool?" said Britton.

If you need the machine to do multiple tasks, Britton recommends sizing the machine to the primary task. Know the working envelope that you must work in and whether there are size restrictions, such as width or height, that will factor into your decision.

After assessing applications, Padgett recommends comparing bucket capacity, rated operating capacity, lift arm and bucket breakout forces. If you plan on using hydraulic attachments now or in the future, then look at auxiliary hydraulic capacity options. Operating weight is important to consider if you plan to trailer the wheel loader between job sites.

Ashton pointed out that there are several simple ways to reduce TCO of compact wheel loaders, so buying strictly based on purchase price isn't recommended. The machine should be sized to the job and attachments and tires should be appropriate for the application. Implementing regular pressure checks will also prevent premature tire failure. Machine monitoring programs will also help owners optimize the service life of their machine.