Task masters: an in-depth report on wheeled excavators
Wheeled excavators are productive tool carriers that can open up new business opportunities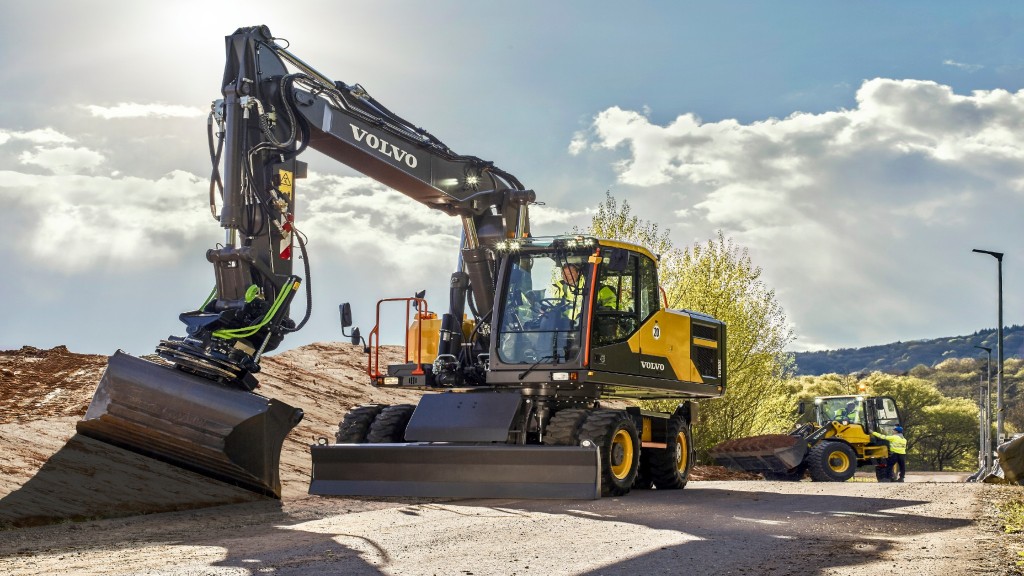 More commonly seen in Europe, wheeled excavators are a slowly growing category of construction equipment in North America. Not just for digging, wheeled excavators are productive tool carriers that can open up a contractor's business to new opportunities and fill a range of jobsite roles, including in roadbuilding and maintenance, on utility projects, for general construction and in municipal work.
They provide access to more jobsites and can get jobs done faster without trailering between work sites. We spoke with a panel of experts on the advantages and opportunities that come with adding a wheeled excavator to your fleet.
A slowly growing market
Matt Santee, product application specialist at Caterpillar, noted that in North America demand has traditionally been highest on the east coast of the U.S., but Cat is seeing new opportunities in the rest of the U.S. and Canada.
Doosan has seen similar trends. Aaron Kleingartner, product and dealer marketing manager, has observed that while the market in North America has remained relatively flat as wheeled excavators have not caught on here for construction applications, there are exceptions in the northeast United States. "The use there is driven, primarily, by the older metropolitan areas where space is oftentimes limited and a wheeled excavator may be needed to drive on older, established surfaces to complete infrastructure projects."
"Wheeled excavators have been common in Europe since the 1970s but are relatively new to North America," said Matthew McLean, product manager, excavators at Volvo Construction Equipment. "Wheeled excavators have been gaining in popularity here though, as contractors and government fleets increasingly recognize their versatility and speed. Another contributing factor has been the growing number and availability of wheeled models in North America."
Veronique Kennerson, product specialist for excavators at Mecalac, has observed differences in demand for wheeled excavators depending on size. While the market for medium wheeled excavators is significant in Europe and growing in the U.S., the small wheeled excavators, ten tons or under, are relatively new and there isn't a broad range of offerings in this size.
"The wheeled excavator market continues to see small but consistent growth in North America," said Patrick Baker, product manager for large excavators and Hydradig at JCB. "I believe the wheeled excavator market will continue to trend upward as we move into 2020 and beyond. JCB has experienced growth in the wheeled excavator sector due to two main catalysts – increased construction and growth in large urban cities, and municipality and township use.
"Larger, urban cities continue to expand resulting in smaller jobsites and smaller working areas, which benefits a more mobile, maneuverable wheeled excavator."
Applications and jobsites
Wheeled excavators can do it all, according to Kennerson. "Apart from working on big or muddy slopes, where a crawler remains the best option, they are the most versatile excavator available. Whether in construction, roadbuilding and maintenance, utility, sewer and water, waste, or even forestry applications, these machines can quickly turn out to be a competitive advantage."
Wheeled excavators are beneficial for contractors or municipalities who need to drive the machine from point A to point B, particularly in road maintenance applications, Kleingartner noted. A trailer may not be needed at all, which will decrease the travel time and reduce costs. Once at the jobsite, a wheeled excavator can work on a finished surface without causing damage.
McLean noted that in addition to this mobility, a wheeled excavator can tow a trailer containing attachments and work materials.
While there has been an uptake in usage by government agencies, road and bridge contractors continue to be the primary users of Cat wheeled excavators, according to Santee. "On the jobsites they are appreciated for their versatility for a multitude of tasks – carrying materials (pipes, jersey barriers, manholes), loading trucks, operating attachments. The mobility on a site without damaging the ground makes it an essential piece of equipment to boost efficiency and save costs for the jobsite," he said. "A common misconception is that wheeled excavators are only for paved surfaces when, in reality, they work on dirt very well."
Other key applications for wheeled excavators include utility pipe replacement, sidewalks, parking lots, airport rework or extensions where lift capacity and mobility are needed.
"A growing type of application is one where the full use of the hydraulic power is required. This can be anything from attaching a mower head or brush cutter to clean up vegetation alongside a road to using a snowblower to clean railways (with a modified chassis)," added Santee.
McLean noted that wheeled excavators are not niche machines. "Wheeled excavators are now viewed as general purpose machines that can be used in a lot of applications based on the configuration and attachments being used. For example, swap an outrigger for a dozer blade, add a tiltrotator, and you have a versatile and mobile machine for utility installation."
There are some key misconceptions about wheeled excavators, he added. "I've found that some contractors and public works directors need education that, despite what they may have heard, there's no loss in performance with a wheeled excavator. With outriggers you won't be sacrificing on power, breakout/tearout forces, reach or digging depth, either."
He added that wheeled excavators don't just offer advantages over tracked excavators, but can also provide certain advantages over skid-steer loaders and backhoes. Compared with a skid steer, a wheeled excavator provides higher reach, greater visibility and 360-degree swing radius. Compared with a backhoe, a compact wheeled excavator can maneuver more easily and offer the 360-degree working radius.
"We tested the EW60E against a competitively sized backhoe. When digging a trench 60 feet long and 3 feet deep, the EW60E did the work 38 percent faster and used four times less fuel than the backhoe. In the second test, the EW60E dug a pool 9 by 9 feet, 3 feet deep in half the time and burned a quarter of the fuel compared with a backhoe."
Key mechanical differences
The most obvious mechanical difference between a wheeled excavator and a tracked excavator is the undercarriage, but wheeled excavators can also provide differences in the hydraulic system, different controls, and have more boom and stick options than their tracked counterparts.
The variable angle boom is a key feature found on many wheeled excavators; the extra point of articulation on the boom allows these wheeled excavators to work both further from and closer to the machine with less repositioning and allows the boom to pull back further to provide a smaller travel profile and increased visibility for roading.
Santee said that a Cat wheeled excavator is designed to be a tool carrier. "When the machine's hydraulic system is pushed, it will prioritize providing flow to the stick and boom."
Cat wheeled excavators also feature a dedicated swing pump to provide multifunction capability and offer the operator controllability when running high-flow attachments.
The most obvious difference is the undercarriage. "A wheeled excavator undercarriage is completely different – with four wheels, a straight rear axle that may oscillate and a front steerable axle that oscillates, allowing the wheeled excavator to travel across difficult terrain," said Kleingartner. "Also, Doosan wheeled excavators can be configured with four outriggers or two outriggers on the rear of the machine and a blade on the front of the machine. The blade can be used for machine stabilization or grading and leveling dirt in non-road applications."
Kennerson said that there are a number of differences that come along with a wheeled machine. Wheels are higher than tracks, which means the position of the upper frame needs to be raised, which also raises the machine's centre of gravity.
"Mecalac designed its MWR Series from scratch, looking at solutions developed for machines meant for handling applications and thus requiring great stability, like telehandlers. On telehandlers the cab is placed between the wheels, close to the ground to keep it low for stability. This is exactly what we did with our wheeled excavators."
Baker said JCB has engineered the Hydradig to have all major components underneath the cab in the chassis to lower the machine's centre of gravity.
Kennerson also added that wheeled excavators usually use more engine power, as the transmission requires more power for roading. "They are usually equipped with a hydrostatic transmission and a gear box depending on what speed they can reach. Mecalac wheeled excavators feature an automatic gear change for an easier operation. They also offer an independent pump for its transmission. This allows for speed and smoothness of the ride; it is independent from the other functions of the machine."
"On Volvo excavators, the engines are shared between the crawler and wheeled models, but they do differ in their hydraulics. Our wheeled excavators use a load sensing hydraulic system that allows maximum utilization of available engine power, increasing controllability and responsiveness," said McLean.
Maintaining a wheeled excavator
Given the obvious mechanical difference between a wheeled machine and a tracked one, it comes as no surprise that there are different maintenance procedures that will need to be carried out on the wheeled machine.
"The biggest difference can be found when greasing service points on the boom and undercarriage. Operating a variable adjustment boom introduces additional grease points compared to a one-piece boom. To assist customers with greasing these additional points, Cat wheeled excavators come standard with autolube," said Santee. "The autolube system not only greases the variable adjustment cylinder bushing, it also greases all daily service points on the upper portion of the machine. When you compare a wheeled undercarriage to a track undercarriage you will notice a few additional grease points. To make greasing these points as simple as possible, Cat wheeled excavators utilize central grease banks that hit multiple points with one grease zerk and extended service interval bushings that don't require grease daily."
Kennerson said that the undercarriage difference actually results in reduced maintenance downtime and lower service costs. Servicing tracks is expensive – wear damages a range of undercarriage components on a tracked machine. With wheels, the tires just need to be changed.
McLean added that on a wheeled machine drive axles, hubs and tire pressure need to be inspected and transmission oil levels need to be checked.
Baker said that the JCB Hydradig is very easy to service and maintain. "By packaging the engine and tanks in the chassis, all service points are easily accessible from the ground level. Climbing onto tracks or wheels to carry out daily checks and maintenance is a thing of the past. The Hydradig has 500-hour greasing intervals on all dig end and dozer pivot points saving the operator time and money by greasing all points at the same service interval."
Kleingartner noted that wheeled excavator owners need to maintain proper tire inflation. "Wheeled excavator owners also need to inspect the outriggers and blade (if equipped) for wear and maintain them as needed."
Technology and efficiency features
"The articulated two-piece boom is definitively a must," said Kennerson. "There is no comparison in terms of efficiency." This boom design eliminates the need to reposition the machine when trenching and offers better visibility to the right of the machine and better balance when roading. She added that the Mecalac boom can be folded more into the rear of the machine, which then acts as a natural counterweight. It also allows the operator to work closer to the machine but offers far reach as well.
All of the manufacturers noted that wheeled excavators are ideal for a diversity of attachment use. Adding a tiltrotator greatly diversifies the number of tasks that a wheeled excavator can perform.
"Tiltrotators can take a wheeled excavator to the next level, increasing its versatility and efficiency on the jobsite," said Santee.
Baker said that JCB has working with Steelwrist for a few years. "Tiltrotators allow the operator to do more jobs with less, due to the versatility of the attachment paired with the [Hydradig]."
"[Tiltrotators] are a great solution to increase the versatility of your machine as they allow you to turn your work tool 360 degrees and tilt it," said Kennerson. "But they are also heavy and add length, thus reducing your performance when working. Any time you add weight and distance between the stick and work tool, you lose force and performance."
She added that a tiltrotator is usually installed directly on the stick to reduce weight and distance. That assembly is time-consuming so once installed the tiltrotator usually stays on the machine. She noted that Mecalac is about to introduce its own tiltrotator, which will mount on the company's CONNECT hydraulic quick coupler, directly integrated into the stick. This will allow the tiltrotator to detach within seconds.
McLean said that Volvo wheeled excavators feature the company's Attachment Management System, which stores flow and pressure settings for up to 20 attachments to make swapping work tools easier and faster.
While technologies such as Trimble and Topcon systems for excavation are beneficial for wheeled excavators, they are less of a focus than hydrostatic transmission and multiple hydraulic circuits, according to Baker.
Adding a wheeled excavator to your fleet
According to McLean, there are several reasons a contractor should add a wheeled excavator to their fleet. "The first is mobility. If your work requires moving from site to site, a wheeled excavator is a great way to meet those needs. If you're not doing that type of work now, adding a wheeled excavator to your fleet could open you up to new markets. There's also the labour and time savings of not needing to tow units from site to site and from the lesser ground and pavement disturbance," he said.
"The JCB Hydradig is ideal for a contractor who has multiple jobs going on around a city but may not need an excavator on the job for extended periods of time. The Hydradig can go job to job at 25 mph in a single lane of traffic saving the contractor time and money, unlike a tracked excavator that requires loading, unloading and transporting from job to job," said Baker.
Kleingartner said that the most common reason for contractors who traditionally operate tracked machines to consider a wheeled model is if they need to use the machine on concrete or asphalt, such as contractors who perform road and bridge construction or maintenance.
That's not to say that a wheeled excavator can't be used on dirt, noted Santee – they definitely can. "The variety of tire options available allow a wheeled excavator to travel nearly anywhere a tracked machine can. If a contractor finds themselves checking which machines in their fleet are outfitted with rubber pads or looking for steel plates to put down on paved surfaces to work, a wheeled excavator would be a great addition to their fleet."
"Another thing contractors should consider is that this isn't an either-or decision," added McLean. "It doesn't have to replace a crawler. Wheeled and tracked excavators can be a great compliment to each other and give you a more well-rounded, versatile fleet."
A wheeled excavator can help you get ahead
"A contractor once told me he measured the productivity of a wheeled excavator not by the amount of material moved, like a traditional excavator, but by the number of jobsites/tasks he can finish on time per week. It's about doing more with less equipment," said Santee.
Kleingartner provided another example. "A contractor may be hired by a municipality to remove a portion of an existing concrete street. The contractor can drive the wheeled excavator on the existing concrete without damaging it. Once at the site where the concrete needs to be removed, the wheeled excavator operator can use a hydraulic breaker to demolish the concrete. Then using a quick coupler, the operator can easily switch the attachment to a bucket to lift and load the concrete into a truck. Once the concrete has been removed, the wheeled excavator can quickly leave the site to make way for the next stage of construction."
"The operator can work independently and do it all on the jobsite," said Kennerson. These machines can drive to the jobsite; tow a trailer; and dig, load, carry and lift. On top of that, she added, Mecalac wheeled excavators can handle pallet forks thanks to the boom kinematics. "Their versatility has no peer and offers contractors more flexibility to manage their fleet."
Buying tips
Santee said that buyers need to consider the number of hydro mechanical tools that will be used with the machine. "With standard high and medium pressure lines and a quick coupler circuit, Cat wheeled excavators are the Swiss Army Knives of the jobsite."
McLean suggested that contractors should look at how much machine they need, whether the excavator will be going up a lot of hills, or if short tail swing is vital. Towing packages are also available for operators who need to bring their attachments, supplies and safety gear along with them.
Kennerson said to look at the design of the machine for stability and for ease of access for the operator including height of the cab and location of the steps.
"If contractors are considering a wheeled excavator, they should visit a local equipment dealership and consider renting a wheeled excavator," suggested Kleingartner. "Once they see how the wheeled excavator performs, they may be surprised at how comparable it is to a similar-sized tracked excavator. This may provide new business opportunities for contractors who traditionally perform only non-road work and can now work on established surfaces without damaging them when operating heavy construction equipment."
Santee added, "The number one pain point for customers continues to be finding and retaining skilled operators. One way to overcome this challenge is by purchasing equipment that is more versatile and requires less support equipment. The wheeled excavator offers a value proposition that can't be touched."
This article was originally published in Heavy Equipment Guide, Volume 35, Number 4.