Epiroc introduces blasthole drill for single-pass applications at CONEXPO-CON/AGG 2020
The crawler-mounted rig offers faster hole-to-hole drilling and a lower cost per ton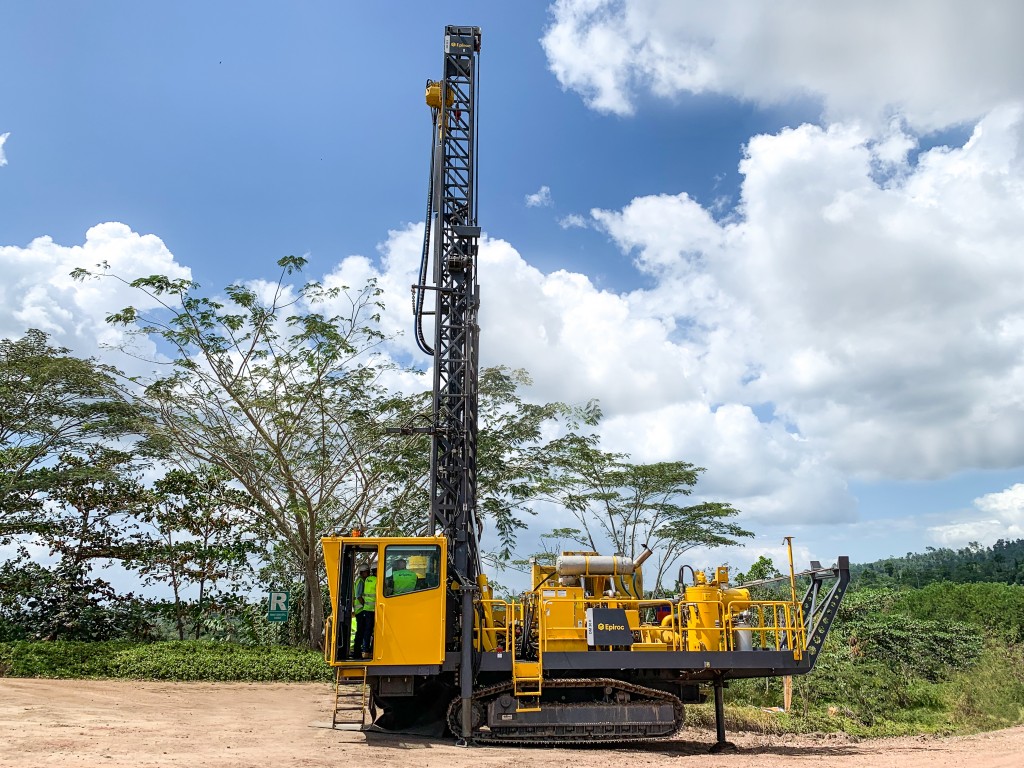 Epiroc has introduced the DM30 II SP rotary blasthole drill for quarrying and small mining operations. The crawler-mounted, hydraulic tophead-drive rig offers faster hole-to-hole drilling and a lower cost per ton through single-pass capability. The drill rig was showcased at the company's booth at CONEXPO-CON/AGG 2020.
Built off the same platform as the Epiroc DM45 and DML blasthole drill rigs, the DM30 II SP is suitable for a variety of single-pass rotary and down-the-hole (DTH) drilling applications. It can achieve a clean hole depth of 11 meters (36 feet) for single-pass applications. The small footprint of the DM30 II makes it easy to maneuver on tight benches and simple to transport within the pit and over the road between pits.
The DM30 II SP offers a low total cost of ownership, with a structure design life exceeding 45,000 hours. The single-pass capability allows for faster hole-to-hole drilling and decreases the cost per ton. Its design and layout grants quick and easy access to all major service points, simplifying maintenance.
The DM30 II SP is designed to handle 4- to 61/2-inch drill pipe with a hydraulic pulldown of up to 30,000 lbf (133.4 kN) and a hole diameter of 51/2 to 7 7/8 inches (140-200 mm). A 36-foot single-pass tower option increases productivity for 29-to-36-foot drilling conditions by eliminating the need to add a second drill steel.
Customers can choose a low- or high-pressure compressor to create the right configuration for their drilling operation.
Outfitted with a number of enhancements to help keep operators safe on the job, the DM30 II SP features a FOPS (Falling Object Protective Structure) cab, ground-level isolation and an airend safety shutdown system for high-temperature situations. A 300-gallon fuel tank allows the rig to continuously operate for more than 14 hours before refill.
For increased operator comfort, the DM30 II SP features an insulated, pressurized, heated and cooled cab with tinted glass, a suspension seat, 80 dBA noise level and excellent visibility. All operational functions are controlled from the driller's console, and the ergonomic layout allows operators to instantly switch from drilling to tramming for increased productivity. In addition, the electric-over-hydraulic controls are common across the DM series, making operation easy for drillers with DM series experience.
The DM 30 II SP is a simple machine scalable to automated features. The DM Series drill rig can be equipped with on-board technology capabilities with the optional Epiroc Rig Control System (RCS) Lite for added safety and productivity.
Built on the RCS 5 platform that comes standard on the Pit Viper series, RCS Lite offers a number of safety and interlock features. It also provides a convenient foundation to add more functionality and technology options in the future without a major rebuild of the machine. RCS Lite allows all Epiroc rotary drills to have the same onboard display and system for consistent operator training and service.