Volvo Trucks to exhibit pink truck at World of Concrete in support of breast cancer awareness
The company will highlight an all-pink Volvo VHD 300 with a mixer body at its booth during the event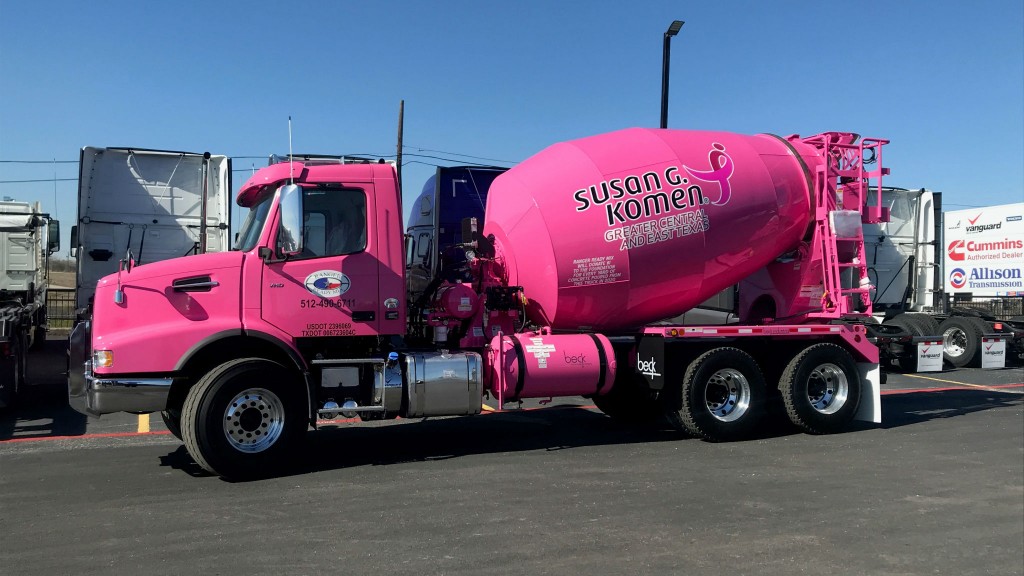 Volvo Trucks North America will support breast cancer awareness at World of Concrete 2020 by highlighting a pink Volvo VHD 300 with a mixer body at its booth.
Dan McBride of Ranger Ready Mix had the cab painted pink to illustrate his commitment to the Susan G. Komen foundation, a non-profit raising funds for breast cancer research. McBride has pledged a $1.00 donation for every yard of concrete the truck pours this year. He estimates the workload should total about 1,000 yards a month, which would mean a $12,000 donation to the foundation.
"We're honored to be part of Dan's remarkable efforts to raise funds and awareness for this important issue that affects so many families worldwide," said John Felder, product marketing manager of Volvo Trucks North America. "Volvo Trucks is always aware of our role as a corporate citizen, whether that means innovating at the forefront of safety, reducing fuel usage and emissions or participating in social causes."
The pink truck is a 2020 model-year VHD 300 6x4 configuration with a Beck Industry mixer body. Its ability to pour 1,000 yards of concrete a month is also indicative of Volvo Trucks' commitment to building trucks that stay on the job.
The Volvo VHDs at the show are equipped with Remote Diagnostics, a service that monitors fault codes on all Volvo engines, transmissions and aftertreatments, and enables proactive diagnostics and repair planning to maximize uptime.
The Volvo Trucks North America booth display will include a D11 engine and a crawler gear transmission, each representative of Volvo innovations in toughness and productivity. The D11 delivers remarkable power despite its light weight, due to a series of advances including wave pistons and common rail fuel injection. Crawler gears allow drivers to maintain control at speeds as low as 0.6 mph and get heavy loads moving even on challenging grades.
The VHD features significant evolutions in driver comfort, which helps fleets attract more drivers and retain the ones they have. The current driving environment features a more intuitive control cluster that places switches and gauges within the driver's reach and quick glance. A customizable driver information display provides trip and diagnostic data, and Volvo Trucks' smart steering wheel places controls for most functions at the driver's fingertips. Increasingly ergonomic seating options, along with the steering wheel, relieve pressure from drivers' backs and shoulders while they handle heavy-duty work.