CDE to launch world-first Combo all-in-one wet processing plant at CONEXPO-CON/AGG
New enhanced features specifically designed to enable operators in the Americas to capitalize on new opportunities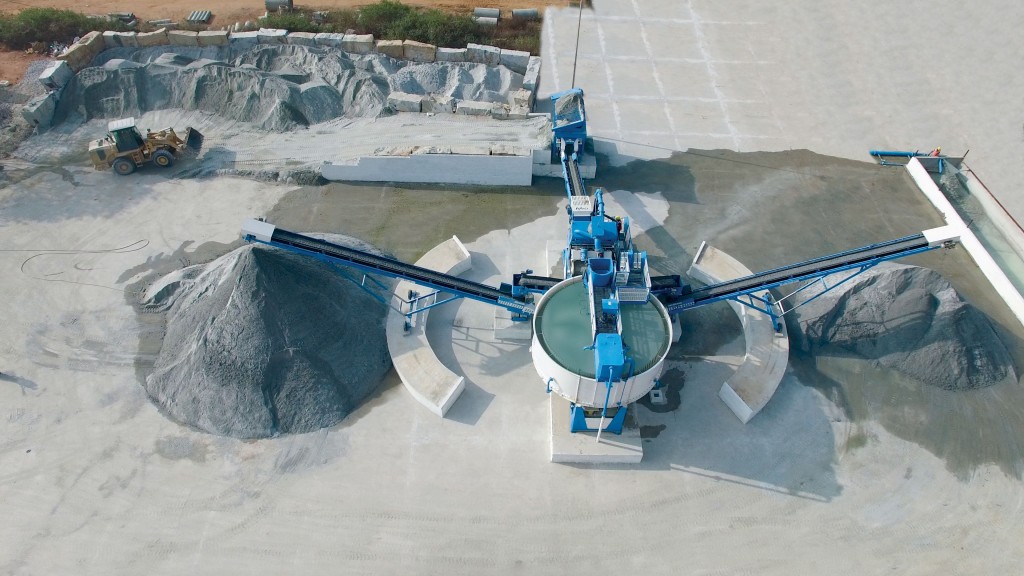 CDE is set to revolutionize the wet processing industry with the launch of the latest in its range of Combo all-in-one wet processing solutions at CONEXPO-CON/AGG in March 2020.
The patented Combo - the world's first all-in-one wet processing plant - was unveiled in Europe at bauma in April 2019. As a technological response to the challenges faced by materials producers, it can be used in the construction, C&D waste recycling, industrial sands, mining and environmental sectors. According to CDE, the Combo is the first fully integrated, modular, patented turnkey sand classification and water management solution for the production of premium manufactured sands.
The latest model in the Combo range will have a number of soon-to-be-revealed enhanced features that have been specifically designed to enable operators in the Americas to capitalize on new opportunities.
Eoin Heron, Business Development Director CDE North America, said: "At CDE, we are proud to deliver optimized operations for maximum yields and fast returns for our clients, through increasingly sustainable means.
"The innovative Combo led the way in a new era of wet processing, and we are looking forward to launching the latest Combo model at CONEXPO-CON/AGG, directly to the very market that inspired it. This next generation plant will deliver significant environmental benefits while contributing to the vision we share with our clients regarding a more sustainable future."
Heron continues: "At CDE we are unlocking a New World of Resource, driving alternatives for sand production. Global demand for construction sand is more than 15 billion tons per year and our solutions have assisted our clients in drastically reducing their reliance on imported sand - both an environmental and economic benefit. We aim to give our clients full production flexibility through the delivery of customized and sustainable solutions, that not only meet their needs but make commercial sense."
Significantly, the Combo wet processing system can produce up to two in-spec products from natural sand or crushed rock, turning what is often considered a C&D waste by-product into a product that adds value to the business and contributes to sustainability policies and efforts.
As it is powered by sustainable all-electric drives, the Combo is an energy efficient system. Operating as a standalone unit, in the absence of a CDE pre-screen, the Combo requires 67% less energy to power its water pump.
This lower power consumption is complemented by an industry-leading water treatment and management system that can recycle up to 90% of process water for immediate recirculation and re-use within the system, meaning it requires only a small top-up water supply. This is ideal for jurisdictions with limited resources or those with existing environmental or impending environmental legislation.
According to CDE, it is also a stark comparison to traditional systems which typically consume 10-15 times more water, requiring significant investment in water reserves, supply and infrastructure.
Importantly, the Combo is portable and incorporates all five essential processes - feeding, sizing, sand washing, stockpiling and complete integrated water management - onto one compact and modular chassis. With a 30% reduced footprint compared to traditional setups, it can also be positioned to produce sand closer to where concrete is required, resulting in significant cost savings in the transport of aggregates and a reduction in carbon emissions.
Kevin Vallelly, Director of Engineering at CDE, said: "The Combo is the first all-in-one materials processing system that accepts both natural sand and crushed rock feeds, giving our customers complete flexibility in the choice of the material they want to process depending on available reserves."
Natural sand reserves are a finite resource, and the CDE cyclone technology ensures that not one grain of valuable sand is lost to ponds. CDE's solutions are also specifically adapted to the production of high-quality, in-spec manufactured sand products that do not impinge on the availability of natural reserves. M-sand produced using CDE technology is not only of better strength for concrete production as it does not contain organic and soluble impurities such as clay, dust and silt that affect the setting time and properties of cement, but it has a lower production cost and impact, as using it in your mix design lowers the production of CO2 by optimising the concrete mix with less cement required to obtain the same compressive strengths. The technology can also be optimised to achieve specific gradations of fines - for instance by optimising its size and shape - creating a highly suitable sand for construction, thereby achieving higher compressive strength through reduced segregation and bleeding also.
Kevin added, "Having launched the Combo last year, we have further enhanced our game-changing technology to customize it to the American market. The Combo on display at CONEXPO-CON/AGG is the next phase in showcasing how CDE sand washing works. This industry leading technology is designed to unlock a New World of Resource, protect our environment and build the world of the future."
Company info
Related products