Driving the concrete boom pump market
Two top manufacturers of concrete pumps pick Mack Trucks' Granite and TerraPro models to carry and run their booms on busy jobsites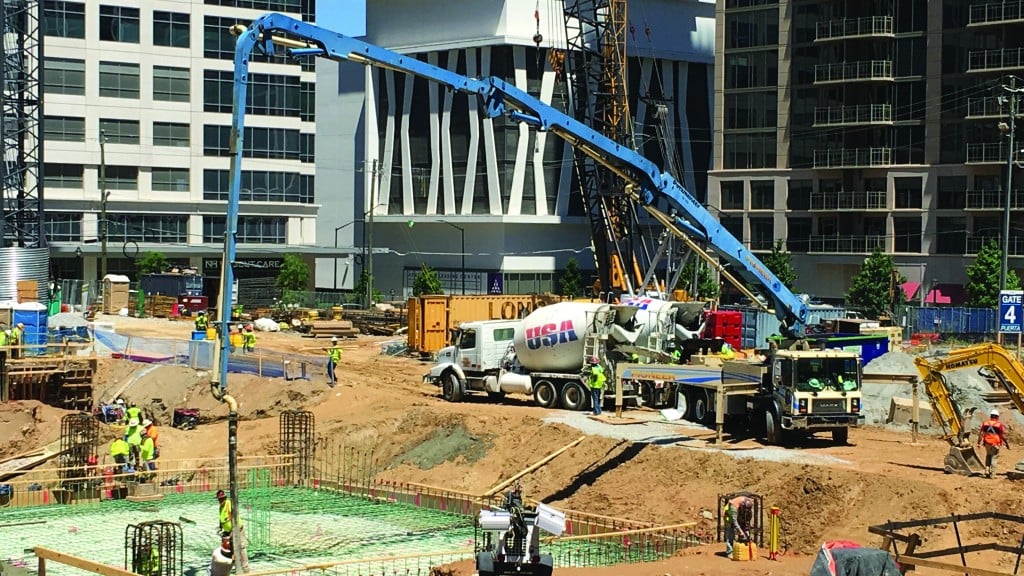 As cities add more people and seek ways to increase population density, the building construction industry has gone one way: up. Way up, in many cases.
Concrete has been a reliable building material for many years, but today's buildings require amounts of concrete that are far greater than ever before, and need it placed in more difficult places as well. The answer to that challenge has proven to be concrete pump trucks, with their powerful pumps and long booms giving builders the ability to move material to just the right spot – whether that's to build a backyard pool or the 20th floor.
The power for these pumps comes from the trucks that they are built on. For major manufacturers of pump trucks in North America, the chassis choice that handles their pump bodies and booms the best come from Mack Trucks.
Headquartered near Minneapolis, Minnesota, Schwing America has been building concrete pumpers since the 1960s. Part of a company originally started in Germany and today owned in majority by Chinese company XCMG, Schwing builds its pumps, booms and accessories from scratch at its Minnesota facility before installing the majority of them onto Mack chassis.
Reliability and power are key requirements for pump trucks, because concrete is one of the more perishable ingredients in construction, related Tom O'Malley, senior vice president of sales and marketing for Schwing.
"A ready-mix company will batch up this material, and from there it's a ticking time bomb – it needs to travel to the jobsite and be put into place all in a timely manner," O'Malley described.
To accomplish that, Schwing works with Mack's tough vocational truck models, specifically the Granite as well as the TerraPro cabover, depending on the needs of the pump in question.
"Schwing booms range in size at the small end from 17 to 20 metres all the way up to a 65-foot boom," O'Malley pointed out. Many trucks are mounted on the TerraPro chassis in a three-axle configuration, one of the many custom modifications managed at Schwing's factory after receiving the chassis from Mack.
The Granite is becoming more popular as well; it provides the customizability that Schwing needs for its equipment while offering good serviceability and comfort levels for the operators.
"These pump operators are out driving at four in the morning, they pump for 8 to 12 hours and then they have to wrestle with traffic to get back to the yard at the end of the day – the Granite has a nice employee retention aspect to it," O'Malley described.
Depending on the boom length – and the related added weight – Schwing offers trucks with up to eight axles to meet road regulations in different regions of North America. Quebec, for example, has very stringent weight regulations, so the largest booms tend to be eight-axle designs. Schwing also modifies Mack trucks to add twin-steer options for TerraPros that come off the Mack line as a single-axle product.
The relationship between Schwing and Mack is an important one for customers, many of whom are looking for reliable equipment that will get the job done.
Brundage-Bone, the largest concrete pumping contractor in the United States, has chosen to work with Schwing pumps to ensure they meet the needs of their clients. Approximately 34 percent of the concrete placement market in the U.S. is done by pumping today, so it's key to have reliable trucks to make sure that concrete gets where it needs to go.
"Utilization of the asset is very important to us – assets that are built reliably and easy to maintain," said Bruce Young, Brundage-Bone president and CEO. "We need the parts and service network to get the parts we need in a timely manner – it's important to us as we strive to get the best return on our equipment, that quick payback, and it's important to have a good partner in our manufacturers to support that."
Operating across a range of different areas means Brundage-Bone needs a variety of trucks to maximize payload, Young noted.
"We need to have a partner that is brave enough to help us maximize the payload on that truck," he said. "These are all fixed-load units, and we need to make sure we can put these big booms on as small a truck as possible and still meet regulations."
Brundage-Bone replaces five to 10 percent of its fleet yearly, and according to Young that means resale value is an important reason for its pump and chassis choices as well.

"It's important to us that we have assets we can put into resale or trade back to the manufacturer – they have high resale values, which improves the turnover on that investment," he said.
Mack also popular with Putzmeister

Started in 1958 when founder Karl Schleicht invented a plastering machine, Putzmeister is another German company with a strong presence in the North America concrete market. Based in Racine, Wisconsin, the company is today a leader in pump truck development. Purchased in 2012 by the Chinese company Sany Heavy Industries, Putzmeister relies on Mack chassis - again focused on the Granite and TerraPro lines - to carry its concrete pumps as well as its Telebelt conveyor system offering.
Integration between the boom pump and the truck is critical to success, considering the amount of material that must be moved for today's projects, according to Putzmeister president and CEO Jonathan Dawley.
"The rigidity and durability of the product is paramount to be able to handle the forces and loads that are put on these machines, especially with the larger booms," Dawley said. "The 63-metre booms, spanning out and pumping material – the torque that's pushed down into the chassis is obviously a major load. With our larger machines, we can go up to 200 feet of vertical height and pump multiple stories up into a building."
Many of Putzmeister's Mack chassis are customized by Kriete Group, a Mack dealer that handles much of the work needed to take a TerraPro or Granite from the factory and prepare it to receive the boom and additional equipment that goes along with it.
"We plan out our production and inventory with Kriete and with Mack; getting those units on time, getting them prepped and delivered at the highest level of quality is critical," Dawley noted.
Ensuring Putzmeister has the right equipment available at the right time is one part of the relationship with Mack, but keeping those trucks on the road when they're in the hands of customers is another. The complexity of the machines can be a challenge for service technicians, so Mack offers backup as close as a phone call away.
"For the concrete industry, we have two dedicated support helplines," related Roy Horton, Mack director, product strategy. "Realizing that the equipment is very complex and time-sensitive, it's something that we see as a specific need in this industry."
That makes sure concrete pump trucks are covered by expert support no matter where the service is being done, Dawley said. "Sometimes these may go to a Mack location, but other times they may go to another location that's not as familiar with Mack... when you call into Putzmeister, one of the options you can select is to go out to the Mack hotline."
That service relationship is important for customers like Pioneer Concrete Pumping, a large Putzmeister client that operates out of major centres across the United States with approximately 50 mobile boom pumps, 90 percent of which rides on Mack equipment.
"Concrete pumping is tricky business - concrete don't wait on anybody," said Tom Inglese, Pioneer general manager. "We've had people have a problem on a jobsite and they don't move concrete, don't call us and sit there for an hour, and the whole thing sets from one end (of the boom pipeline) to the other. That could be $50,000 or $60,000 if you lose those parts."
Mack recognizes the potential challenge that owners of Putzmeister booms face, especially clients like Pioneer that operate the big 63-metre trucks.
"We work with Mack and they do what they can for us... they'll give us some priority and take care of it because they know the kind of money that we make each day with the big trucks," Inglese said. "It's critical to keep them running. We like to standardize on Mack... we have a good rapport, and they just seem to fit Putzmeister pumps well."