Power Curbers 5700-D offers one-machine slipform solution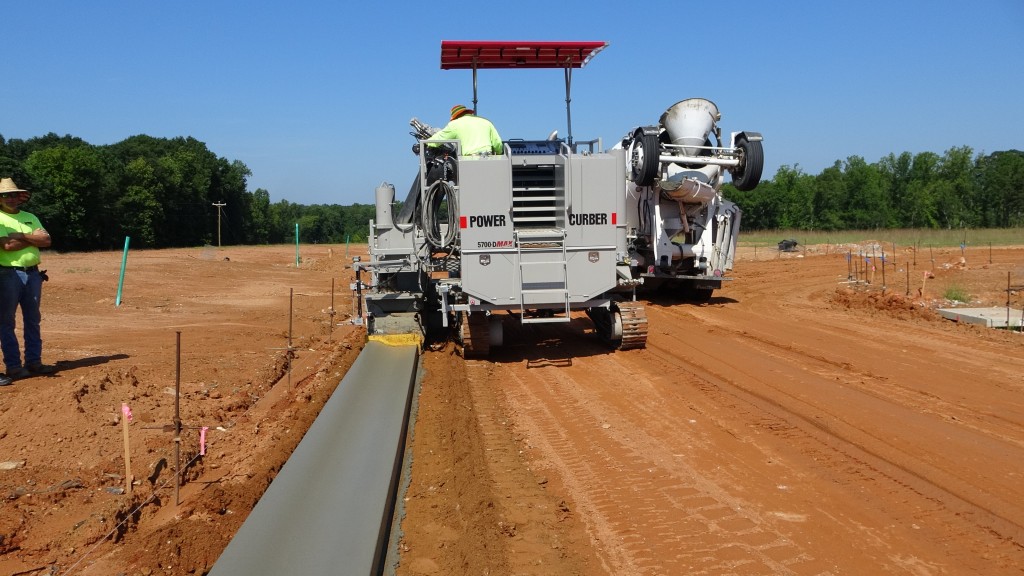 Power Curbers is ready to introduce the next generation of the 5700 Series curb machine. In January, 2020, the 5700-D replaces the 5700-C as the "one machine solution" for concrete slipform applications.
The 5700-D excels in curbing, sidewalk, barrier, ditches, paving, tunnel, agricultural and specialized applications. Compact size, simple design, easy operation, high productivity and versatility remain core features of the 5700-D.
The new Power Curber SlipSmart Control System makes the 5700-D the most responsive yet. Its simplicity and accuracy provide contractors a new level of precision. The SlipSmart controls come ready to interface with Topcon, Leica, and Trimble 3-D/Stringless systems. In addition to the control system, many new features enhance the 5700-D's versatility.
"All up" jog switch that raises or lowers all crawler posts simultaneously
New vibrator master scaling knob allows the operator to increase or decrease vibration across all vibrators while individual vibrator adjustments remain relative to each other
Improved cross-slope control
Auto-calibration for the radius steer sensor
Fine scaling of speed pots
Engine display replaces individual gauges
Easy-pivot conveyor
Wires are etched with descriptive label text matching machine schematics
Cold air dam between engine and console to keep the console and operator cooler
Improved wand-activated high-pressure water system
Redesigned door latches, including a single, lower latch to access the engine compartment
Toolbox end doors
Shovel holders at conveyor
Improvements and additions to optional equipment including, a new canopy, improved low-pressure water system, and improved barrier lift kit with the reach doubled up to 48" (1220mm)
More from Roadbuilding
The all-new CASE TR340B compact track loader — operating at 90 horsepower with a 3,400-pound rated operating capacity — is the most powerful radial-lift CTL in the CASE lineup. Its all-new 8-inch LCD display improves on industry-leading CASE visibility with a new backup camera that is viewable in both forward and reverse operation. The display also showcases critical operating information and "trip" details. All-new electro-hydraulic controls, managed through the display, make it easier than ever for operators to dial CASE CTLs into specific application demands. All new cab controls and joysticks make the new TR340B easy to own and operate.
Industries such as construction, mining, energy, utilities and forestry, face many challenges when it comes to tracking assets and employees. Equipment often has to be transferred between locations, or monitored while it is dormant during off seasons. Lone workers may have to travel long distances or visit multiple sites during the course of their activities. And, all of this is further complicated today with shifting supply chains and economic realities putting further strain on the bottom line.