Allen hydra-drive extreme riding trowel for high-volume flatwork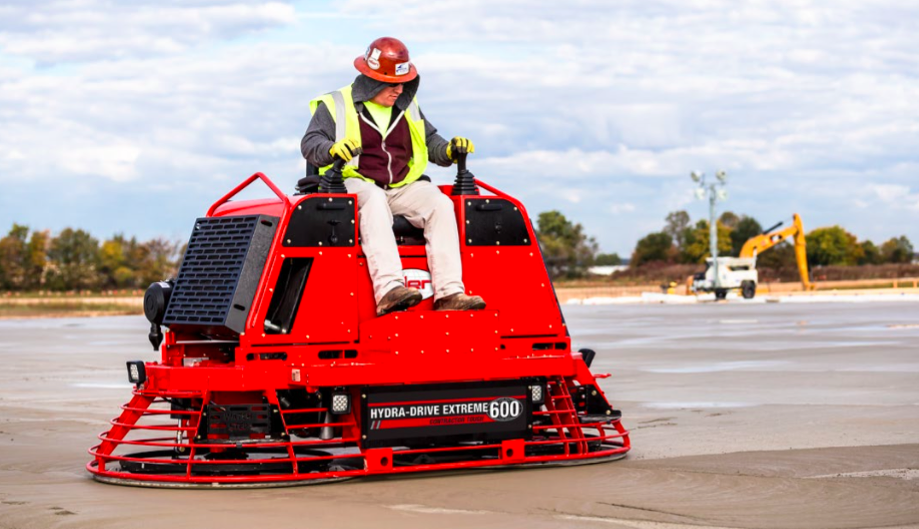 Allen's new HDX600 riding trowel is a hydraulically controlled, eight-foot-class ride-on power trowel that is powered by a 50-hp Hatz liquid-cooled diesel engine.
The HDX600 was designed with the high volume flatwork concrete contractor in mind. This riding trowel comes with dedicated panning/finishing modes, digital readouts for accurate fuel levels and diagnostics, and a large 13-gallon fuel tank for longer run times. It is also equipped with powerful pumps that help maintain excellent torque even at high rotor speeds. This makes the machine excellent for panning or finishing operations.
HDX600 standard features include:
Turbo charged 50 hp Hatz 3H50TIC liquid-cooled, tier four final diesel engine provides excellent power.
Premium Bosch-Rexroth Hydraulic system ensures quality hydraulic response.
Intelli-drive system allows the engine and the hydraulics to communicate in order to ensure peak performance component safety and extended life.
Biligual digital display conveniently shows engine diagnostics (temp, RPM, oil pressure, warnings, etc).
Electric (Joystick mounted) single or dual blade pitch controls
Rotor Speeds up to 165 rpm Two point, top-mount lifting system
Four-point tie downs
Twin, 46-inch Rotors with V-bladed spiders