Gradall on/off pavement wheeled excavator gets the job done in tight spaces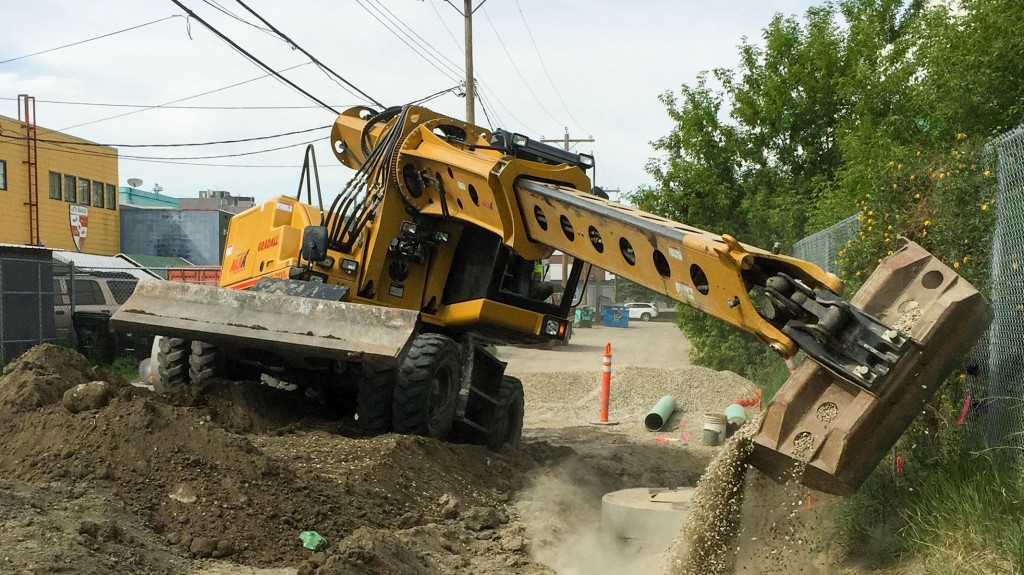 The XL 4300 V Gradall excavator is an on/off highway excavator that can work at the front, rear or either side of the undercarriage without the need for outriggers. This design allows for greater efficiency – no need to stop work to lower outriggers – and provides stable operation, enabling it to pick and carry cargo around jobsites.
Weighing 43,580 pounds (19,768 kg), the XL 4300 V model has a maximum speed of 18 mph both on and off pavement.
Designed and built by Gradall Industries, Inc., the XL 4300 V also features the new Tier 4 Final Volvo Penta diesel engine. With 173 hp at 2,00 rpm (129 kW), the XL 4300 V's fuel efficiency is improved by up to 5 percent.
Along with the new engine, Series V excavators include an upgraded high-performance, high-reliability 24-volt electrical system, creating a better power source. An operator cab safety option provides rollover protection that meets safety test requirements and is integrated within the existing cab structure, without external support.
The XL 4300 V has a maximum reach of 30 feet 4 inches (9.2 m) at grade and a maximum dig depth of 21 feet 3 inches (6.5 m). The model's rated bucket breakout force is 25,405 pounds (113 kN) and the rated boom force is 22,075 pounds (98.2 kN).
Steady both on and off pavement, the rubber tire undercarriage provides an exceptionally stable work platform and will not damage concrete or asphalt surfaces. Although rarely needed, options include outriggers and a grading blade for further stability.
Mobility is enhanced by a design utilizing a full-time, 4-wheel-drive transfer case that delivers power from the hydraulic drive motor to the drive axles. Both axles have wet-disc brakes.
The famous Gradall telescoping, full-tilting boom can precisely position excavating and demolition attachments without losing power – an advantage over conventional models with boom-end tilting mechanisms. The Gradall boom design also creates an exceptionally low working profile, enabling the machine to work under bridges, in tunnels and under overhead obstructions. A short tail swing allows the machine to work in tight spaces and along highways with minimal traffic interruption.
Operator efficiency and safety can be impacted with several advantages, including a full view of the entire boom during the complete dig cycle. The operator cab offers increased comfort with sound-deadening capabilities, a large seat with built-in joysticks, and a convenient switch that allows the operator to select the Gradall, Deere or SAE joystick pattern. Repositioning is accomplished with foot pedals.
A host of attachments are available for the XL 4300 V, including excavating, trenching, pavement removal, ditching and dredging buckets. Also available are grading blades, boom extensions, limb shearers, fixed thumb grapple and live booms.
Gradall models with rough-terrain wheeled undercarriages also include the XL 3300 V, weighing 39,394 pounds (17,283 kg) and the XL 5300 V, weighing 52,216 pounds (23,231 kg).
Over 80 percent of the service parts on all current Gradall machines are interchangeable, simplifying inventory processes to assure normal service parts are available. Optional equipment includes vandalism protection kit, intake air pre-cleaner, strobe light, block heater, and auxiliary hydraulics.
Company info
Related products