Goodyear LSW tires now available for Kubota M7 series tractors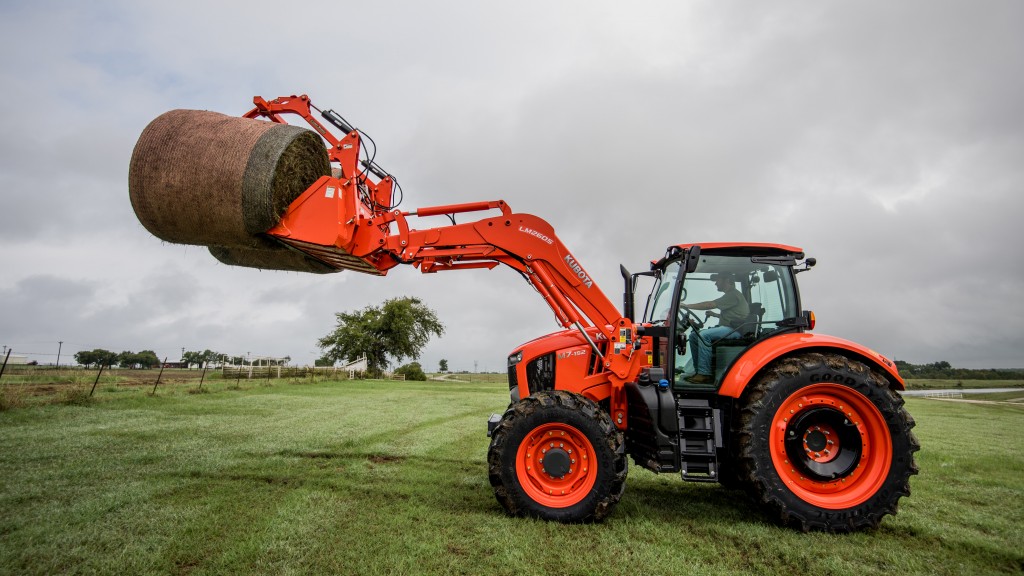 Titan International, Inc. (Titan) has announced that Kubota Tractor Corporation (KTC) now offers Goodyear Optitrac R-1W tires with Low Sidewall Technology (LSW) for Kubota M7 series tractors. Tire sizes now available direct from the factory for the 128- to 168-horsepower-range tractors include the LSW420/80R30 and LSW480/70R46.
Kubota's decision stems from increased customer demand for a high-capacity loader tire with the additional capability to run in row crop applications as needed. According to Kubota, approximately 60 percent of the M7 series is sold for loader applications. The M7's three-point lift increases carrying capacity, requiring a tire that offers minimized sidewall deflection and squat as loads increase.
"The Goodyear LSW Optitrac is an excellent tire option for our dealers and their customers," says Kent Brown, Kubota senior product manager, ag utility tractors. "In grapple bucket applications, the LSW tires give you the stability and carrying capacity to move two bales at once. They're also an excellent option for the cotton industry if you're moving 5,000-pound cotton bales."
Titan is continually working with original equipment manufacturers like Kubota to meet their customers' needs for solutions in any farm application. The LSW Optitrac has proven to be a viable option.
"We partnered with Kubota to find the right tire solution for front-end loader jobs that also work in row crops," says Scott Sloan, ag product manager at Titan. "These machines traditionally don't offer tires with the versatility needed for the conditions they are running in. We're excited to partner with Kubota to supply their customers with the latest in tire technology."
Compared to standard tires, the LSW Optitrac design features better ride quality, a larger footprint for reduced soil compaction, less vibration and faster road speeds while maintaining excellent traction and side-hill stability in the field. With LSW technology, growers can carry 40 percent higher loads at the same inflation pressures, or the same loads at 40 percent lower inflation pressures, than standard tires.
This assembly option delivers an adjustable Titan Waffle Wheel to minimize wheel wobble/hop, and its waffle disc features a continuous circumferential weld to withstand heavy-duty applications where more strength and speed are required.
Kubota's support of the LSW Optitrac on its M7 series tractors follows the company's decision earlier this year to exclusively offer the Goodyear R14 crossover tire on select Kubota compact tractor models.
Company info
Related products
More from Parts & Components
The all-new CASE TR340B compact track loader — operating at 90 horsepower with a 3,400-pound rated operating capacity — is the most powerful radial-lift CTL in the CASE lineup. Its all-new 8-inch LCD display improves on industry-leading CASE visibility with a new backup camera that is viewable in both forward and reverse operation. The display also showcases critical operating information and "trip" details. All-new electro-hydraulic controls, managed through the display, make it easier than ever for operators to dial CASE CTLs into specific application demands. All new cab controls and joysticks make the new TR340B easy to own and operate.
Industries such as construction, mining, energy, utilities and forestry, face many challenges when it comes to tracking assets and employees. Equipment often has to be transferred between locations, or monitored while it is dormant during off seasons. Lone workers may have to travel long distances or visit multiple sites during the course of their activities. And, all of this is further complicated today with shifting supply chains and economic realities putting further strain on the bottom line.