Service trucks take repairs on the road
Truck size, technology and materials define service truck demands as mobile repair expands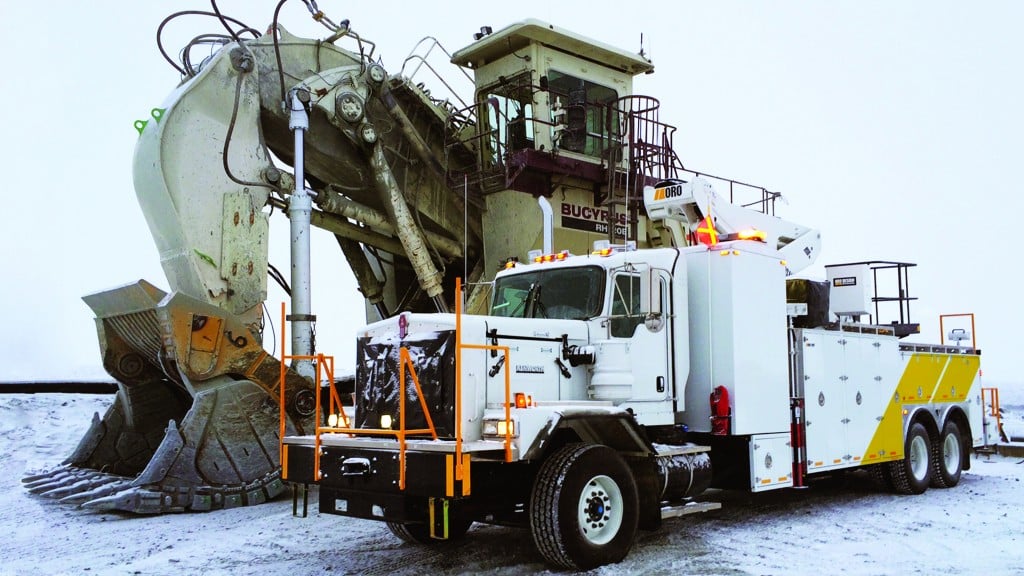 Downtime is a curse word among contractors, but the fact is that it's hard to avoid it sometimes. When a machine or truck suffers a breakdown on the job, the need to haul that asset back to the shop just means that downtime is extended.

Between mobile repairs and on-site service to help avoid breakdowns, mechanics need a reliable way to carry their gear and provide a portable shop setup to get the job done.

That's where service trucks come in, and manufacturers of these versatile vehicles have continued to develop their offerings to provide strength, reliability and the options mechanics need.

While equipment dealers and large contracting companies are generally the core of the service truck market at present, there is a growing sector of independent mechanics who are offering on-site services, according to David Smith, fabrication/engineering manager with Oro Design, an Ontario-based manufacturer of service trucks.

"There are equipment dealers who are doing these services, but there is also a subsection of independent mechanics – the field service industry is growing a lot, and a lot of people who have worked for Caterpillar or John Deere for 20 years are saying that if the dealers can charge a certain amount for field service then they can potentially go out and do it for less," Smith said. "It might just be one guy with a service truck, but typically their rates are competitive and they quickly grow."

The big operators continue to be a big market for service vehicles, of course, and Tim Davison, product manager with Stellar Industries, said equipment dealers are steadily increasing or replacing their fleets as mobile service continues to expand.

"The core market still buying heavily is equipment dealers – the Caterpillar dealers, Komatsu dealers, people like that – and then construction companies, for the larger models. For the smaller crane sizes, the rental industry, whether it's a larger operation or the smaller rental companies, are buying quite a few. And right now the oil and gas industry is doing fairly well – it's not as dramatic as it has been in the past, but it is still a heavy segment for us."

Range of truck sizes
Customers are looking for a range of sizes in their trucks; while Stellar is seeing continued demand for class 5 trucks carrying their bodies, Oro, which has been building trucks in southern Ontario for more than 25 years, has experienced a market shift going toward larger trucks.

"Our market seems to be very heavy on the smaller end – the F-550 size truck, or the Ram 5500 with a 7,000- or 7,500-pound crane with 21 or 30 feet of reach," Davison noted.

Smith, though, said class 5 remains popular but there is a shift toward larger trucks to ensure owners can carry everything they need for any particular job.

"They want to get everything in the truck, but there are limitations to what you can do with weight. . . the 550 has always been very popular, but I think there are many more options now – there is a lot more available in a weight class that gives you more payload to get around the issues with the smaller trucks," Smith said.

Mounting a crane on a smaller truck body cuts down payload significantly, and that has often led to users overloading their vehicles; if they avoid getting nailed for being overweight, those users often wind up paying additional maintenance costs because they are running over their designed capabilities, Smith added.

"You're kind of fighting a mental barrier where they don't want to go to the larger truck, but there are also costs to go bigger. Our perspective is that it's a better truck when you build it appropriately. . . you're not building it right to the limit, and then if you need something bigger tomorrow then you need a new truck," he said.

Aluminum bodies cut rust
Weight reduction is a target for Stellar beyond the chassis and its capacities, Davison noted; they offer aluminum bodies that can save 700 to 1,400 pounds over their steel bodies.

"That particular series of body has gone up dramatically for us, to where it's become a large portion of our business," he said. "It's a weight issue, but corrosion also plays a big part of that. . . you are going to have seams in a truck bed that may start to bleed a little rust here and there - with calcium chloride and mag chloride on the road that just exasperates the issue. With an aluminum body, we really do get almost a Tier One automotive finish on it, and that body is not going to show rust on it ever."

That's important to Oro as well, which also builds mixed steel and aluminum bodies for its trucks. Smith emphasized that steel is still important in structural uses, and especially for the crane structure. "If you look at one of our trucks, almost everything is aluminum except the body – if it doesn't need to be super strong to support 12,000-pound lifting loads, then we'll try to make it out of aluminum."

When it comes to accessories, the crane is a big one when handling heavy equipment components and replacements. Cranes are a specialty for Stellar – in fact, Oro offers Stellar cranes on its service bodies – and the company has introduced a new crane, the EC3200 Aluminum, which provides up to 3,200 pounds of lifting capacity and a 15-foot reach while also reducing weight.

Powering equipment and tools on service bodies is evolving, with more users interested in an auxiliary power unit (APU) as opposed to running equipment off their truck engine through a PTO, Smith noted.

"Traditionally you would install a PTO on the truck to run the hydraulics, but with an APU you have a smaller secondary engine that will drive the hydraulics – it's more efficient because it's smaller," Smith related. "The issue with running a pump PTO today is all the emissions systems they put on the truck make it so you can't idle it anymore – if you idle it a lot you'll have maintenance issues very quickly."

There's a significant initial investment that goes into adding an APU to the design, but it adds capability to the truck that will pay itself off thanks to the fuel efficiency improvement – which Smith said can be 20 to 30 percent compared to idling.

"More customers are seeing the value of that – customers are spending more on trucks these days. . . they're putting more in the trucks and they're building bigger, more expensive trucks," he said.

Technology making an impact
Technology is making an impact on service trucks as well; for Davison, one key area where this is apparent is in the crane control system. Stellar offers a remote control system on its larger cranes that can provide the operator with far more information about the load being lifted than ever before.

"We show the actual weight of the load on the boom tip, and if they hover the load hook over the load, without even hooking it up, we can tell him what the capacity is," Davison said. A screen on the remote can tell the operator the remaining capacity on the crane at that point, allowing the user to determine if the load can be lifted there or if the truck needs to be moved closer for more capacity. That cuts down on the amount of trial-and-error that may have happened previously, which can result in damage to the crane or truck.

"As they get closer to overload, as well, we have a vibrator built into the handle – a lot of the time operators are looking at the load and paying attention to their surroundings, and may not always be looking at the radio remote handle," Davison added. "If they're getting close to an overload situation, the vibrator will shake the handle and let them know."

Owners are also using telematics more frequently, Smith noted, both for keeping track of their equipment's location as well as to gather data and work toward greater efficiency.

Moving forward, efficiency and productivity will continue to be the demand from service truck owners, Davison predicted, both in terms of the equipment used on the trucks and in how it is managed.

Improving fuel efficiency is one area that Stellar is exploring, in terms of reducing fuel costs for owners, and another is looking at the maintenance aspect.

"We're doing a lot of things over the next year or two analyzing the performance of our equipment to make sure that we let the operators know when it's time to maintain a piece of equipment, not when it's time to repair it," he said.