Technology driving portable power innovations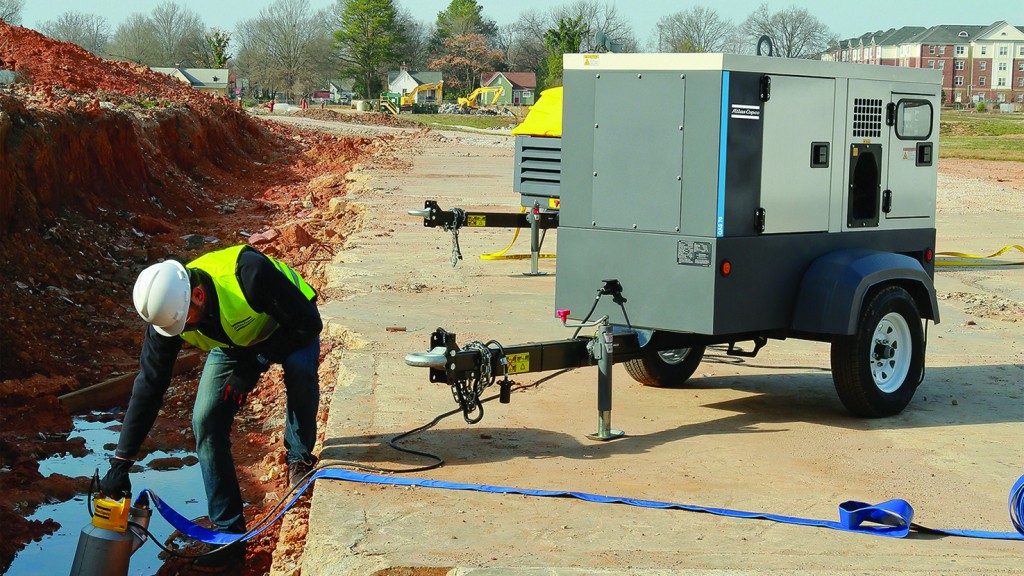 Getting the right power to your jobsite is about efficiency, convenience and safety. We asked the experts at Atlas Copco to share their insight on the latest trends in portable power and what innovations they expect to power jobsites in the future.
Light towers
"The biggest change in light towers is the rapid growth of LED technology," according to Angel Nieto, product manager for power and light at Atlas Copco Power Technique. He said that LED lamps use less energy, are more durable and offer higher performance than metal halide technology.

The necessity of correct engine sizing when using LED light is also becoming more understood by customers, Nieto said. Correct engine sizing is essential to avoid low load issues that will cause an early failure of the light tower's engine.

He expects that new power options, such as battery packs and solar panels, will increase light tower performance in the future. Nieto also expects that these technologies will be able to replace diesel power in some applications.

Generators
Knowledge is power, and telematics is being incorporated into more tools – including generators – to give owners more insight into their tools. Nieto said that good telematics solutions that offer location, geo-fencing and full read access to generators are becoming more and more demanded, especially by rental companies.

One current issue with generators is that a lot of large power generators are not available with Tier 4 Final engines yet. Nieto said that this gap is driving the demand for paralleling of generators. "The versatility that this modular capability provides makes it a very suitable solution for rental companies," he said.

Nieto expects that green technologies will have an increasing presence in the market. "Green storage systems are a perfect fit for generators," he said. "They increase the overall efficiency of the package."

He added that low load issues are an ongoing concern for generator users and said that the current solutions of adding external load to generators will be replaced by more efficient technologies. "Atlas Copco will soon bring a new innovative solution to this problem," he said.

Compressors
"The compressor industry is right in the middle of the Tier 4 Final EPA emission transition," said Clayton James, product manager for large air compressors at Atlas Copco Power Technique. He added that Atlas Copco's entire compressor lineup now meets these standards.

He sees meeting Tier 4 Final standards as an opportunity; whether for compressors offering low-pressure or high-pressure air, adapting to Tier 4 Final provided Atlas Copco with the opportunity to change compressor technology in terms of control and regulation systems.

James expects that new electronic regulation systems will allow compressors to be built for a wide range of applications in a single unit. "Atlas Copco has designed new regulation systems Pace Air and Air Expert 2.0 for low-pressure and high-pressure applications. Simply put, we have four models of compressors that complement each other to have a wide range of pressure and flow, giving our customers flexibility in their fleet."
Sullair Perkins-powered Tier 4 Final portable air compressors
A Tier 4 Final Perkins 2506J diesel engine will be offered on the 1600H and 900XHH/1150XH Series machines alongside current Caterpillar offerings to give customers additional choices.

The 1600H produces air pressures up to 1,600 cfm at 100 or 150 psig, while the 900XHH/1150XH Series machine produces air pressures of 500 psig at 900 cfm and 350 psig at 1150 cfm. The Perkins-powered machines focus on enhanced usability, with a state-of-the-art 7-inch Sullair Touch Screen Controller providing easy access to all compressor operation data. Standard features include LED taillights, CDT, air filter maintenance indicators and much more – all in a smaller and lighter overall package. The units are approximately 20 percent smaller than previous generation Sullair compressors, allowing for easier maneuverability, storage and transit, and tow and load.

The units are powered by the Sullair 25-series air end and an oversized 249-gallon fuel tank provides up to 10 hours of runtime at full load.
Doosan Portable Power C185 air compressor
The redesigned C185 has a runtime of 12.6 hours at 100 percent load – which Doosan Portable Power says is 26 percent longer than other brands. The longer runtime is achieved by adding a 65 percent larger fuel tank without sacrificing the compact size.
The C185 performs in extreme temperatures with cold starting capabilities at temperatures as low as -10 degrees Fahrenheit, which is 20 degrees colder than the closest competitor, according to the company. The C185 also has a limited ambient temperature rating of up to 120 degrees Fahrenheit for reliable operation in areas that experience extreme heat.

The C185 is equipped with the Doosan DSN100 airend and a Tier 4 Final Doosan D18 engine. Together, they deliver 185 cfm of air at a rated operating pressure of 100 psi.
By using Doosan engines and Doosan airends, Doosan says that it can guarantee the quality of its machines and create consistency across its models.
Generac Extended Run Fuel System for Tier 4 generators
Generac Mobile users can extend their Tier 4 Final generator run time with a new extended run fuel system. The system makes it easy to connect external fuel and diesel exhaust fluid (DEF) tanks to the generator for longer run times.
Designed to work with TransCube external fuel and DEF tanks, the Extended Run Fuel System uses a vacuum-draw technology that allows the fuel and DEF to flow seamlessly from the external fuel and DEF tanks to the on-board tanks of the generator, maximizing the total fuel and DEF capacity of all of the tanks for more operating hours before refilling is required. The System is available as a factory-installed option on all Generac Mobile Tier 4 Final diesel generators 75 kVA and up, and includes a fuel pump switch, external diesel supply port, external DEF supply port and a DEF power receptacle.
Atlas Copco HiLight V3+ Light Tower
This light tower can be powered directly from an auxiliary power source, a portable generator or the grid. The energy-efficient light tower offers easy portability, safe transportation and durability.
Excellent for construction and roadwork, the HiLight V3+ is housed on a four-wheel trailer for ease of transportation. The compact model comes with a heavy-duty steel frame, stainless steel mast and is protected by polyethylene bumpers.
The four 160-watt LED bulbs, designed with directional glass optics, are capable of illuminating an area of up to 32,292 square feet. The unit has a manually operated vertical mast extending up to 18 feet. The tower is designed to withstand wind speeds up to 51 mph.

The LED lamps have a life expectancy of more than 30,000 hours. LED HiLight tower lamps have an aluminum casting which provides heavy-duty protection, even during transportation.
Combining variable speed smart control and paralleling capability, this unit delivers efficient power with low fuel consumption by adapting engine speed to the required load conditions.
Chicago Pneumatic CPLT E3 LED Light Tower
This high-performance light tower is designed to last and is efficient and easy to transport in a variety of applications. It is ideal for events, urban construction, road construction and temporary public lighting.
It has exceptional plug-and-light capabilities and can be connected to any external power supply, including auxiliary power or a portable generator. For increased light coverage, up to three CPLT E3 LEDs can be daisy chained together.

The electric unit is efficient with four 160-watt high-quality LED bulbs, which have an expected lifespan of 30,000 hours. These lights can provide coverage of just over 32,000 square feet. The heavy-duty mast can be raised to 23 feet high and features block spacers to reduce friction over time.

A robust frame and canopy includes four heavy-duty stabilizers to ensure wind stability. It is easy to put up to 32 units on a trailer with a convenient forklift pocket and compact size. Additionally, wheels and a handle kit make it simple to transport around the site. The E3 can be used indoors and is environmentally friendly.
Allmand Maxi-Power 45 Mobile Generator
This generator comes equipped with a heavy-duty, oversized alternator with separate excitation winding. The higher starting capacity enables operators to easily start larger motors with variable loads. The Maxi-Power 45 is sound attenuated with airflow design to reduce noise, features a dual fuel filter system with acrylic filter for enhanced protection and a longer engine life, and is equipped with a fluid containment system as well as a double-wall single-cell metal fuel tank to hold up to 110 percent of all on-board fluids. With a frequency switch for flexibility of jobsite power needs, and 15-inch tires for longer wear and greater towing capabilities, this generator will last and deliver the power needed to get the job done.
Related Articles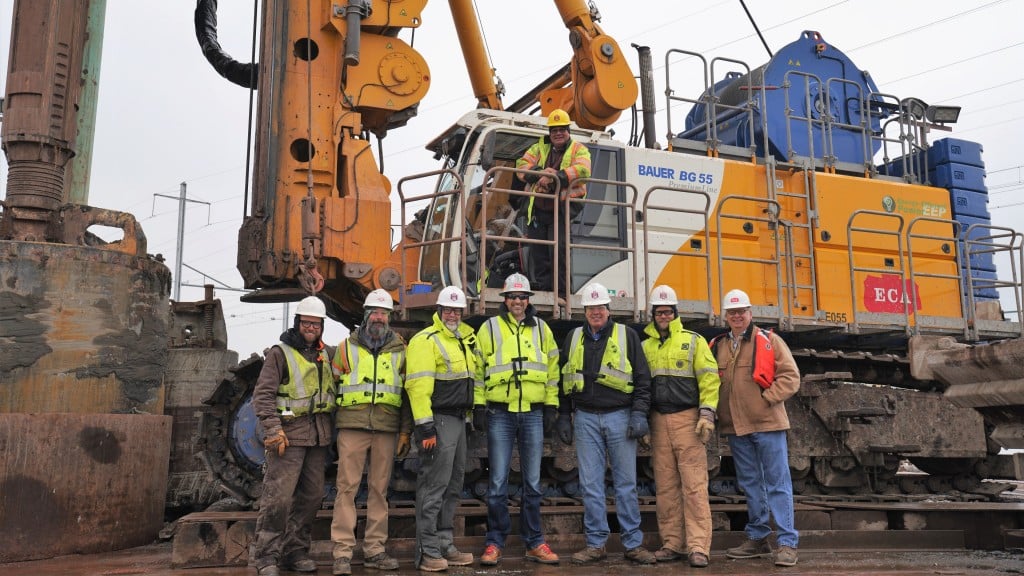 George Harms Construction installs 240-foot drilled shafts with barge-mounted drill rig