Putzmeister equipment aids in two record-setting continuous concrete pours within a month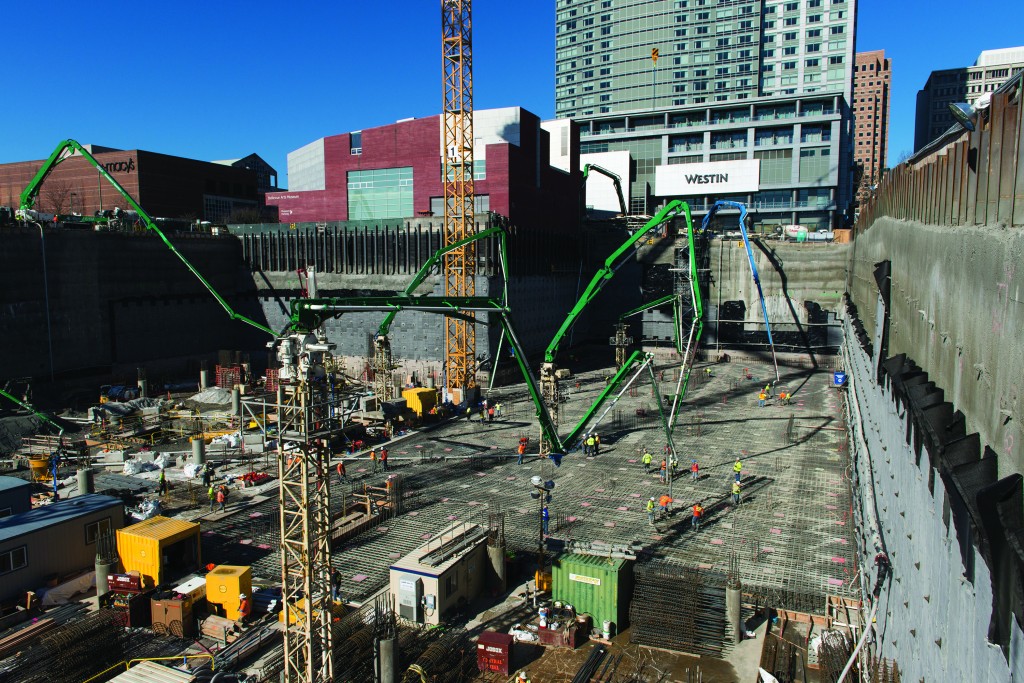 A new record for the largest continuous concrete pour was set in Washington state for the foundation of the Lincoln Square South tower. However, it was short-lived, as less than a month later, the tower next to it beat the record. Vital to both high-profile concrete pours were Putzmeister placing systems, seven truck-mounted boom pumps and a high-pressure trailer pump — all supplied by Ralph's Concrete Pumping, Inc. of Seattle.
The two skyscrapers, part of a $1.2 billion Lincoln Square Expansion II project, offer a 1.5 million square foot (139,354m²) mixed-use development in the heart of downtown Bellevue. The site consists of Class A offices, including a six-level, 2,200-car underground parking garage, 231 luxury residences, 245-guestroom W Hotel, as well as upscale retail, restaurants and entertainment. Having consumed an approximate total of 140,000 cubic yards (107,037m³) of concrete, the three-year project is complete with occupancy ongoing.
Building the impressive structures was not an easy feat. The area is two city blocks long and one city block wide, so after the earth was excavated, nearly three million pounds (1,360 metric ton) of rebar was installed to prepare the site for a 10-foot-thick (3.05m) concrete foundation. For the first mat, two 40Z-meter detachable placing booms, plus five 61-meter and two 40Z-meter boom pumps continuously placed 13,400 cubic yards (10,245m³) of concrete in 16 hours to set the first record in January 2015.
Access to the foundation was 75 feet (22.86m) below street level. In the hole, a 40Z-meter placing boom with a Putzmeister tower was installed in a footing early on, as it would be used for both the mat pour and for the climb to the top of the 32-story high rise. Another 40Z-meter placing boom was also set atop a freestanding tower with a ballasted base. This configuration avoided pouring another footing.
From street level, concrete was supplied to each placing boom by two 40Z-meter truck-mounted boom pumps. Each unit pushed concrete directly from their hoppers through five-inch (125mm) pipeline that traveled down the sides of the hole and then horizontally to the two different placing boom towers ̶ the pipe stretched 500 feet (152.40m) to one placing boom location, 175 feet (53.34m) to the other. Meanwhile, five 61-meter boom pumps were set up around the hole's perimeter; they provided long 183' 9" (56m) horizontal reaches with plenty of reach to access all parts of the large area.
"An enormous amount of strategic planning was required to execute a pour of this size," said Jacob Gribble, co-owner of Ralph's. "Our equipment pumped flawlessly during the long pour, and all went according to plan."
Another Record
Less than a month later, Ralph's was on-site once again to handle a new record-setting pour of 13,690 cubic yards (10,467m³) of concrete in 24 hours. This was for the 450-foot (137.16m) North Tower (hotel and residences). However, this time, it was not only the size but the complexity of the mat pour that made this both a new state record as well as a feat of ingenuity.
Gribble notes, "When comparing the two pours, the second one was definitely the most logistically difficult because we had to think outside the box and figure out innovative ways to set up concrete placing equipment as access to the area was extremely limited."
Concrete pumps were not allowed to set up in a neighboring parking lot, which would have offered perfect access and convenience to the site. Since permission was refused, creative solutions were developed, which required five placing booms (a mix of 38- and 40Z-meter sizes), six 61-meter boom pumps, a high-pressure trailer pump and literally thousands of feet of pipeline.
The mounting configurations of the five placing boom towers varied. A placing boom with a tower on the south side was already in place from the first pour and would be used again and two more towers with ballasted bases were installed outside the mat on the west side.
In addition, two footings were poured for two freestanding towers in the middle of the hole (east side). These two towers, in particular, would become a part of the foundation because after the mat pour was finished, the placing boom and upper tower sections were removed, and the remaining 10-foot (3m) tower section at the bottom ended up buried in the concrete. To be flush with the concrete, any pieces of the tower section sticking above the concrete were sawed off.
Gribble says, "It turned out to be a logical, as well as economical, solution."
Supplying the concrete to the five placing booms were four 61-meter boom pumps at street level. The units used their .16H pump cells, capable of up to 210 cubic yards an hour (160m³/hr) outputs, as well as their standard high-pressure S-Valves, so there was plenty of volume and pressure. Plus, a BSA 2110 HP-D trailer pump, capable of outputs up to 133 cubic yards an hour (102m³/hr), was also utilized to pump the concrete. An extensive amount of pipeline traveled down the sides of the deep hole and went in various directions to reach each placing boom tower.
OSS Solves Setup Dilemma
Another resourceful approach to access the pour involved two 61-meter boom pumps, facing cab-to-cab, that were set up in a narrow alley on the north side. The setup in the extremely tight confines was only possible due to the one-sided support (OSS) outrigger system. OSS reduces the outrigger extension on one side of the unit to create an overall smaller machine footprint. In this case, the outrigger width was reduced by 10 feet (3.05m), which enabled a tight fit in the spot.
OSS has been a standard feature on Putzmeister 61-meter boom pumps since 2006 when the model was introduced, and its benefit has proven beneficial. Gribble says, "This setup would have been impossible without OSS on our Putzmeister boom pumps."
Over 80 mixer trucks from five local concrete plants dispatched a self-consolidating concrete mix that was specified for the bottom 18 inches (457mm) of the foundation to ensure proper concrete consolidation where large concentrations of reinforcing bars occur. The remaining foundation used a low-heat concrete mix to minimize temperature differential between the center of the mat and the exposed top surface.
"Everything went exceptionally well," says Gribble. "Our Putzmeister equipment delivered the necessary volume, as well as provided really smooth concrete outputs during the round-the-clock pour."
Rising with Efficiency
After two successful mat pours, the massive six-level garage that covered the entire footprint, along with a three-level podium commons area and the two skyscrapers rose quickly from the ground. The larger 61-meter boom pumps, with vertical heights up to 197' 2" (61m), were used whenever possible to place concrete for anything within their reach. However, Putzmeister placing systems were the main source of concrete placement for the two skyscrapers, with a crane flying four placing booms among eight strategically placed tower locations.
"For a quicker process of flying the placing booms, Series II is an absolute 'must'," says Gribble. Series II features exclusive hydraulic connection technology where the operator can easily couple and uncouple individual color-coded hydraulic hoses while not under pressure.
Plus, as the placing booms do not require counterweight, time and labor savings were realized.
Other efficiencies were also noted. "With the 50-foot (15.24m) Putzmeister tower, we could pour two floors and then jump the tower compared to only one floor per jump, which is more common with other systems," explains Gribble. "This is significant because, with fewer jumps, it reduces expensive crane costs."
When tackling the high rises, Gribble says, "One of the biggest obstacles was the very hot mixes - high strength, high heat - which made pumping challenging." To accommodate the difficult mixes, two BSA 14000 HP-D trailer pumps with eight-inch (200mm) cylinders and powerful 630 hp (470kW) Cat engines provided the power to reach the top level. They were especially put to the test when they needed to accommodate the 9C mixes, which were super hot. The trailer pumps have the capability to provide both high outputs up to 133 cubic yards an hour (102m³/hr), and high pressures up to 2,176 psi (150 bar) - both on the rod side.
Experience Counts
The general contractor, Bellevue-based GLY Construction, Inc. is well known in the region and selected to handle the colossal project. Having worked with Ralph's for decades, their past experience led them again to rely on the company's concrete placing services. The pumper has been in business since 1965 so experience is prevalent, and the fleet is expansive, serving customers from eleven offices across Washington and Oregon. Previously under the direction of Skip Gribble, the company is now owned and operated by his three sons ̶ Jacob, Josh and Isaac who grew up in the business. Skip, although still involved with long-term decisions, is enjoying semi-retirement in Arizona, with his sons carrying on his legacy.
Company info
Related products
Related Articles
As one of the latest models in the R2-Series excavator lineup, the Bobcat® E88 delivers durability, performance and quality for more productivity. Technically speaking, it's a compact machine, but it brings big performance with its redesigned engine and optimized lift performance, plus undercarriage and counterweight improvements. All these enhancements make this excavator one of the highest-performing models in its size class. With impressive over-the-side lift capacity, you can dig with greater confidence over the side of the machine. Put it to the test against similar models from other manufacturers. You'll see that the E88 can outwork the competition.