KINSHOFER's railway tie changer attachments offer efficient railway maintenance and repair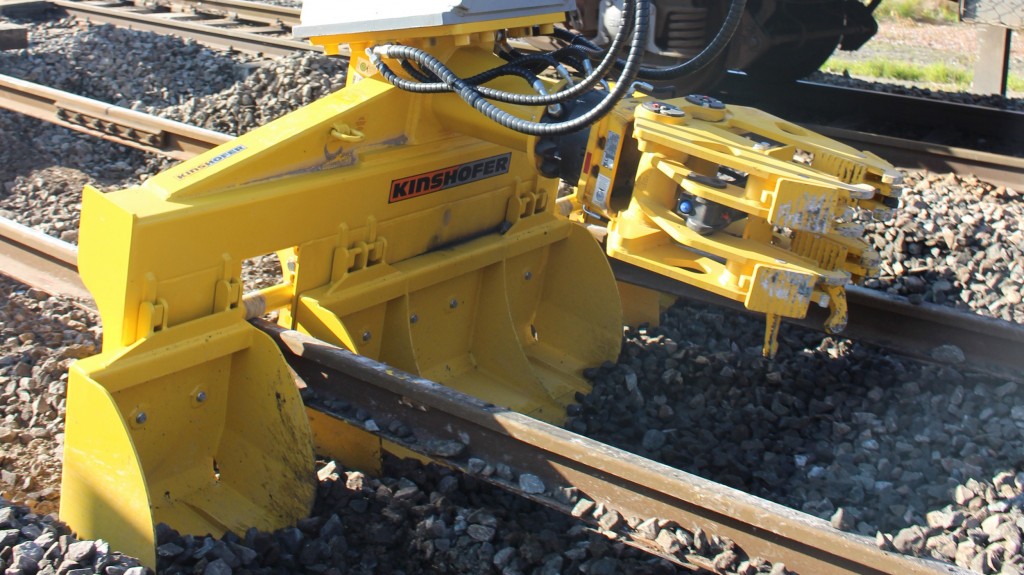 KINSHOFER offers railway Tie/Sleeper Changer attachments for efficient railway maintenance and repair. The three attachments — the RBS, RBS20 and RBS20HPX — can be used with 12- to 24-ton rail excavators to quickly exchange existing concrete and wooden ties without disrupting the track. The RBS20 can also switch from handling standard mono-block ties to bi-block ties with no modification, thanks to internally and externally fitted pads.
"Railroad crews don't have time to bring in large tie exchangers for quick repairs and maintenance; it's a cumbersome and time-consuming process," said Francois Martin, KINSHOFER North America general manager. "Our Tie Changers enable quick and easy repairs with a machine that's readily available — an excavator. An experienced operator can change as many as 40 sleepers per hour with one of our attachments."
KINSHOFER designed the tie changers to make quick work of railway maintenance as well as short track segment repairs, small track exchanges and placement of secondary tracks. The attachments' large shields allow operators to easily clear ballast from the tracks, and after the new tie is placed, quickly backfill and level the ballast.
The lightweight RBS tie changer quickly replaces various sized concrete and wood railway ties using hydraulically operated grippers for precise operation. The RBS comes standard with a Nordic s-style coupler adapter, though other adapters are also available. For enhanced efficiency, the attachment is capable of continuous 360-degree rotation and multi-directional tilting up to 55 degrees when paired with KINSHOFER's NOX-Tiltrotator. This compact, cylinderless unit enables operators to pick up items close to the tracks and work quickly with minimal excavator movement.
The RBS20 offers additional features and capabilities, including removable bolt-on ballast buckets and the ability to handle bi-block ties. The changer grabs the bi-block ties by opening the hydraulic gripper to wedge it between the blocks. The unit features an adjustable plunge depth as well as durable pads on the inside and outside of the gripper to ensure a secure grip regardless of the railway tie style. Additionally, the RBS20 does not require a tiltrotator as it features an integrated 15-ton rotator for 360-degree endless rotation.
The RBS20HPX also features adjustable plunge depth, integrated 360-degree rotation and bolt-on buckets, but adds KINSHOFER's low-maintenance HPX cylinderless drive with exchangeable shell system for the gripping unit, which achieves 25 percent greater power than traditional cylinder driven attachments. Both the RBS20 and RBS20HPX are also available with bolt-on adapters for different quick coupling systems.
All three attachments operate on a 2,880-psi hydraulic circuit. The RBS20 and RBS20HPX require a second, 5,040-psi hydraulic circuit to power the 15-ton rotator.
To ensure safe operation, KINSHOFER designed the attachments with a special holding valve, which maintains a secure grip even if pressure drops.
KINSHOFER manufactures the tie changers with quality Hardox steel, reducing wear and increasing product longevity. The attachments come with an industry leading two-year warranty.
Company info
Related products