Horizontal directional drill product roundup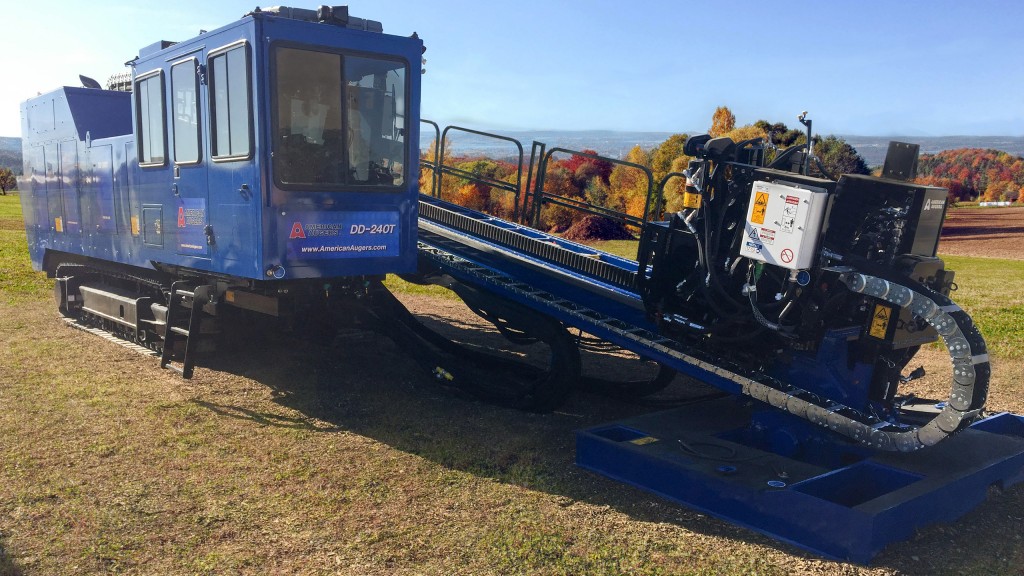 American Augers DD-240T Midi Rig
The DD-240T Midi Rig introduced a whole new design concept in horizontal directional drills when it was launched late last year.

The Range 2 rig's 52.6-foot length (20-foot pipe version, 40 feet) and width of just 8.2 feet make it as easy to transport as it is to set up and take down, even though it has more production capability than many units with larger dimensions. Maximum thrust and pullback force are rated at 240,000 pounds, with 30,000 foot-pounds of rotary torque at 50 rpm. Maximum rotary torque is 43,900 foot-pounds at 37 rpm. The unit's 523-hp Mercedes Tier 4 Final engine supports running rotary torque, push/pull and on-board fluid pump all at high levels without having to prioritize one function over others.

The unique, modular design gives customers a wide array of configurations beginning with choice of frame size to accommodate Range 2 pipe or 20-foot pipe. The DD-240T can be ordered with or without on-board fluid pump, with pipe-loader or full-length manway. The patented, moveable cab comfortably accommodates both driller and wireline operator and can be set off-board to reduce vibration conveyed to the operating compartment or on board to work in confined spaces.
Ditch Witch AT40 All Terrain Directional Drill
To help equip utility contractors with the latest technology for optimal drilling productivity, the Ditch Witch organization added the new AT40 All Terrain directional drill to its fleet. The machine's raw power, provided by a 160-gross-hp, Tier 4 Cummins diesel engine, gives operators 20 more horsepower in a smaller footprint over competitive 15-foot drill-pipe models in its class, Ditch Witch states. The unit also minimizes pipe-entry distance, providing operators increased drill pipe support as it enters the ground.
The optimized carriage speed gives contractors strong cycle times for faster utility installations. It holds up to 600 feet of drill pipe on board allowing for longer bores and increased ROI.

The drill can install pipe in the most challenging conditions thanks to a patented two-pipe All Terrain drilling system that delivers more power to the bit than any other rock-drilling system in its class, according to the manufacturer. The All Terrain technology also helps to increase mud flow and power.
Vermeer D40x55DR S3 Navigator horizontal directional drill
The D40x55DR S3 Navigator horizontal directional drill delivers excellent productivity in a broad range ground conditions, from hard, medium and soft rock to loamy/dirt and clay. This new rock drill features Vermeer dual rod technology that uses an inner rod to provide torque to the drill bit, while the outer rod offers steering capability and rotation torque for reaming. The combination provides powerful downhole cutting action and the flexibility to select the appropriate tooling to best match the ground conditions.
Powered by a 140-hp John Deere diesel engine, the drill serves up 40,000 pounds (177.9 kN) of thrust/pullback and 5,500 ft.-lb. (7,457 Nm) of rotational torque. It can carry 500 feet of drill rods on board. It features a carriage speed of 115 fpm (35 mpm), low guaranteed sound power rating of 104 dBA and similar controls and components to other Vermeer horizontal directional drills.
Toro DD2226 Directional Drill
The DD2226 directional drill delivers 2,600 foot-pounds of rotational torque and 22,000 pounds of thrust and pullback for outstanding versatility, allowing the machine to pull back and turn larger reamers in tough ground conditions. Dual rear stabilizers provide stability in uneven terrain.

For maximum convenience, the DD2226 is also equipped with next-generation TDOS-1 Operating System software, featuring the new SmartTouch control mode. SmartTouch streamlines pipe handling by allowing the operator to advance through the pipe handling process with a touch of a rocker switch on the joystick. It's designed to be easier for both new and experienced operators to learn. In addition, using SmartTouch allows operators to reduce the pipe loading cycle times.

The TDOS-1 Operating System provides a variety of new control options, with all drill information on one easy-to-read display screen. Features include advanced cruise control with engine droop, torque, thrust and pressure settings.

Other operator-friendly features include an optimized joystick design with responsive thrust and torque control. Key functions are controlled from the joystick, enabling operators to keep their hands on the joysticks for faster operation. Dual or single joystick operation is possible.

The DD2226 offers capacity for 400 feet of 10-foot pipe. The cam-style pipe loading system allows operators to rotate pipe in the basket. Additionally, the cam-style system provides the ability for additional pipe to be side-loaded for bores that extend beyond 400 feet.
Company info
Related products