Shell, AirFlow Truck Company show results from cross-country test run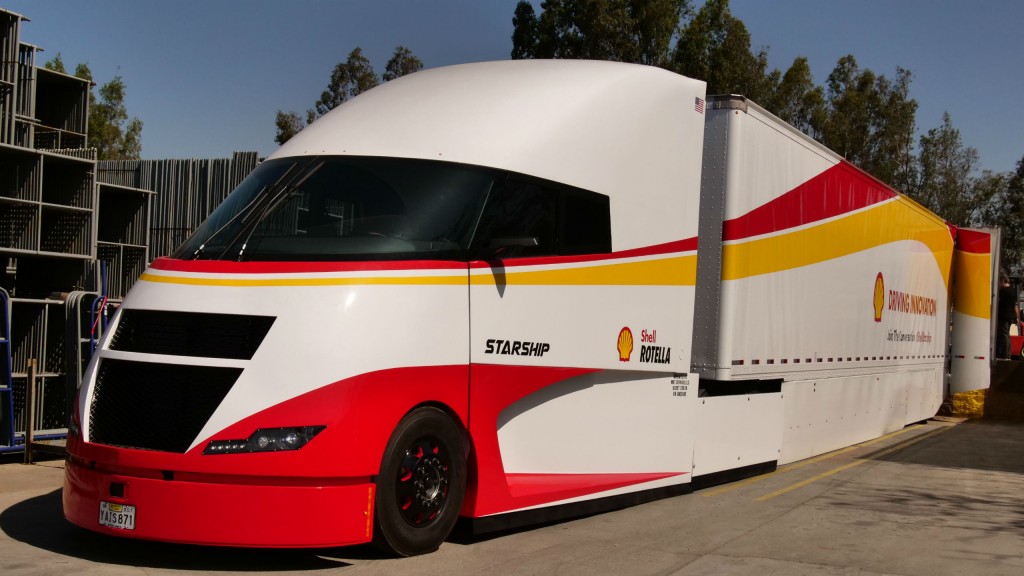 After traveling more than 2,300 miles across the southern United States and with a tropical storm looming in the Gulf of Mexico, Shell Lubricants and AirFlow Truck Company completed the cross-country test drive of the Starship Initiative truck on May 24, 2018. This journey marks the first time that a prototype Class 8 vehicle of this type with these combined technologies has driven coast-to-coast across America in real-world trucking operations and in real-world conditions including unplanned stops and torrential rains along the way.
The real learning was that despite the far-from-perfect road and weather conditions, the completion of the drive itself was a success. For the cross-country drive, the Starship truck attained 178.4 ton-miles per gallon[1] for freight ton efficiency[2] - a nearly 248 percent improvement over the North America average freight ton efficiency of 72 ton-miles per gallon for trucks[3]. Freight ton efficiency is a more relevant statistic for judging the energy intensity associated with moving cargo from point A to point B since it combines the weight of cargo being moved with the amount of fuel consumed.
"Our goal with the Starship Initiative is to challenge how the trucking industry is defined and to further the conversation by working with AirFlow Truck Company and others," said Robert Mainwaring, Technology Manager for Innovation, Shell Lubricants. "Through this road trip, we were able to test the Starship truck along with a number of technologies available today to provide insight into what trucking fleets and owner/operators could consider adopting to help reduce fuel use and emissions as they haul heavy loads. This includes optimized aerodynamics, drivetrain and operational efficiencies, and low viscosity lubricants."
The final total truck and cargo weight was close to 73,000 pounds, which is 28 percent heavier than the average total gross vehicle weight of 57,000[4] pounds for a U.S. on-highway Class 8 truck. The payload weighed in at 39,900 pounds, 77 percent more mass than the U.S. average payload of 22,500[5] pounds, and was comprised of clean reef material destined for a new offshore reef installation in Florida. For the entire journey, which included vastly different road, weather and terrain conditions, the Starship truck's total average fuel economy was 8.94 miles per gallon, compared to the average U.S. fuel economy for transport trucks at 6.4[6] miles per gallons. The best fuel economy attained during the drive was 10.2 miles per gallon.
And, in terms of calculating estimated CO2, if all trucks in the U.S., 2 million of them[7], reached the overall fuel economy and freight ton efficiency performance of Starship, they would emit an estimated 229 million less tons of CO2 into the atmosphere per year. A reduction of 229 million tons would correspond to a huge, 60 percent, reduction in CO2 emissions from the U.S. truck fleet, highlighting the benefit of the enhanced economy and increased loading strategy adopted within the Starship Initiative.[8]
"The Shell team didn't take the easy road to trying to achieve the best results they could with their first drive with the truck," commented Mike Roeth, Executive Director, North American Council for Freight Efficiency. "They knew they wanted to make the truck run, but they went a step further. They carried a much heavier load than many average truckers on the road carry, traveled a longer route in an uncontrolled environment with a variety of technologies not tested in these real-world conditions. For us, it was a rewarding opportunity to see the truck move from an idea on paper to traveling with the team on the road to help verify the run results."
For the Shell Starship team, the cross-country journey brought a number of learnings and firsts. The cross-country journey provided Shell with an opportunity to test Shell ROTELLA T6 Ultra 5W-30 Full Synthetic engine oil in a cutting-edge vehicle prior to its introduction to market. This low viscosity API FA-4 engine oil is formulated to provide better fuel economy, improved high and low temperature performance compared to CJ-4 performance engine oils and meets the requirements for many low emissions engines. The combination of (1) Shell lubricants technology, (2) carefully thought through aerodynamics, including customized carbon fiber cab and full side skirts along the length of the trailer, (3) Cummins X-15 Efficiency engine, (4) low rolling resistance tires, and (5) a smart driving strategy all contributed to the strong freight ton efficiency result.
The streamlined design of the truck was amped up with the addition of recently DOT-approved full video only mirrors that provided a broader, nearly 180 degree view on each side of the truck for the driver. In addition to living like truckers for a week on the road, including fueling up and comparing notes with other truckers at stops, the team learned first-hand how to safely pack and load heavy freight for long-haul transport.
"These and other learnings are not the final results; they are simply the start of our ongoing learning," added Mainwaring. "We'll move forward to apply learnings from this test run and implement additional technologies on the truck for future testing. While it would be easy to say the Starship Initiative has been very successful, we know there is more we can do to continue to drive industry dialogue and share learnings moving forward."
The truck also used a number of full synthetic Shell Lubricants products including Shell Spirax S6 GXME 75W-80 transmission oil, Shell Spirax S5 ADE 75W-80 differential oil and Shell Spirax S6 GME 40 wheel hub oil. In addition, Shell ROTELLA ELC NF provided excellent high-temperature protection and heat transfer. Shell ROTELLA Diesel Exhaust Fluid, a high purity diesel exhaust fluid, was also in the truck.
1 North America Council for Freight Efficiency data verification report for Starship truck coast-to-coast test drive
2 Freight Ton Efficiency is calculated by miles travelled divided by gallons of fuel consumed times the payload weight in tons.
3 NACFE Run on Less Report page 34, https://nacfe.org/run-on-less-...
4 EPA NHTSA GHG Rule
5 North American Council for Freight Efficiency data and reports
6 North American Council for Freight Efficiency Run on Less Report page 34, https://nacfe.org/run-on-less-...
7 https://www.truckinfo.net/truc...
8 Reductions in CO2 emissions per year calculated if all trucks in the US operated at the same FTE [ton-miles/gallon] as Starship, with the scale of the fleet reduced to balance the increased loading. CO2 emissions refer to those emitted from the combustion of diesel fuel alone with a standard emission rate of 22.4lbs of CO2 per US gallon of diesel fuel.
Company info
Related products
Related Articles
As one of the latest models in the R2-Series excavator lineup, the Bobcat® E88 delivers durability, performance and quality for more productivity. Technically speaking, it's a compact machine, but it brings big performance with its redesigned engine and optimized lift performance, plus undercarriage and counterweight improvements. All these enhancements make this excavator one of the highest-performing models in its size class. With impressive over-the-side lift capacity, you can dig with greater confidence over the side of the machine. Put it to the test against similar models from other manufacturers. You'll see that the E88 can outwork the competition.