Hino hits Class 8 market with XL splash
Experience in medium-duty segment provides basis for larger trucks with 9-litre engine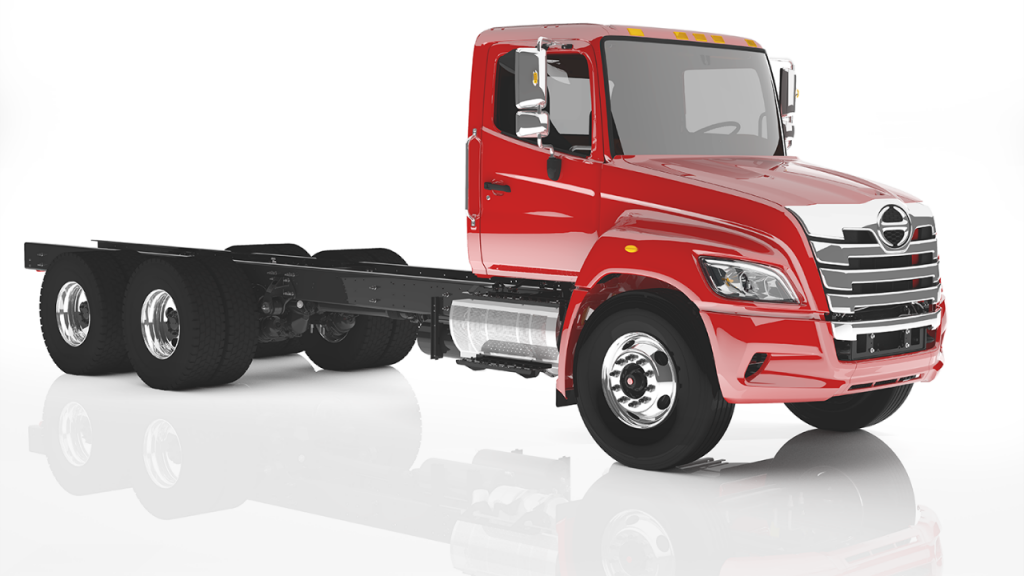 The medium-duty segment in Canada has been the sector Hino Trucks has called home for quite some time, with successful truck models spanning the Class 4 to 7 range. With that base to work from, the company is moving into a larger part of the market – literally – thanks to the launch of its new XL Series.
Introduced in the United States and Canada at large truck shows this spring, the XL line of trucks will bring established power, comfort and versatility to the market when it starts rolling off the line early next year. For Canada, that means two styles of truck, both powered by the globally-proven 9-litre A09 engine to provide owners in the Class 8 segment a variety of choices when spec'ing out trucks in a number of different applications and weights.
This addition to the Hino lineup has been requested by customers for quite some time, said Mark Lorentz, vice president of sales for Hino Canada.
"When Hino launched its conventional cab product line in 2004, right away we had customers asking when we were going to expand into a tandem axle truck," Lorentz said. "That truck looked North American, it had North American components in it, and once the customers were familiar with the performance and quality, they were really demanding us to go up another size."

The challenge keeping that line between medium-duty and Class 8 was, simply put, power: the company needed to develop more power to drive a tandem-axle unit in the demanding applications that customers would be looking to operate them in.

"Once the engine programs globally began to move into redesign and re-engineering, and worldwide emissions standards got closer between countries, the A09 engine program came in to play," Lorentz said. "That program allowed us to start putting the rest of the puzzle together."

The A09 is an 8.9-litre inline 6-cylinder turbo diesel engine developed by the company's Japanese group, and which has been tried and tested in the Class 8 market globally. Two versions of the engine will be made available for the Canadian market at launch, a 300-hp engine generating 900 ft.-lbs. of torque, and a 360-hp, 1,150 ft.-lb. torque option as well. Final specs for the truck will be released later in 2018, Lorentz noted, but Hino has released a B10 rating of 1.6 million kilometres for the A09; that plays into the three key factors that the company is focusing on with its trucks: efficiency, reliability and durability.

At launch, Canadian customers will have two styles of truck to choose from as well, Lorentz said.

"We will have a 4x2 and a 6x4 straight truck available; in the U.S. they will be launching with tractor models, however we will have those in followup model years as the 9-litre tractor market is considerably smaller in Canada than in the U.S.," he explained.

The XL Series features a bold style carried over from the Hino medium-duty trucks on the outside, and inside the focus is on driver comfort well-known to owners of the company's other trucks, Lorentz said.

"The truck has to do the job spec-wise, but the next most important thing is the person in the truck. What you can offer to them is a real differentiator - people spend up to ten hours a day in and out of the truck, so as much as performance and durability are important, comfort is right up there as well," he noted.

Hino's interiors have always been a focus, with what it describes as an automotive-grade interior different from what might be found in a standard work truck. The dash is designed to be visually easy to see, with a 7-inch information display front and centre behind the steering wheel, where controls for the display are available. A tablet stand, two USB ports and plenty of storage space ensure the driver has places to store and use the technology needed on many jobs today.

"Standard will be an air suspension seat, suspension cab, cloth seating, cruise control, air conditioning, power locks - we've always offered a well-equipped truck, and while in a lot of other trucks you can get what we offer, it's an upgrade option," Lorentz said.

Front axles will have gross axle weight ratings of 12,000 to 16,000 pounds, with rear axles at 21,000 to 46,000 pounds. Wheelbases will run 217 to 298 inches.

The XL will come standard with Dana axles, Hendrickson Comfort Air suspension, and Wabco electronic stability control. Optional safety features include Wabco's OnGuard active collision mitigation system and OnLane 2 lane departure warnings.

The XL Series, to be built at Hino's facility in Woodstock, ON for the Canadian market, will target a variety of applications, such as light dump trucks, fuel tankers and delivery. Lorentz said that as future model years come along, so will more applications.

Service and support are also key for Hino, and it will leverage its national dealer network to ensure XL Series buyers are taken care of, Lorentz noted.

"We're lucky to have a great dealer network across Canada; their priority is looking after the needs of medium-duty and heavy-duty customers. Our strength over the years has been our parts availability, our service and quick turnaround on our product from a customer service standpoint. We tend to continuously make improvements as we grow into a larger product line and customer base," he said.

Since Hino's launch of the XL at the Work Truck Show in Indianapolis, IN and Truck World in Toronto, ON, customers have been clamouring for the new trucks, Lorentz said.

"The North American launch at Indianapolis and Canadian launch at Toronto had turnout that was quite a bit larger than we anticipated, and the number of customers expressing interest - including those new to the Hino brand but looking for new options - has certainly opened the floodgates," he said.

Production of the XL Series 4x2 model will start in the first quarter of 2019, with the 6x4 model starting up in the second quarter. Lorentz said pricing and spec announcements will likely come in the fall of 2018.
Company info
Related products