LaValley, American Augers team up to distribute drill pipe handling tools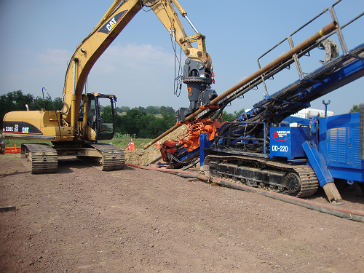 LaValley Industries has entered into a strategic alliance with American Augers to distribute the TONGHAND exit side wrench and DECKHAND pipe handling system specifically configured for loading and unloading drill pipe in HDD applications. These additions complement the American Augers product line of pipeline equipment, which includes maxi-sized horizontal directional drills, drilling fluid reclaimers, pumps and trenchers.
The award winning TONGHAND is an excavator attachment that allows a single operator to torque, un-torque, rotate and move drill pipe, strings, reamers and subs all from the safety of the excavator cab during exit side operations. It's patented TongVise™ allows operators to precisely torque and un-torque joints up to 120,000 foot pounds of torque while its gull wing arm design allows it to work with reamers up to 60" in diameter. Along with continuous 360° rotation, tilt and shift motions, the TONGHAND eliminates the need for ground personnel and chain wrenches lending to a safer, more efficient jobsite.
The DECKHAND is an excavator attachment that transports drill pipe from a rack or trailer and positions onto a directional drilling rig. This unique attachment helps maximize utilization of onsite excavators by adapting them as handlers and can fit any brand excavator in the 18 to 36 metric ton range. With 360° rotation, tilt and shift motions, the attachment eliminates ground personnel contact with the drill pipe aiding in creating a safer, more efficient jobsite.
"We are excited to make "DECKHAND" and "TONGHAND" available to American Auger's loyal customers. "said Jason LaValley, CEO and Founder". "American Augers has a rich history of providing innovative solutions to its customers and we believe that our products combined with their global network is a win-win for our industry."
"The partnership between American Augers and LaValley Industries provides our customers with one place to get a complete HDD package." Said Dave Hammond, President of American Augers and Trencor. "Combined with American Augers Maxi-rig Horizontal Directional Drills, the DECKHAND and TONGHAND add to the already established reputation of quality and dependability while being backed by two companies known for their service and support."
Company info
Related products