Three new Atlas Copco electric plug-and-light LED light towers introduced at World of Concrete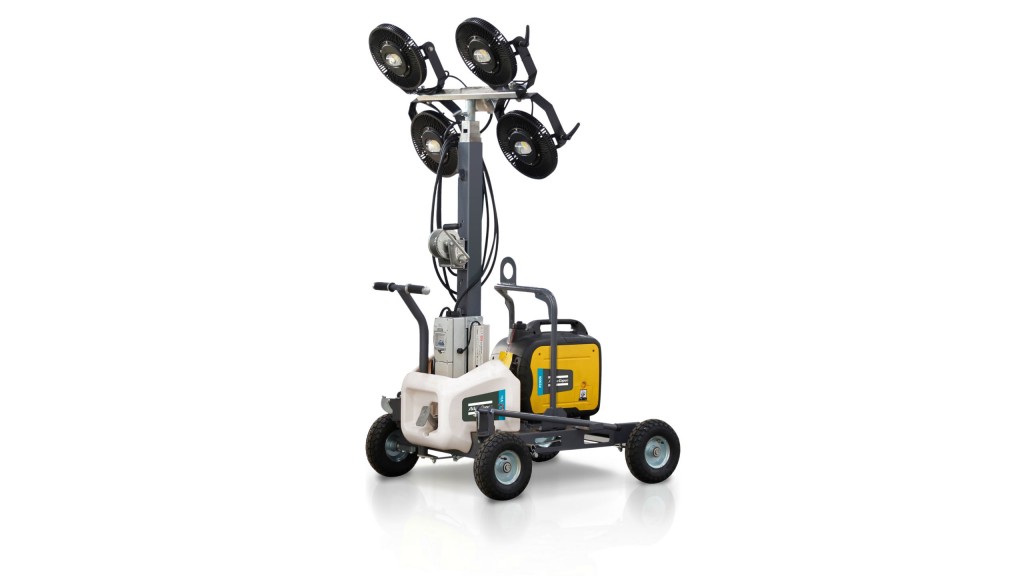 Atlas Copco introduced three new electric plug-and-light LED light towers at World of Concrete. The HiLight P2+, V2+ and V3+ light towers can be powered directly from an auxiliary power source, a portable generator or the grid. The three energy-efficient additions offer easy portability, safe transportation and durability.
HiLight V2+ and V3+
Excellent for construction and roadwork, the HiLight V2+ and HiLight V3+ are housed on a four-wheel trailer for ease of transportation. Both compact models come with a heavy-duty steel frame, stainless steel mast and protection from polyethylene bumpers designed to the same standards as the Atlas Copco HardHat canopy.
The HiLight V2+ offers a 320-watt LED light source, covering 21,528 square feet. The HiLight V3+ is equipped with four 160-watt LED bulbs with specially designed directional glass optics capable of illuminating an area of up to 32,292 square feet. Both the V2+ and V3+ have manually operated vertical masts that extend up to 18 feet. The towers are designed to withstand wind speeds up to 51 mph.
HiLight P2+
Ideal for almost any application, the HiLight P2+ features the same special lighting optic as the HiLight V2+. The floodlight provides 360-degree coverage across a 21,528-square-foot illumination area – a much greater area compared to traditional balloon style light towers. The light source is housed within a weatherproof cylindrical polyethylene housing with built-in cooling for no burnout and a longer operating lifetime. The housing does not require air pressure or complicated mechanisms to operate.
The entire HiLight P2+ assembly weighs just 99 pounds, yet is robust and designed to withstand wind speeds up to 32 mph. The manually elevated vertical mast provides a maximum operating height of 11 feet.
The LED lamps on all three new models have a life expectancy of more than 30,000 hours. LED HiLight tower lamps have an aluminum casting which provides heavy-duty protection, even during transportation.
"Our new HiLight towers are designed to help workers experience a brighter, safer environment that will enhance their productivity," said Angel Nieto, Atlas Copco Product Manager, Power & Light.
When grid access is unavailable and portable power supply is required, Atlas Copco recommends powering the light towers with its compact, low-noise iP portable generators. Combining variable speed smart control and paralleling capability, these units deliver efficient power with low fuel consumption by adapting engine speed to the required load conditions.
Company info
Related products
More from Light Equipment
The all-new CASE TR340B compact track loader — operating at 90 horsepower with a 3,400-pound rated operating capacity — is the most powerful radial-lift CTL in the CASE lineup. Its all-new 8-inch LCD display improves on industry-leading CASE visibility with a new backup camera that is viewable in both forward and reverse operation. The display also showcases critical operating information and "trip" details. All-new electro-hydraulic controls, managed through the display, make it easier than ever for operators to dial CASE CTLs into specific application demands. All new cab controls and joysticks make the new TR340B easy to own and operate.
Industries such as construction, mining, energy, utilities and forestry, face many challenges when it comes to tracking assets and employees. Equipment often has to be transferred between locations, or monitored while it is dormant during off seasons. Lone workers may have to travel long distances or visit multiple sites during the course of their activities. And, all of this is further complicated today with shifting supply chains and economic realities putting further strain on the bottom line.