Liebherr introduces new truck-mounted concrete pump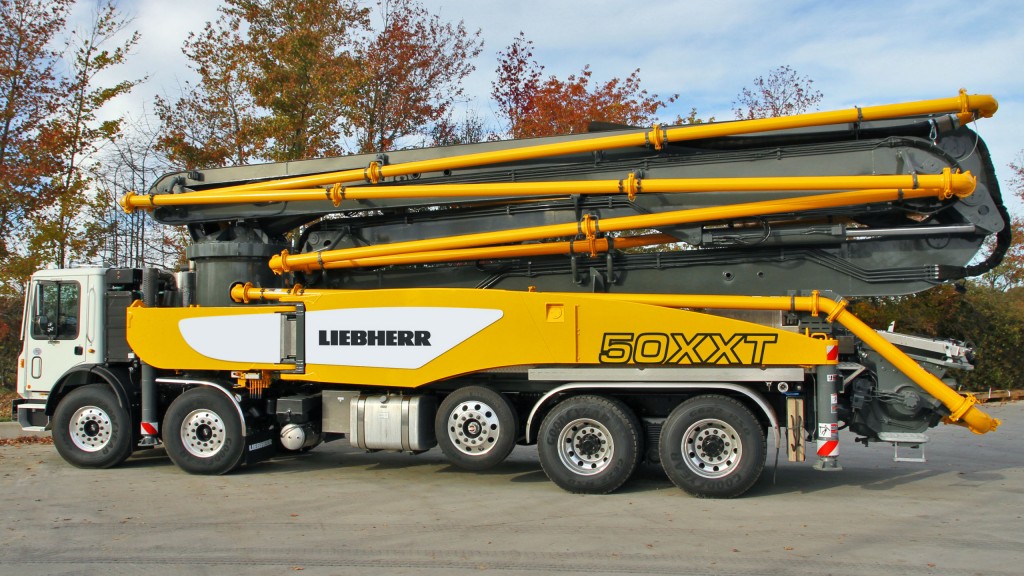 Liebherr has unveiled the new 50 M5 XXT truck-mounted concrete pump to the general public for the first time at World of Concrete 2018. The 50 M5 XXT development focused on integrating new technologies and capabilities, lowering the overall weight and optimizing product dimensions.
The new 50 M5 XXT extends the range of truck-mounted concrete pumps from Liebherr. The multi-folding five section boom is extremely easy to operate with perfect kinematics. The alternating pipework close to the boom ensures uniform movements over the construction site. With a vertical reach of 161 ft. (49.1 m) and a horizontal reach of 146 ft. (44.4 m), the compactly designed truck-mounted concrete pump provides remarkable working ranges.
An innovative highlight is the newly developed boom pedestal. Despite considerable weight reduction, the stability was increased even further. The slewing ring and drive are proprietary Liebherr components that play a crucial role. Liebherr concrete products benefit from decades of Liebherr's expertise in the development and manufacture of high performing components and systems for a whole range of sectors and areas.
There are four different pump unit options for the 50 M5 XXT. This enables outputs of 138 m³ to 167 m³ per hour. Two of these variants are long-stroke versions with a conveyance stroke of 2,400 mm, which are particularly smooth and efficient.
Depending on the chassis, the total length of the new Liebherr truck-mounted concrete pump is around 39 ft. (12 m) in the transport position. The new boom is particularly compact and has virtually no projection. This guarantees safe driving properties and exceptional handling on the construction site.
Liebherr is the only manufacturer to supply the patented XXT narrow support, which is extremely stable and warp-resistant. The front and rear support arms are affixed directly to the distributor boom pedestal, which directs the forces from the boom into the supports directly without deviations. All four support arms are pivotable. This enables high flexibility and an extremely wide working range for distributor boom on narrow supports. This is a huge benefit on construction sites with limited space.
Chassis from different manufacturers can be used for Liebherr's truck-mounted concrete pumps. A wide range of optional accessories and equipment are available for the 50 M5 XXT. Customers can choose from additional storage compartments, a modular water tank or additional steps on the left hand side. A high pressure cleaner makes cleaning easier and a pneumatic hose end air cuff prevents concrete from running out when the pump unit is stopped.
The new 50 M5 XXT is the latest addition to the rapidly expanding product portfolio of Liebherr truck-mounted concrete pumps. The Liebherr Concrete Technology division provides a diverse range of concrete technology solutions, including the development and manufacturing of high-quality truck mixers, mixing plants and concrete pumps. The range is complemented by additional concrete products, including conveyor belts for truck mixers and plant control systems. Together these products are designed for cost-effective, trouble-free mixing, transportation and installation of concrete. In addition, a development specifically for the North American market, Liebherr offers a MTS, mobile twin shaft mixer, which allows customers to transform their dosing plant into a wet batch plant within a very short time. The MTS is the ideal solution for road and mass concreting jobsite requirements.
Company info
Related products