Equipment Focus - Mobile Impact Crushers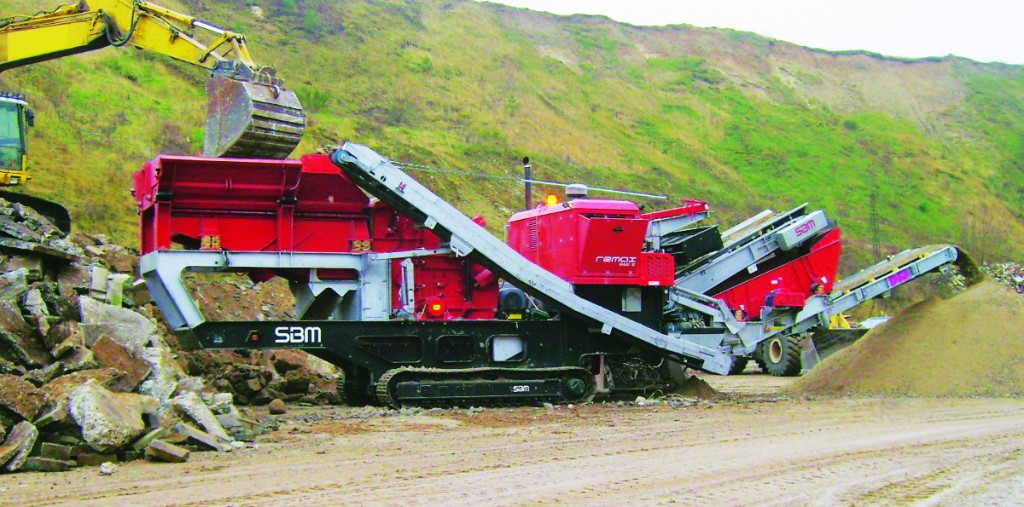 SBM Mineral Processing
REMAX mobile impact crushers are designed to be real all-rounders among mobile crushing plants. They efficiently process reinforced concrete, construction rubble and asphalt, as well as natural stones, and can be used for primary and secondary crushing. Computerized diagnostics and digitalized controls make maintenance and adjustments to match different application conditions very easy. The basic design incorporates the latest diesel-electric drive system over electric-power generation. Benefits include:
Improved fuel efficiency with 30 to 40 percent savings;
Reduced mechanical and hydraulic component wear;
No hydraulic issues such as leaks or power loss at extreme hot and cold temperatures;
Lower noise;
Simple design, easy start up, easy transport and improved versatility;
Operation in environmentally sensitive areas, underground and in tunnels.
With an optional mains generator changeover, all REMAX mobile plants can be powered from an external source, making them 100-percent electrically driven.

The overall design of REMAX mobile impactors provides flexibility and improved efficiency in final product quality (grain size); multiple design/material configurations; ease of maintenance access, reduced service duration; optimized material flow providing high quality end product; high throughput efficiency; and reduced waste and emissions.
Keestrack
One of the main advantages of Keestrack's impact crushers are their compact dimensions. Fully equipped with two-deck secondary screen module the Keestrack R5 weighs 55 tons and the R3 model (shown), the smallest in the range, weighs just 33 tons. Both models guarantee quick and cost-effective transport from site to site. An optional dolly system is also available.
Both R3 and R5 models feature active pre-screening and optional equipment, including magnetic separators, fines conveyors and secondary screen modules (one deck on the R3, two deck on the R5) with closed-circuit operation. Both direct-driven crushing units are characterized by their large and heavy rotors, which guarantee high crushing energy combined with smooth running. Large inlet openings and efficient overload protection systems ensure productive operation in typical recycling applications without cost-intensive pre-sorting or pulverizing.

The machines to be displayed at CONEXPO-CON/AGG 2017 feature diesel-hydraulic drives with modern load sensing hydraulics. The R5 can also be equipped with a hybrid diesel-electric drive: A 150 kVA on-board generator then supplies the electric drives for conveyors and screen modules, offering important fuel saving potential, up to 25 percent compared to the diesel-hydraulic version.
Screen Machine Industries
Screen Machine introduced a new addition to its line of Impact Crushers in 2016 – the 4043TR Recirculating Impact Crusher.
Built with the rugged performance and durability of Screen Machine's standard 4043T, the 4043TR Recirculating Impact Crusher offers two additional functions:

A large two-deck screen, fed directly from the crusher, delivers sized product off the fines conveyor at the front of the machine; and
An additional radial overs conveyor feeds directly back into the hopper, or can be positioned to the side for stockpiling.
The 4043TR also incorporates two of Screen Machine's patented technologies — the Crusher Relief System for the crusher lid, and Smooth Start for the screen box. "This machine is a true workhorse and we are excited about its potential," says Screen Machine president Steve Cohen.
Additional key features of the 4043TR include:
5- x 12-foot two-deck shaker screens, with heavy throw (3/8-inch at 1,100 rpm);
A swivelling, recirculating conveyor with cross conveyor for smooth material flow;
An overs return conveyor that projects material far into the hopper, spreads it across the feeder and prevents uneven wear on one side of rotor;
USA-made Grade-80 steel construction.
McCloskey
Designed for the sub-50-tonne class, the McCloskey I54 Impactor brings high quality and high production capacity to mobile impactor applications. The I54 is built around a 47- x 53.5-inch four bar impactor chamber with a 37- x 53.5-inch feed opening. An independently vibrating 53.3- x 69-inch double-deck pre-screen removes the majority of the fines in advance of the crushing chamber, increasing capacity and reducing wear. Available with a roll-in bogie, the I54 is easily transported site to site and has a minimal setup time with a user friendly control panel, maximizing production time. The latest I54 Impact crusher will be on display at CONEXPO-CON/AGG 2017.
Metso Minerals
Metso's Lokotrack LT1213 mobile impact crusher is a fully-equipped, tracked plant that combines mobility, high capacity and flexibility for a range of applications. It can operate as a primary or secondary unit, uses a CAT diesel engine for crushing power, and offers high-quality blow bars.
The Lokotrack LT1213 is designed for ease of operation and can be fine-tuned for aggregate, quarry or recycling applications with features like a vibrating grizzly or pan feeder under the crusher. A new radial side conveyor, hydraulic locking on the long main conveyor, and feed hopper walls are examples of innovations used in the LT1213.
Kolberg-Pioneer
The GT440 mobile horizontal shaft impactor (HSI) from Kolberg-Pioneer features an Andreas 42-inch by 40-inch horizontal shaft impact crusher. This model includes a 3- or 4-bar rotor configuration, allowing the end user to choose the best solution for their application. On-site mobility and quick set-up provide producers with more flexibility, and the capability of continuous crushing and tracking allows for up to 30 percent more uptime in a wide range of operations.
Kolberg-Pioneer will be launching a new GT440 with the latest patent-pending hybrid technology at CONEXPO-CON/AGG 2017.
Kleemann
The Mobirex MR 110 ZSi EVO 2 impact crusher from Kleemann (part of the Wirtgen Group) offers highly advanced technologies for aggregate production and construction materials recycling. Tier 4 final emissions-compliant, it's especially well suited for processing RAP and recycled concrete aggregate.

EVO 2 represents the continuing evolution of Kleemann's successful EVO Contractor Line, with additional benefits in terms of economy and operational safety. The MR 110 ZSi EVO 2 has a crusher inlet opening of 43.3 inches, which provides feed capacities of up to 350 tph.
Rubble Master
With Rubble Master's RM 100GO! tracked impact crusher, thanks to a new screen attachment, time from trailer to crushing is as low as 15 minutes. A re-feeding conveyor can be used to stockpile oversize material or to re-feed oversize material into the hopper. The RM 100GO! capacity is up to 275 tph, depending on material, with an inlet opening of 38 inches x 28 inches (950 mm x 700 mm). Fuel consumption is less than six gallons per hour (24 l/h). The crusher unit features adaptable speed control using a four-bar direct drive impact rotor. The RM 100GO! power unit is diesel-electric, using a standard John Deere (Tier 3), 6-cylinder configuration, with a 70-kVA, 400-V gen-set with external outlets for plug-in equipment. Tier 4 engines are available upon request. Tracks are two-speed remote controlled and machine weight, including screening attachment, is approximately 74,850 pounds (33,950 kg). Additional features include one-person operation, radio and cable remote control, magnetic separator, release system and tool box.
Company info
Related products
Related Articles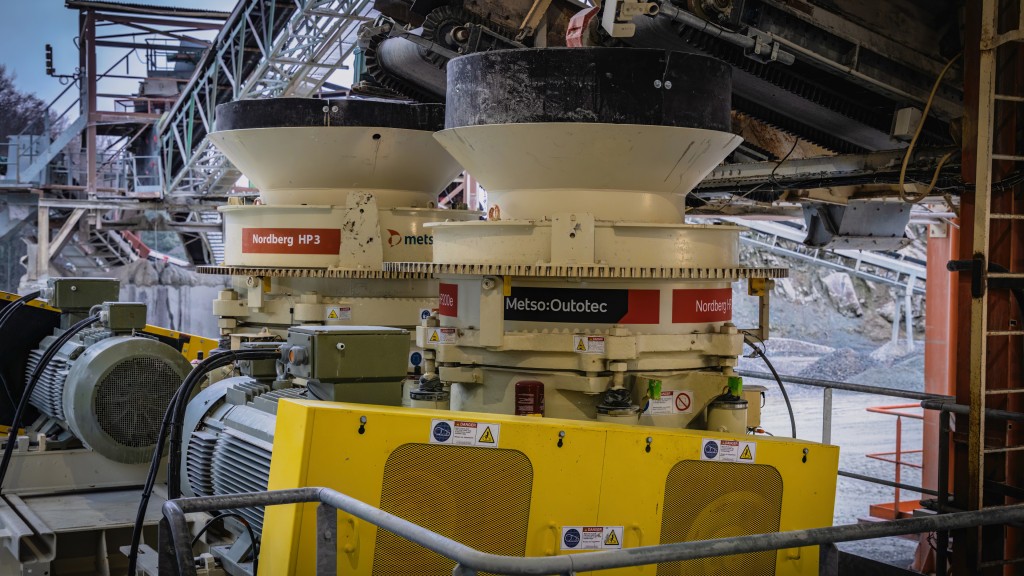 Metso Outotec's new cone crusher incorporates powerful operation and sustainable design