Xtreme Manufacturing unveils 10,000-pound capacity telehandler at CONEXPO 2017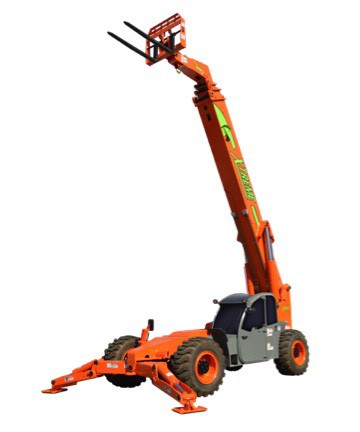 At ConExpo 2017, Xtreme Manufacturing is unveiling a new telehandler which expands their 10,000 pounds capacity line. The new Xtreme XR1056 can lift loads up to 10,000 pounds, with a lift height of up to 56 feet. Engineered to withstand the toughest working conditions, this high-pivot telehandler is equipped with a heavy-duty steel frame, chassis and boom, as well as long-life boom rollers that require minimal maintenance and deliver a smooth boom operation for precision handling of loads.
The new XR1056 shares many standard features with the rest of the Xtreme product line, including 360-degree operator visibility from the cab, intuitive operator controls that permit one hand on the steering wheel at all times, and an integrated boom lift point. The boom lift point is designed to safely handle suspended loads and can lift the maximum rated load of the telehandler, providing a versatile alternative to a mobile crane on the jobsite.
In addition to sharing standard features with the rest of the Xtreme product range, the new XR1056 has been further enhanced. New features include a remote-mounted, electric over hydraulic Hawe valve located in the rear of the lift to maximize cab space, plus a new automatic powershift ZF transmission. It is equipped with a 72-inch fixed carriage, and has a 50-gallon fuel capacity. The Xtreme XR1056 is powered by a 74-hp high torque 3.8-litre Cummins engine that requires no DEF and no DPF. An optional 120-hp 3.8-litre Cummins engine is available.
A compact, four-section boom makes the lift easier to navigate around tight sites or transport between jobs, and is constructed using tall sections that deliver increased boom rigidity. Weighing in at 34,000 pounds, the new Xtreme XR1056 has been developed in response to customer demand, and is expected to become a volume model in the rental and construction sectors.
The new Xtreme XR1056 will be available to order in Quarter 4, 2017.