The real cost of vocational truck ownership
Freightliner has broken down the important aspects of RCO into five contributing factors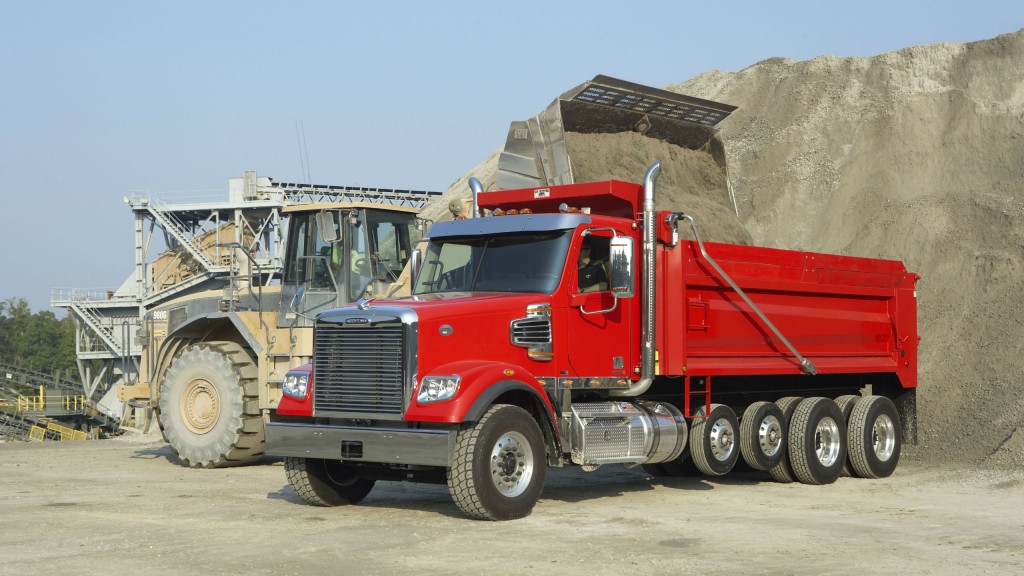 When it comes time for fleets to purchase new trucks, managers often spend hours poring over the costs of each new unit over time. That total cost of ownership (TCO) can be the biggest guide for selecting one brand and model of truck over another.
That looks great on paper. But, for vocational trucks, there's a lot more to consider where costs are concerned. Work trucks need to be ready to roll every day, no matter whether they're hauling concrete to a job site or carrying products on a delivery route.

It's an important exercise to go beyond just considering fuel costs and scheduled maintenance, and consider multiple costs – both tangible and less so – associated with buying a vocational truck. Freightliner has developed a concept to expand the discussion for truck owners, and help them get a clearer picture – the Real Cost of Ownership (RCO).

According to Freightliner, RCO is a comprehensive consideration of hard and soft costs over the lifetime of a vehicle. Some of the costs are hard numbers you can get by using a calculator – like monthly diesel expenses – while others, such as ease of upfit, safety and productivity, are a bit more difficult to measure. But these real-life costs are as critical to the RCO for a business as an increase in the price of tires.

Freightliner has broken down the important aspects of RCO into five contributing factors:

Upfit – Vocational trucks are expected to perform a myriad of tasks, from delivering construction materials to plowing snow. That's why there are literally thousands of different configurations for vocational trucks. Having truck configurations for specific applications is a critical element of the upfit process. Dealers must work closely with equipment manufacturers to build vehicles that can be upfit easily depending on the needs of the buyer.

Uptime – Owners need to make informed decisions about issues that require immediate attention or that can wait for the next routine maintenance cycle. Manufacturers have many different approaches to this need; Freightliner, for example, has hundreds of service locations with Detroit factory-certified technicians. They also have 200 ServicePoint facilities, a 24-hour hotline, and the benefit of the Detroit Connect Virtual Technician integrated remote diagnostic system.

Safety – vocational trucks are often used on job sites and in conditions that are congested and difficult. It's important that manufacturers understand the importance of operator visibility, entry and egress. Comfort in the truck during a long work day can help reduce fatigue and improve safety. Vocational trucks should offer numerous available safety features and ergonomically designed, well-insulated cabs to help keep drivers safe and productive.

Quality – Rigorous testing to ensure each model of truck meets or exceeds customer business needs is key. Cutting-edge manufacturing technology is important for achieving precise, repeatable results with quality construction and durable materials. This ensures maximized reliability and longevity.

Productivity – For vocational trucks, productivity starts with efficiency and dependability to maximize uptime. Trucks need to work, so manufacturer design and testing in real-world conditions is important in ensuring vocational trucks are productive.

Owners should consider each of these factors individually as they make a decision on what to purchase – and consider the offerings of the manufacturers when it comes to their approach to these important aspects of their trucks.

Upfitting key for vocational users
Upfitting, for example, is key for vocational operators. Their trucks do anything and everything, from hauling gravel to carrying cranes, and everything in between. Manufacturers must offer trucks that are flexible to meet the needs of the customer.

"It's a customer-driven thought process," says Richard Saward, general manager vocational sales, Freightliner Trucks. "Customers aren't likely to change their operation to adapt to our truck. They're not in the truck business; they use trucks to do their business. They're in the propane delivery or power line maintenance or waste hauling business. The chassis is a major component and a critical element, but it's not the most important one."

Having the right chassis to upfit for the Bowen Island Fire Department was critical to the selection process. Bowen Island is located off the west coast of British Columbia, and has mountainous terrain with occasional high winds that present a real challenge. To overcome the environment, the Bowen Island Fire Department and HUB Fire Engines and Equipment decided to create the biggest and most powerful fire truck on the island.

Bowen fire trucks transport about 2,800 imperial gallons (3,362 U.S. gallons) of water on their trips, so they needed more power to go uphill and the ability to switch to lower gears to travel down the mountainous terrain. Additionally, many of the department's drivers operate gravel trucks at work and are accustomed to large-cab trucks. The solution: a Freightliner 122SD.

"The reason that we went for such a large chassis was to be able to accommodate the immense amount of water that we need to carry and because we have very hilly terrain," explains Brian Biddlecombe, fire chief of the Bowen Island Fire Department.

Bowen Island's previous trucks were smaller units, which are what HUB Fire typically upfits. "Most of our customers request their trucks be built on Freightliners, more than any other chassis manufacturer. That definitely says something about quality and people's confidence in the product," says Trevor Edwards of HUB Fire.

Safety is another primary concern for work trucks. These vehicles often spend hours on the road – requiring advanced safety systems for travel in traffic – and more hours on congested job sites. In addition, operator comfort, visibility and ease of entry and exit are important.

Safe and stable in snow and ice
A typical day for Mapp Trucking in Hinton, Alberta includes snow, ice and mud during 30- to 60-mile runs to make deliveries in the Alberta oil fields. The average January temperature is a bone-chilling -11 degrees Celsius (12 degrees Fahrenheit), and the rolling grades of the Rocky Mountain foothills 300 miles northwest of Calgary offer a challenge to any tank truck. Mike Pinet of Mapp Trucking says the worst thing for a driver trying to stay on schedule is that rapidly changing weather and road conditions can often require pulling chains on and off the average truck multiple times during the day.

Mapp selected a powerful Freightliner 122SD that can withstand the demanding conditions of Canadian winters, provide superior uptime and offer steadfast power and handling.

According to Pinet, the addition of a front drive axle to the 122SD's traction performance in slippery conditions is like switching from a two-wheel-drive pickup to a 4x4. The extreme-climate thermal cab insulation by Freightliner adds to driver comfort and provides a very quiet cab. Not only does the vehicle offer stability in poor weather conditions, the efficient 560-horsepower Detroit DD15 engine delivers 1,850 pound-feet of torque that is a game changer in the rugged Alberta backcountry.

RCO means looking at a work truck in a new way – not just as a cost centre, but as a tool for increasing profits. In the past, the focus has been on fuel mileage, scheduled maintenance costs and resale value. These costs are important to the performance of a truck, but RCO brings a broader, real-life perspective to the discussion.

By paying attention to the five RCO pillars for vocational trucks – upfit, uptime, safety, quality and productivity – vocational truck owners get a better picture of how work trucks influence a range of critical factors in their businesses.