John Deere grading-heel buckets offer smooth productivity in tight spaces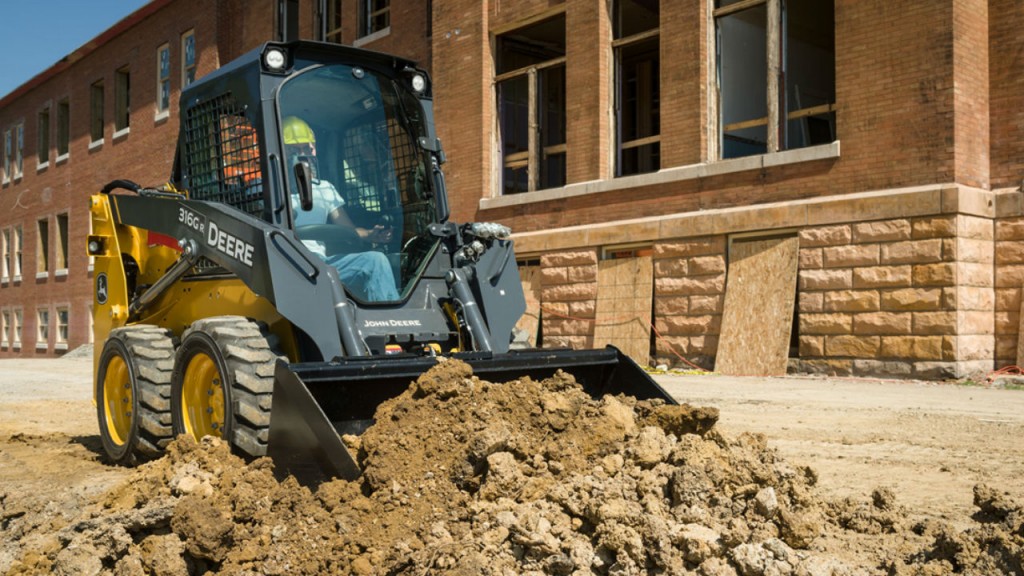 John Deere is expanding its lineup of easy-to-use Worksite Pro attachments with the new grading-heel buckets. Specially designed for the new Small-frame G-Series skid steers (312GR, 314G, 316GR, 318G) and compact track loader (CTL) (317G), the grading-heel bucket attachments are ideal for customers performing final grading applications.
The grading-heel buckets are similar in style and dimensions as standard dirt buckets, but feature a squared-off heel for back-dragging applications. The bottoms of the buckets are smooth, with no lifts or edges, which allow the bucket to create a flat surface with ease. These features make the grading-heel bucket an ideal option for a variety of jobs, including land shaping, dirt leveling and installation of new landscape for sodding, irrigation and drainage. The grading-heel buckets are available in two sizes – 60-inch and 66-inch – for use with most compact models in the G-Series lineup.
"We're seeing construction spaces getting tighter, especially in the residential building industry, and customers are seeing the value of operating smaller machines in these areas," said Gregg Zupancic, product marketing manager, John Deere Construction & Forestry. "Add an attachment like the new grading-heel bucket, and contractors can work comfortably and efficiently in tight quarters without sacrificing productivity."
Worksite Pro buckets, like the grading-heel options, are ideal ways to take advantage of skid steers' and CTLs' steep dump angle and high bucket rollback. Not surprisingly, they also enhance the performance of many competitive skid steer models.
With the universal, self-cleaning Quik-Tatch easy attachment system found on all John Deere skid steers, CTLs and compact excavators, the machine can easily add and remove the grading-heel bucket in no time.

Company info
Related products
More from Attachments
A bottleneck of haulers waiting to be loaded is inefficient. Idle machines burn unnecessary fuel, increase maintenance costs and decrease resale values when you're ready to trade them in.
When you pair the new Volvo EC950F crawler excavator and A60H articulated hauler, you can load trucks faster. The EC950F can utilize a 10-yard bucket to fill a 60-ton capacity A60H in only four passes — reducing passes lowers fuel consumption and drastically speeds up cycle times to keep your haulers moving. See how the massive EC950F and A60H improve cycle times and more to boost your profitability.