International Truck HX series class 8 vocational trucks
New trucks mark major re-entry into construction and concrete markets, and complete the severe-service lineup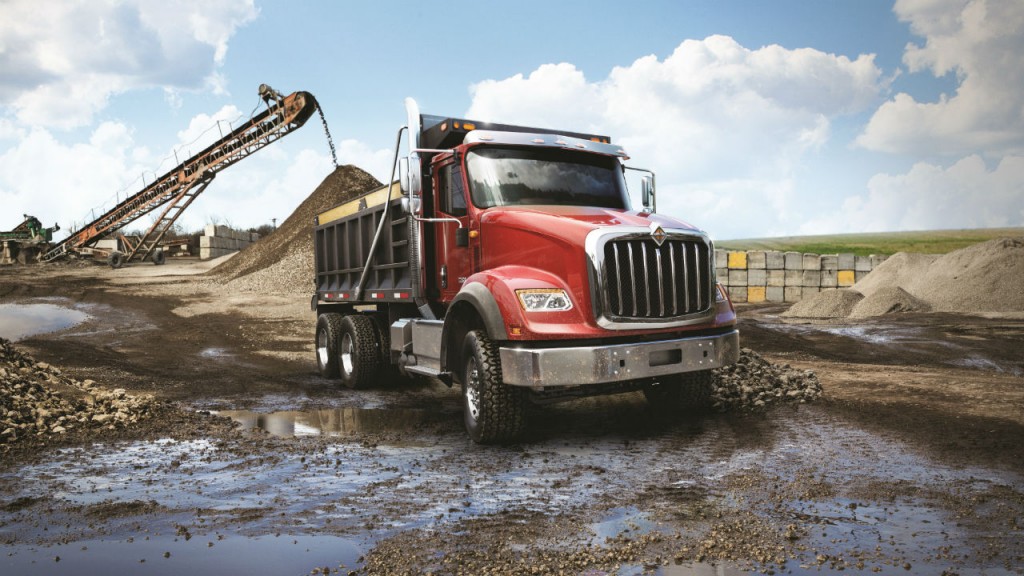 For quite some time, International Trucks filled the bill for vocational trucks in a big way. The company's PayStar model was everywhere on jobsites, moving dirt and gravel, trailering heavy equipment, carrying concrete in mixer trucks and handling other tough jobs. A few years back, the company shifted its attention from those markets and reduced the PayStar lineup, but at the 2016 World of Concrete show they announced a "re-entry" into these markets with the brand-new HX Series of Class 8 trucks, which replace the PayStar line.
According to David Hillman, Vice President and general manager for International's vocational products line, the company is intending to pick up where it left off a few years ago.
"The PayStar was long our mainstay product in a lot of construction applications, especially concrete placement and aggregate hauling. Over the years, we had invested a lot into that product, but with the emissions changes around 2010 we could no longer offer the shorter hood versions," Hillman explained.
While the PayStar models with long hoods remained available, the market sectors were narrowed to lighterweight hauling applications, Hillman noted. The company has always wanted to move back into other areas but it took some time and motivation to make that work. "Getting back into a shorter hood configuration was a central piece of the development plan for the HX Series," said Hillman.
When Bill Kozek joined International's parent company Navistar as President of Trucks and Parts, the push was expanded.
"Bill had a real interest in getting back to some of those spaces," he said. "He was curious about why we weren't competing there – and when he learned the reasons, he said 'well, get us back into those marketplaces.'"
The aim for International was to put trucks back on the jobsite that were safe, powerful and offered operators a level of pride in their equipment, Hillman said.
"Talking to a lot of customers that run heavy equipment, they're typically self-made people…there's pride of ownership, and the fact is they're going to put their name on their equipment," he said. "It's important to have a vehicle that can support that individual's brand, so the HX series has been designed with those people in mind, to have a more modern appearance and look good while performing in tough environments."
Four HX Series models will be offered with either a short or long hood, depending on the application. Three models were released at the 2016 World of Concrete event; the fourth model, the HX520, will be introduced in April at Truck World in Toronto.
The HX515 is a 115-inch BBC set-forward axle straight truck with primary vocations including concrete mixer, construction dump, refuse/rolloff and crane.
The HX615 is a 115-inch BBC set-back Axle truck or tractor with primary vocations including construction dump, concrete mixer, platform stake/crane and refuse/roll-off.
The HX620 is a 120-inch BBC set-back axle truck or tractor with primary vocations including heavy-haul tractor, construction dump and platform stake/crane.
The HX520, is a 120-inch BBC set-forward axle truck or tractor with primary vocations including heavy haul tractor, construction dump and platform stake/crane.
The HX515 and the HX615 models are powered by the Navistar N13 engine, while the HX520 and HX620 models have the 15-litre Cummins ISX15 engine with up to 600 hp.
Commenting on configurations for different regions, Hillman noted: "A dump truck hauling sand in Indiana is configured in a certain way but it can't haul sand in Michigan because the regulations are different. It's similar with Ontario versus Alberta. You've got different ways that trucks are configured in different parts within the same country. So, having different axle positions – like a set-forward or set-back – or being able to put a 15-litre under the hood, or shorten the hood with a 13-litre to have better maneuverability."
The HX series was debuted to good response at World of Concrete, and Hillman said plans are to build off of that launch with more potential additions to the line down the road.
"We get a lot of feedback from customers as they put models into their fleets, and we take it very seriously," he said. "We know customers are going to help us refine these models as they go. For example, we're planning on introducing integrated sleepers in the coming years as one way we'll continue to expand and make more investments into the HX series platform."
Click here for a video of the action-packed HX Series debut in Vegas.

Company info
Related products