Volvo VHD
Engineered and built for hauling heavy loads in rugged terrain and on crowded construction sites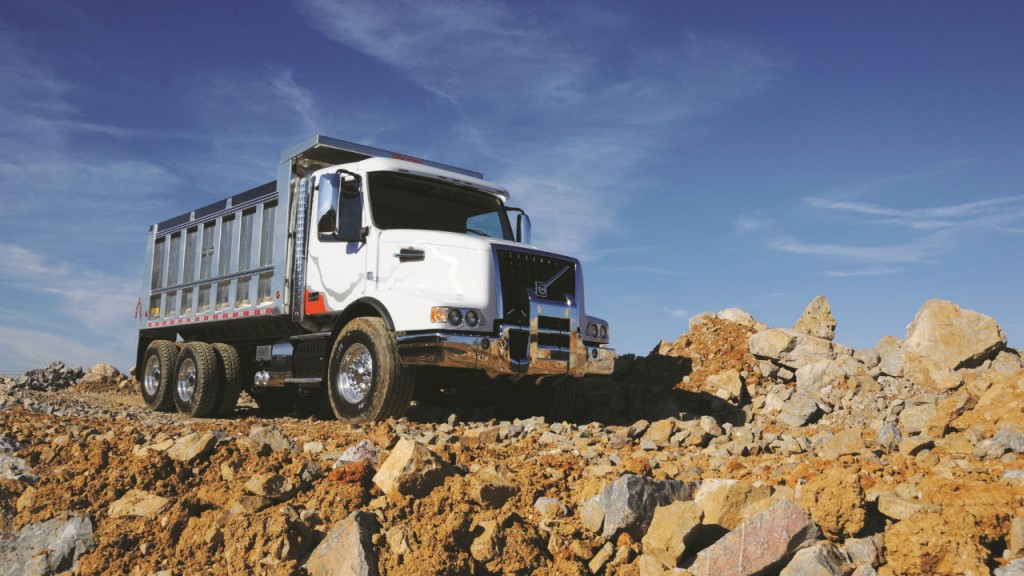 In addition to their heavy hauling and maneuverability, Volvo VHD trucks are designed for quick body mounting in a wide range of applications: dump truck to aggregate hauler, concrete mixer, bridge formula, crane, refuse, logging, oil field, heavy-haul lowboy or equipment trailer, municipal, snow plow, vacuum units and tanker. The two models – the VHD 200 day cab and VHD 430 with a 42- inch flat roof sleeper – are available in axle-forward and axle-back configurations. The VHD 430 is a good choice when you might have an occasional overnight trip that can mean the difference between staying on schedule or falling behind.
For both models, there are four custom-axle configurations to choose from (4x2, 6x4, 8x4 and 8x6), partial or full-frame liners with up to 4,200,000 RBM (resistance bending moment, a calculated number in pounds per square inch that shows the ability of the metal to return to its original shape after removal of a maximum load), and optional tri-drive rear axles for higher GVWR and legal requirements.
The clean back of the cab on axle forward models allows the body to be mounted closer to the cab for better weight transfer to the front axle, which increases payload capacity. Frame rail options include a taller standard profile that is three to six pounds lighter per foot, yet strong enough to do the work of a double frame, increasing payload.
The Volvo T-Ride suspension features trunion-mounted springs and rubber towers for excellent traction and articulation in off-road conditions. With rear axle capacities to 58,000 pounds, a full 17 inches of articulation in the suspension, low-maintenance nylon bushings and maintenance-free sealed V-rods and torque rods, T-Ride suspension delivers a more comfortable ride in extreme conditions. In addition, the VHD trucks have up to 50 degrees of wheel cut, one of the tightest turning radii in the industry, for both the 29-inch or 51-inch front-axle positions.
"The reinforced components and improved serviceability of the I-Shift for severe duty applications translate to lower maintenance costs and more time on the worksite producing revenue." Chris Stadler, Volvo Trucks Regional Haul Marketing Manager
Automated shifting makes driving easier
Volvo's I-Shift transmission offers the convenience of an automatic with the performance of a manual, meaning that you automatically get the right gear, no matter the payload or terrain. I-Shift also provides quicker shifting during critical load-pulling and a quick rocking response in adverse conditions. This type of transmission translates into less driver fatigue for greater safety and higher productivity.
Volvo VHDs offer Enhanced Performance mode, P+, on I-Shift transmissions with Volvo engines, adapted for construction and heavy haul applications. This mode includes various functions that adapt gearshifts and gear selection to poor driving surfaces and hilly road stretches. It also includes functions that aid starting from a standstill in less than ideal driving conditions.
The P+ Power Launch feature is achieved as engine rpms are increased as necessary to provide extra torque when starting from a standstill, when loaded to capacity, or on poor terrain. The feature matches torque to the terrain, minimizing wheel slip on soft surfaces.
In 2015, Volvo Trucks introduced a rugged version of the Volvo I-Shift automated manual transmission for severe duty (SD) applications, designed for on and off-road work in construction and other applications requiring frequent shifting. It is available for order on Volvo VHD vocational models with heavier weight ratings – straight trucks rated at 66,000 pounds GVWR or higher and tractors rated at 125,000 pounds GCWR or higher. For lighter-weight applications, VHD customers can select this version of the I-Shift SD as an option.
"The heavier loads, uneven terrain and frequent shifting typical of heavy-duty vocational duty cycles require a more rugged transmission," said Chris Stadler, Volvo Trucks regional haul marketing manager. "The reinforced components and improved serviceability of the I-Shift for severe-duty applications translate to lower maintenance costs and more time on the worksite producing revenue. The transmission also offers customers a broader payload range, which can help enhance the truck's profitability and versatility."
Besides the Volvo 12-speed I-shift, other available options are: Eaton Manual gearbox with 10, 13, 15 or 18 speeds; Eaton AMT UltraShift; and Allison, 5 and 6 speed transmission.
Power for the VHD models is either the Volvo D11 engine with 355-405 hp and 1250-1550 lb-ft of torque, or the Volvo D13 with 375-500 hp and 1450- 1850 lb-ft of torque.
Volvo also makes it easy to perform multiple tasks with a VHD by offering up to five PTO drive connections in three different positions (Front Engine PTO, Rear Engine PTO and Transmission Mounted PTO) for gear pumps, piston pumps or direct drive shaft connections.
Technology that helps prevent collisions
Volvo Enhanced Stability Technology (VEST) helps prevent collisions, especially those that come from interaction with other vehicles on the road. VEST is designed to assist drivers in avoiding jackknives and rollovers before they happen – and often before a driver is aware that anything is wrong. VEST sensors continuously monitor and react to multiple vehicle parameters and conditions, derating the engine, engaging the engine brake and applying brakes independently at each wheel end as needed to help the driver safely bring the truck under control. Should a collision occur, the engine and transmission are designed to drop down and away from the driver while the steering column automatically collapses to absorb energy from the crash.
Company info
Related products