New products, larger presence at Bauma 2016 reflect expansion of McCloskey International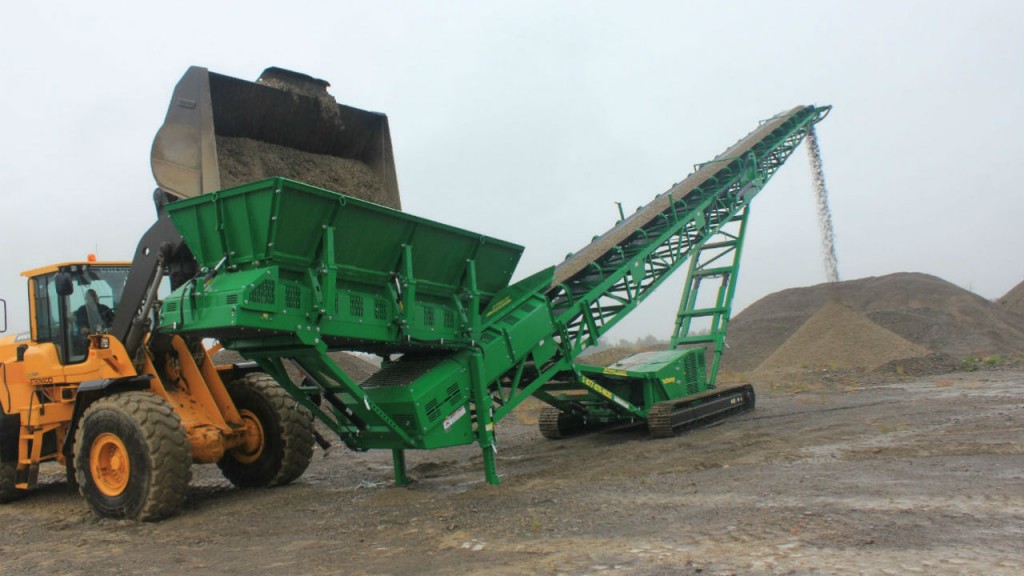 Screening and crushing industry leader McCloskey International will be demonstrating its continued growth with a significant increase in its presence at Bauma 2016 in Munich, Germany April 11-17 of this year.
Located at Stand N619 in the Open Air North area, the 1,028-square-metre (11,000-square-foot) space will showcase the newest products from McCloskey International, as well as serve as a venue for customers to meet and mingle with dealers from around the world. A 25 percent increase in floor space over the 2013 Bauma exhibition stand will allow McCloskey to showcase new products like stackers, dual power screeners and crushers, along with unveiling new business divisions.
New SDX-95 Telecoping Stacker – stacking up well
Rounding out the equipment on display will be two new stackers. The new SDX-95 telescoping stacker desegregates and maximizes stockpile capacity using a robust, fully automated and highly flexible CAN-based control system to provide optimal control of material quality. It is capable of 700 tph in applications including aggregates.
Competitively priced, the new SDX-95 is highly portable with an onboard power unit. On-site setup from truck to stockpiling can be accomplished in 15 minutes. The stacker proves to be cost effective for customers removing the need to transport a separate genset or supply mains power on site.
New ST80TF Feeder Stacker – materials handled
McCloskey International has added a new heavy-duty mobile feeder stacker to its expanding materials handling product line. The new ST80TF is perfect for applications where a V Bin stacker may not be the right match for the material and offers an economical yet highly productive option to the larger TF80.
With a 900mm (36-inch) wide and 24m (80-foot) long conveyor, the ST80TF can produce up to 750 tph. Features include fast on-site setup and mobility, with hydraulic folding frame and feeder wings for easy transport. The ST80TF features a large capacity hopper with adjustable height, ensuring optimized operational efficiency on the job.
New R155 Feature - dual power
McCloskey will introduce the R155 Dual Power mobile screener to its lineup of screening equipment, aiming to provide maximum flexibility and significant savings on energy costs to customers. Designed for maximum uptime on the job, the R155 Dual Power can switch easily between the two sources of energy. Easily connected to external electricity supply sources, the Dual Power R155 is adaptable, and able to work in a variety of sites around the world.
The R155 is a member of the durable scalping 'R Range' and boasts the popular transport-friendly 2.5m transport width.
New I44R Design - making an impact
Crushers will also be on display, including the latest version I44R combining crushing, screening and recirculating to provide seamless production. New features include changes to the impactor side walls to allow better material flow, a redesigned underpan that delivers more throw and enhanced material movement, and an all-new feed boot on the main conveyor to accommodate more material flow from the underpan.
New D15 Drill - trenchless productivity
McCloskey will also display the newly redesigned D15 HDD Drill Rig. Based on field testing and extensive R&D, the D15 represents one of the most powerful rigs in its category, with one of the smallest footprints. An operator's station that has been configured for optimal productivity, along with additional fittings to allow for diverse terrains and conditions, make the D15 a strong asset for trenchless projects worldwide.
New business divisions to be unveiled
In addition to its physical expansion, over the past 12 months the company has diversified into new business areas which will be formally introduced at Bauma.
Company info
Related products