Gehl compact excavator with features to reduce fuel consumption by 20 percent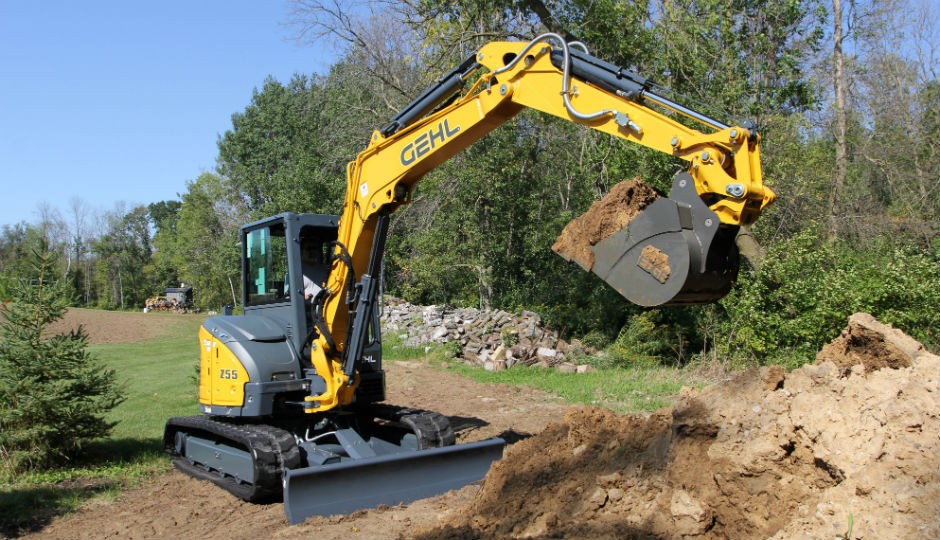 The brand new addition to Gehl's compact excavator line, the Z55, strengthens their North American excavator offering with its 5.5 metric ton size. This new model provides excellent performance while lowering fuel consumption and operating costs.
The new Z55 is equipped with a 47.6-hp (35.5kW) Yanmar Tier 4 turbocharged diesel engine which features an electronic throttle for precise control. Cost savings are made possible with the ECO mode and auto deceleration features. When activated by the flip of a switch inside the cab, ECO mode will reduce the engine speed by 10 percent without sacrificing power, while auto deceleration decreases the engine speed to idle after four seconds without hydraulic movement. These two features provide a combined result of 20 percent reduction in fuel consumption.
The operator's station has many features to enhance productivity and controllability. The controls on the Z55 include a proportional auxiliary hydraulic rocker switch which enhances attachment options. This allows the operator to adjust the hydraulic flow for optimal attachment performance. The operator can easily select standard ISO or an optional backhoe control pattern with a turn of a mechanical lever. A boom offset swing of 68 degrees in both directions allows for digging a square hole without repositioning the machine. An integrated digital display located in a highly-visible area features recordable maintenance history with adjustable time intervals and reminders. The display unit also records hours used for the past 90 days and can be monitored without starting the engine.
An angle blade with float and bolt-on cutting edge is a factory installed option. Using the rocker switch on the blade lever, the hydraulic angle blade can be angled 25 degrees to push material aside as the machine moves forward, eliminating the need for repetitive repositioning. The blade can be simultaneously angled and raised or lowered to reduce the amount of time backfilling.
The Gehl Z55 zero-tail-swing compact excavator is positioned in the North American market to meet the needs of construction, utilities, telecommunication, landscaping and rental. Gehl Zero-Tail-Swing Compact Excavators excel in applications such as grading and excavating, trenching, digging, demolition and recycling, cabling and light utility construction. Their compact nature and zero-tail-swing design make them ideal in situations where space is limited.
"The new Z55 compact excavator is the latest addition to Gehl's growing excavator line. The Z55 is a step up from the Z45 GEN:2, with 19 percent more power and 10 percent more dig depth," says Nathan Ryan, Product Manager for Gehl Compact Excavators. "Like all Gehl compact excavators, the Z55 offers zero-tail-swing to aid in safe and damage-free operation on the jobsite. The Z55 comes standard with Gehl's Power-A-Tach pin grabbing coupler, allowing a single operator to switch buckets in a matter of seconds. An optional, angling dozer blade with float can be added to reduce back-fill time. The Z55 also includes ECO mode and auto idle, which provide up to a 20 percent reduction in fuel consumption. Contractors and operators that are looking for efficiency and extra capacity are sure to find it with the new Z55."