Schwing S 46 SX Available on Mack Granite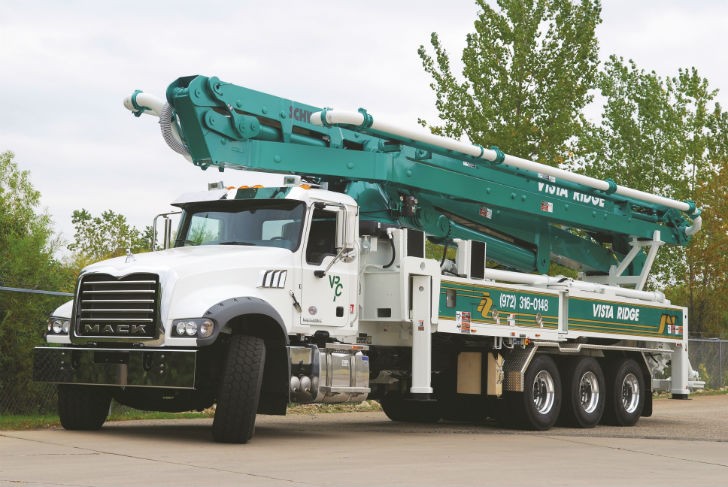 The popular Schwing S 46 SX is now available on the Mack Granite conventional truck chassis. The S 46 SX provides 151-feet of vertical reach and five-inch pipeline for maximum performance of 213-cubic yards per hour output. The pump is ideal for commercial projects and bridgework.
The Mack GU 714 utilizes a single steer axle with three driving axles and an Allison automatic transmission. The Mack Factory Warranty is two years/250 km on the engine and one-year, bumper-to-bumper unlimited mileage on the chassis. Engine output is rated at 370 hp. The conventional cab configuration features a frame-mounted diesel particulate filter and longer wheelbase that allows the chassis to better meet weight laws while also improving driver comfort.
The S 46 SX employs the proven Overhead Roll and Fold Boom. The versatile, four-section boom provides high utilization with 738.5-degrees of articulation with the design advantage of always unfolding towards the pour area. On slabs and bridge decks the new pump's 137 feet of horizontal reach and 380-degree slewing range allows maximum production from one location. Standard features on the S 46 SX include Schwing's exclusive Super X Outriggers that telescope out and around obstacles due to their curved design. The design of the outriggers allows for the long-stroking Schwing Generation 2 pump kit to fit between the chassis frame rails.
With 98 inches of stroke and 10-inch diameter material cylinders, the standard 2525H-6 120/85 MPS is able to operate slowly, while maintaining high volume, for longer service life and a smoother boom. The Big Rock Valve has an extended housing for efficiently filling the material cylinders.
Controlling the boom is a Schwing exclusive wireless radio remote with bi-directional transmission between the pump and operator. With two-way communication, operators are fully informed of the pump's status even when they are hundreds of feet from the pump. The Vector control system provides valuable data for pump management.