Trailer-Mounted, Spray Injection Pothole Patcher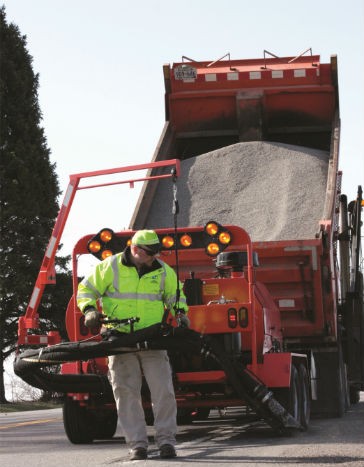 Cimline has redesigned their successful DuraPatcher trailer-mounted spray injection pothole patcher, popular with municipalities that use a dump truck to tow the patcher and supply the aggregate.
The new DuraPatcher ECO combines environmental, safety and cost saving features. The Tier IV diesel engine, with 18 percent better fuel economy, powers the blower for the spray injection process.
A high volume, low-pressure air stream is used to transport the aggregate/emulsion mix with sufficient force to compact the material and provide a permanent patch. The DuraPatcher system uses virtually no moving parts in the delivery system and the new, low profile design provides better visibility.
Standard features include a heated 250-gallon emulsion tank, ergonomic boom to carry the delivery hose, and a spray-injection nozzle. An operator panel controls all patching functions. The specially designed, Vent-Flo nozzle properly coats the aggregate with the optimum amount of emulsion, regardless of aggregate size.
Three truck-mounted models are also available and are self-contained with emulsion and aggregate storage.