New DuraPatcher ECO Released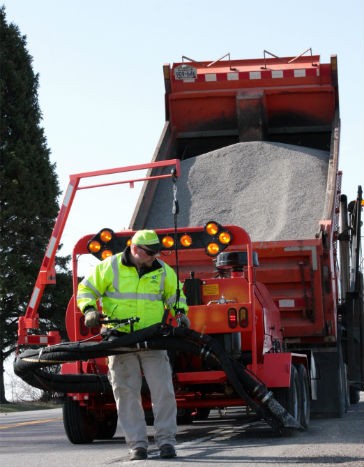 Cimline Pavement Maintenance Group has redesigned their successful DuraPatcher trailer-mounted spray injection pothole patcher. The new DuraPatcher ECO combines environmental, safety and cost-saving features while maintaining the performance of the leading pothole patcher. The Strategic Highway Research Program (SHRP) cites spray injection as the most cost-effective and fastest pothole repair method.
The new machine receives a fully compliant Tier IV diesel engine/blower package that is enclosed for security and safety. With 18% better fuel economy, the new engine powers the machine's blower that is the basis for the spray injection process. A high volume, low-pressure air stream is used to transport the aggregate / emulsion mix with sufficient force to compact the material and provide a permanent patch. The DuraPatcher system utilizes virtually no moving parts in the delivery system. The new low profile design provides better visibility.
Standard features include a heated 250-gallon emulsion tank, ergonomic boom to carry the delivery hose and spray-injection nozzle. An operator panel controls all patching functions. The specially designed Vent-Flo nozzle properly coats the aggregate with the optimum amount of emulsion regardless of aggregate size. Municipalities utilize a dump truck to tow the patcher and also supply the aggregate.