McNeilus Leads the Way at World of Concrete 2015; 14 Mixer Trucks on Display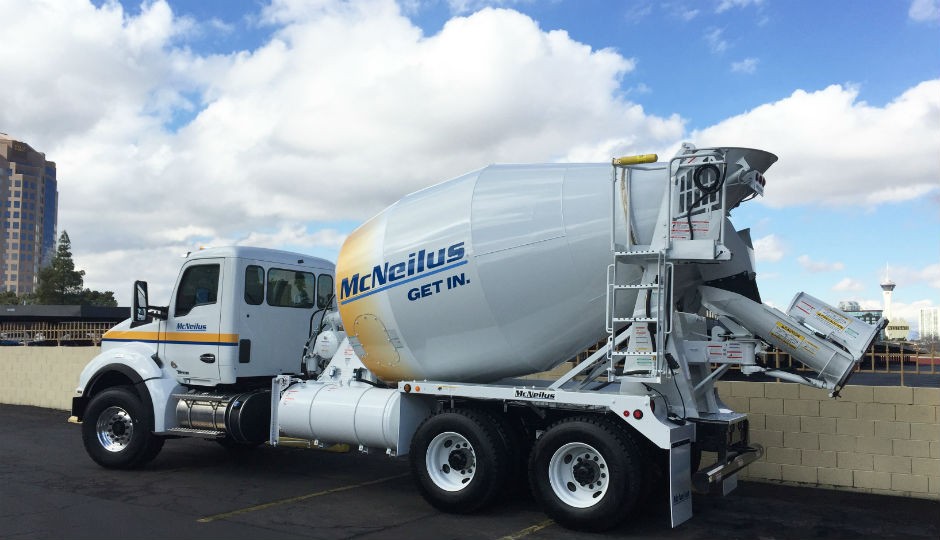 McNeilus Truck & Manufacturing, Inc., showcased a contingent of 14 ready-mix vehicles at World of Concrete (WOC) 2015 in Las Vegas, Nevada. Six vehicles will be featured in McNeilus booth C6545, including three McNeilus Standard mixers and a McNeilus Bridgemaster mixer, alongside a CNG-powered Oshkosh S-Series mixer and a London Standard mixer.
Eight other McNeilus vehicles will be featured throughout the WOC exhibition, including a Bridgemaster mixer donated by McNeilus to help support world-class academic programs and educational initiatives for the industry. The truck will be on display at the Concrete Industry Management (CIM) auction booth.
"We are proud to present a portfolio of industry-leading mixers and innovative technologies at the year's largest and most important concrete industry trade show," said Brad Nelson, Oshkosh Corporation senior vice president and president of the Oshkosh Commercial Group. "McNeilus is driven to perform beyond our customers' expectations, with products and services to keep their ready-mix operations at peak productivity. The proof is on display throughout World of Concrete 2015."
Three vehicles in the McNeilus booth are configured with the innovative McNeilus M80- Series drum, with its patent-pending design that shifts the center of gravity down and forward for increased capacity and more efficient mixing. Four vehicles at the booth are outfitted with the new industry benchmark McNeilus Command Center electronic controls, including its driver-friendly touchscreen and intuitive joystick controls.
A display located in the booth highlights the expansion of the company's industry-leading McNeilus Next Generation™ (NGEN) Compressed Natural Gas (CNG) systems. McNeilus NGEN CNG systems are now offered on a wider range of vehicle types, and are available on new vehicles and retrofits through McNeilus' North American network of regional installation centers.
The booth also showcases a kiosk featuring McNeilus Street Smart Vision (SSV) systems. The display demonstrates SSV's ability to allow drivers and management to see more – and have more information at their fingertips.
In addition, McNeilus Street Smart Parts will feature a live eCommerce website where producers can receive a guided tour, register, and order parts right from the booth. "Fast access to thousands of replacement parts at an excellent value is what our enhanced eCommerce site is all about," added Nelson. "Whether for McNeilus or another brand, we've got a robust selection and the industry's only factory-direct distribution network at the ready to keep trucks on the road and out of the garage."
Besides the McNeilus booth, a number of chassis manufacturers include McNeilus mixers as a part of their displays. Kenworth leads the way with two mixers, while Freightliner, Peterbilt, Mack, Western Star, and Volvo will each feature a McNeilus mixer.