CP Crane Takes Delivery of First Terex Crossover 8000 Boom Truck in Canada
Designed to outlift any other boom truck in North America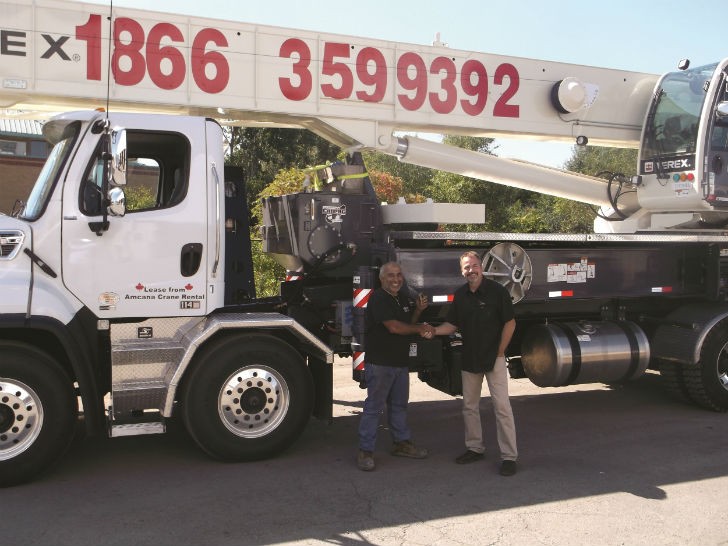 Canadian Professional Crane, Inc., (CP Crane) of Waterdown, Ontario, recently purchased a new 80-ton (72.5-tonne) Terex Crossover 8000 boom truck, the first sold in Canada. According to Aram Malek of CP Crane, the company needed a crane that could handle up to 80 tons but would also keep a small footprint and only require one operator. The Crossover 8000 boom truck met all of CP Crane's needs.
CP Crane's Crossover 8000 superstructure is mounted on a 2014 Freightliner 114SD chassis. The 114 SD chassis is built with tough components like a heavy-duty frame, a steel-reinforced aluminum cab and extremely flexible specifications.
The Crossover 8000 is configured with a 126-foot (38m) fully powered, four section boom with a quick reeve boom head and a 33- to 57-foot (10- to 17m) offset jib. The X-pattern outrigger design on the Crossover 8000 crane eliminates the need for the front stabilizer jack. This decreases overall crane length and weight. The Terex Crossover 8000 crane is also equipped with a quick-reeving hook block featuring five sheaves to offer its maximum capacity, giving it the flexibility to handle some complex lifts. With these features, the Crossover 8000 provides CP Crane with the strongest lift capacity of any boom truck available in North America.
"Thanks to the crane's capacity and boom length," says Mr. Malek, "CP Crane is able to take on more jobs with the new Crossover 8000. The additional capacity and the compact footprint allows us to lift massive loads in tight areas, giving us an edge over our competitors. And, having one operator on the job saves us a considerable amount of expense we would otherwise have to incur when using a crane that can handle this amount of weight."
Other factors that weighed into CP Crane's purchase was that the Crossover 8000 crane has minimal weight per axle and travel speeds of up to 70 mph (113 km/ hr), enabling the company's crews to drive the crane directly to most work sites. CP Crane's Crossover 8000 also carries full counterweights on board, so there is no need for a separate shipment or the headache of adding and removing the weights for transport. And, because the Crossover 8000 boom truck does not require a front stabilizer jack, CP Crane's setup time will be considerably reduced.
The company purchased the new Crossover 8000 boom truck from Cropac Equipment Inc., a Terex Cranes distributor they have worked with before. "Cropac is a company with a reputation for carrying only quality equipment, and our work demands zero downtime and efficiency," says Mr. Malek. "CP Cranes has always stood by Cropac and we know Terex has a reliable and durable product, which is a key to running a successful crane rental operation. In our fast-paced industry, no one can afford any downtime."
Cropac searches throughout the world for products that offer customers crane solutions to suit their budgets. They have three state-of-the-art, full-service facilities in Oakville, Ontario, Nisku, Alberta and Laval, Québec.
Introduced at CONEXPO-CON/AGG in March, 2014, the new Terex Crossover 8000 blends truck crane and boom crane designs to offer a 360-degree load capacity that outlifts any other boom truck in North America, the company says. It offers almost identical load ratings throughout most lift situations, regardless if lifting from the front, rear or sides of the crane.
Designed for optimum performance over a broad range of applications including construction, road work, equipment placing and maintenance and rental services, the Crossover 8000 crane's four-section main boom offers a 189-foot (57.6m) maximum tip height at a 126-foot (38m) length. Two available jib designs – fixed length of 33 feet (10 m) and extendable to 57 feet (17 m) – offer 0-, 15- and 30-degree offset positions, providing easy reach when lifting over objects.
The unique X-pattern outrigger design also allows for enhanced all-around lift capabilities. This feature lowers the overall centre of gravity and isolates the crane's upper structure from the truck chassis, reducing chassis torsion and extending its lifetime. The X-pattern outrigger positioning also eliminates the need for the front stabilizer jack, decreasing the crane's overall length and weight. The crane's three-position outrigger has a position span from a minimum 6.5 feet (2 m) to 19 feet 9.3 inches (5.9 m) in the middle up to a maximum 26 feet (7.9 m). This allows the Crossover 8000 boom truck to be used in confined spaces and further enhances the crane's maneuverability.
The Crossover 8000 is the first boom truck to feature the latest Terex operator's cab, designed to boost productivity and comfort. Moreover, an infinitely-variable tilt-up operator cab of up to 18 degrees delivers improved vision of the work area.
Crane services
CP Crane provides crane services to Southern Ontario and beyond. In order to select the appropriate equipment required to complete every job in the most economical, timely and safe manner, CP Crane offers expert personnel and machinery based only on the costumer's needs and time constraints.
The company supplies boom truck operators who operate trucks with capacities up to 80 tons and reach a height of up to 167 feet. CP Crane's equipment is available for rental by day, week or month, and customers are supplied with a certified hoisting engineer if required. CP Crane also offers no-minimum hourly rentals, no overtime rate charges, and no fuel surcharges for boom truck rentals, which give them an edge over the competition.
CP Crane is very focused on job site safety. All equipment is inspected daily by hoisting engineers and all equipment is inspected annually by independent professional engineers to make sure they can provide the safest equipment possible.