Volvo Penta Powers The World's First Hybrid Wood Chipper
Wood chippers have traditionally been powered by engines alone, but Kesla Oyj has recently created the world's first diesel-electric hybrid, containing a Volvo Penta TAD572VE.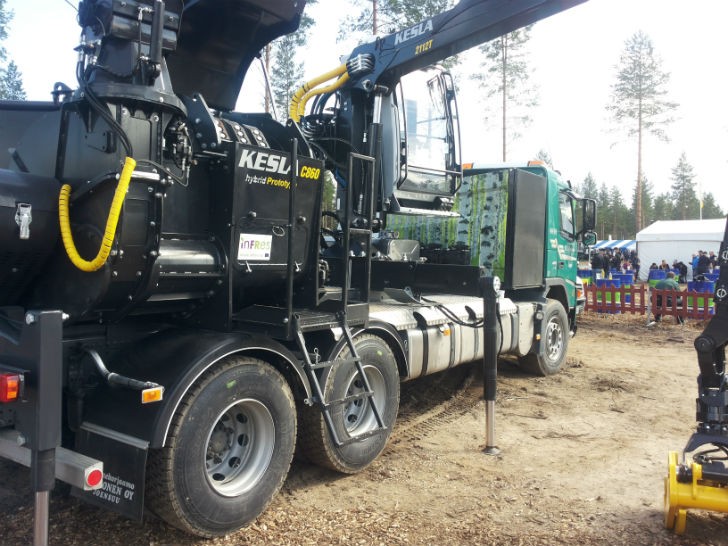 Finnish forest technology manufacturer KeslaOyj presented its Kesla C860 wood chipper at the FinnMetko exhibition in Jämsä, Finland, late last month. The revolutionary machine is fitted with a Volvo Penta TAD572VE industrial diesel engine and an electric motor, making it the world's first diesel-electric hybrid wood chipper. Currently hybrid engines are still rare in industries that require heavy machinery. As with hybrid automobiles, the wood chipper utilizes electricity as an alternative energy source.
"Volvo Penta has always played an active part in innovative advancements in new technology, both on land and at sea," Jonas Nilsson, Volvo Penta's industrial sales manager for Nordic, Baltic and Benelux, explains. "Volvo Penta is proud to partner with Kesla Oyj on this project."
"Using a Volvo Penta engine offers reduced exhaust emissions; the SCR technology and light EGR also contribute to excellent combustion and low fuel consumption. In addition, the TAD572VE also complies with EU Stage IV/EPA Tier 4 Final emissions standards." Volvo Penta SCR technology is a simpler, more straightforward solution for customers. Because reducing NOx and PM emissions to Stage IV levels could be achieved with just SCR, DPF wasn't needed.
The Volvo Penta engine contributes to the Kesla C860's improved handling, drive comfort, wood chip quality and overall safety. A hybrid system, such as the one used in the Kesla C860, offers an estimated 20 to 40% lower fuel consumption compared to a traditional wood chipper.
The big reveal
The first version of the hybrid wood chipper was presented at FinnMetko 2014; the next step will be the machine's testing phase, before the Kesla C860 is released for general sale in 2015. "The hybrid wood chipper's testing will begin right after the fair," Karl says. "The technology is new, so we want to ensure its suitability and develop it further before initiating sales."