Atlas Copco Hydro Magnet picks profit from demolition waste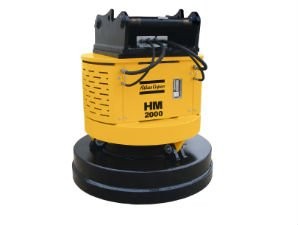 Atlas Copco's Hydro Magnet is the latest addition to its line of hydraulic attachments for recyling plants, scrap yards and the demolition industry. Hydro Magnets quickly and easily separate valuable iron and steel from concrete waste for subsequent recycling. The Hydro Magnet can be simply installed on a carrier with an exisiting uni-directional auxiliary circuit with a signal line to power and control the magnet, so there is no need for a generator or electric cables from the carrier. Hydro Magnets are available in two versions, as a fixed magnet (F) or a mobile (M), where the magnet is attached by the use of a chain. Load capacities range from 617 lb. (280 kg) up to 16,535 lb. (7,500 kg).
In the Hydro Magnet, hydraulic power provides flow and pressure by means of a sophisticated flow divider to an onboard hydraulically driven generator. Highly activated voltage rapidly reaches the magnetic strength to attract a large amount of ferrous material and hold it firmly in place. A rapid alternation of the polarity accelerates demagnetization, resulting in fast material drop and a magnet plate free from even small pieces of steel.
The optimized power/weight ratio and intelligent interaction between all integrated components in the attachment offers optimal handling performance. The overall result is a faster collection and loading process.
The electronically controlled generator is made of corrosion-free alloy and has a digital controller in a waterproofed body. Atlas Copco's digital generator control technology gives a magnetization and demagnetization process cycle that is up to 25 percent shorter than conventional magnet controllers. This, in turn, lowers fuel consumption and increases the volume of processed material. The digital controller also protects the Hydro Magnet against the risk of damage caused by short circuiting, overheating or excessively high or low revolutions of the generator.
All key components of the Hydro Magnet are integrated into a compact design, and the magnet plate is made to handle harsh environments. A hermetically sealed steel case protects the magnet coil against mechanical and enviromental effects, and an external Hardox steel ring protects against wear. The large steel surface compensates for temperature increases.
A multi-functional diagnostic panel in a waterproofed body indicates current working status and potential faults for troubleshooting. No special maintenance is needed apart from periodic inspections of the mounting hardware and eletrical cable connections between the generator body and the magnet plate.
Using Hydro Magnets to collect ferrous material remaining in the demolition pile not only means more profit but also reduces the risk of damage to crushers, conveyor belts and other jobsite equipment.