Sany SCC8150 165-Ton Crawler Crane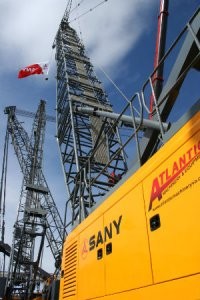 With a rated lift capacity of 165 U.S. tons (150 metric tons), the Sany SCC8150 crawler crane fills a strategic position in the company's crawler crane lineup midway between the 110-ton (100-metric-ton) SCC8100 and 220-ton (200-metric-ton) SCC8200 machines.
The SCC8150 crawler crane achieves its maximum lift capacity at a radius of 16.1 ft (4.9 m). It may be configured with either a main boom that reaches up to 269 ft (82 m) or a fixed jib up to 102 ft (31 m) long. A fuel-efficient, 340-hp (316-kW), Tier 4 interim-certified Cummins engine powers the SCC8150 crawler crane. A 325-hp (242-kW), Tier 3 Cummins engine also is available.
The SCC8150 is a competitively priced, high performance crane that meets the needs of an important market segment," said Kyle Nape, senior vice president, Sany America lifting group. "Our new crane gives contractors the combination of control, performance, operator comfort, power and dependability they need in a 165-ton model."
The Sany SCC8150 crawler crane offers superior control and reliability through its Rexroth hydraulic system, including the main pump, main valve and servo control. Independently driven drums include hydraulically powered planetary gears. And the hydraulically driven swing system provides 360-degree rotation.
"Including the SCC8150 and the new SCC8100TBXL that we're introducing at CONEXPO-CON/AGG, Sany has brought ten new models to this marketplace since 2010," Nape said. "We're demonstrating our commitment to the North American market through this impressive record of machine design, development and production."
Porsche-designed UltraCab 2 Provides Operator Comfort, Control
Operators will find a combination of comfort, control and safety features in the Porsche-designed Sany UltraCab 2, which provides enhanced ergonomics, large windows for clear visibility, heat and air conditioning, and well-placed function screens and video monitors to enhance operator control.
Other key capabilities include a boom-elevation device, emergency stop of all functions, two externally-mounted cameras to monitor machine operations, aircraft warning light on the main boom, and "shove-off" protection that prevents the machine from working unless the operator is seated in the cab.
Sany-designed and manufactured electrical and intelligence systems on the SCC8150 crawler crane ensure quality, efficiency and high performance.
Independently driven crawler assemblies enable forward and reverse travel, pivot steering and counter rotation. Outfitted with up to 1,148 ft (350 m) of high-quality, 1-in (26-mm) Diepa Rope, the rated line pull of the crane's main winch is 29,542 lb (13,400 kg) and maximum line speed of 580 ft (177 m) per minute.
Without track frames and with boom butt, the Sany SCC8150 weighs 99,208 lb (45,000 kg), and measures 53.5 ft (16.3 m) long and 11.5 ft (3.5 m) wide. Its basic height is 10.5 ft (3.2 m). It is available with up to 162,918 lb (73 898 kg) of counterweight.
Company info
Related products