Stellar Slider20-S Sliding Jib Hooklift Offers Versatility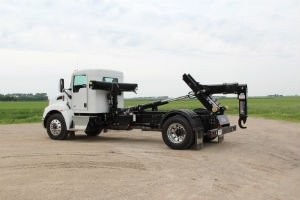 Stellar Industries, Inc. is highlighting the Slider20-S Hooklift. This versatile 20,000-pound capacity sliding-jib hooklift can handle container variations of 10' to 14' and up to 16' flatbeds. It has a maximum dump angle of 60-degrees.
Hook height options for the Slider20-S include a fixed 36", a fixed 54", or a hydraulically adjustable 36" to 54" hook height. Adjusting the hook height to accommodate varying container heights can be done in less than 7 seconds without ever leaving the cab. The Slider20-S is compatible with a multitude of bodies and containers, including those used on competitive brand hooklifts, making this a very attractive model for a customer operating a variety of body lengths and hook heights.
Other standard features of the Slider20-S include hexagonal boom design for added strength and durability, zinc plated pins to prevent corrosion, bushings and grease zerks at all pivot points, and a secure hose track for the hydraulic adjustable jib. The Slider20-S hooklift features easily replaceable wear pads, and a new efficient mounting kit that will save installation time by using slotted brackets already painted and welded onto the hooklift base. In addition, as a result of a new paint process at Stellar Industries, the full line of Stellar® demountable equipment undergoes a pre-paint bead blasting treatment to remove any residual weld spatter and properly prep the weldment surface prior to priming and painting with the standard two-part polyurethane paint.
"The Slider20-S really bridges the gap between lower capacity hooklifts that handle the 10' to 14' container range and the need to increase the lifting and dumping capacity," says Glenn Rasmus, Stellar Industries sales and product manager for demountables. Rasmus adds, "In addition, the hydraulic adjustable hook height is changed in 7 seconds without leaving the cab. This is a feature customers are raving about! Stellar continues to provide solutions to customer's problems with resounding success, leading the way as a hooklift innovator." Rasmus concludes, "With over 55 different models of hooklifts available, which includes standard double pivot shuttles, single pivot, and sliding jib versions, Stellar Industries can cover your every need."