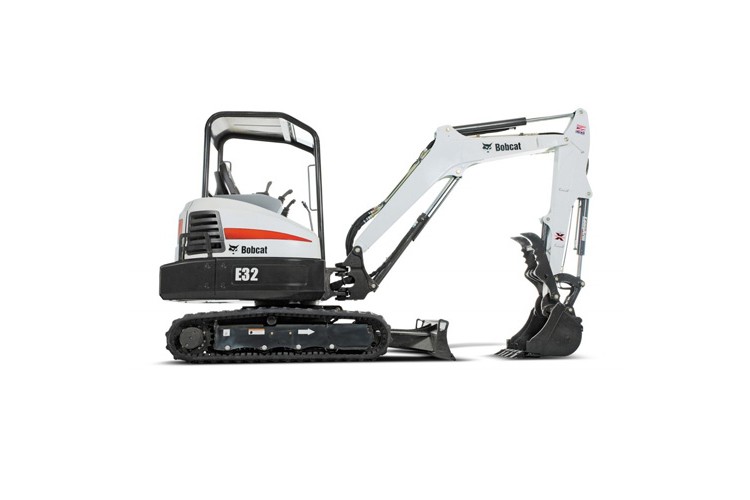 Part of the 3-4 ton size class, the Tier 4-compliant Bobcat® E32 compact excavator (mini excavator) delivers powerful performance with a conventional tail swing. The E32, which is narrower than the E35, is ideal if you frequently work around width restrictions such as doors or gates. Boost your digging performance with the long arm option or a clamp-ready extendable arm option.
Features & Benefits
Reliable product design
The boom structure has been remodelled to provide longer life, utilizing a "4-plate box" structure with internal gussets. It reduces weight, yet provides a stronger, more durable and reliable structure.
Undercarriage
The undercarriage has been improved through new sealed track rollers, a top roller and wider sprockets that have proven to provide higher durability and thus a significantly longer service life, resulting in lower operating costs for the end user.
Smoother workgroup control and superior hydraulic performance
Customer behaviour has changed in the last few years. The customer requires a mini-excavator that is not only very productive but also allows him to carry out the most precise jobs very carefully and fingertip-controlled.
Smoothness with unreached hydraulic performance
he new load-sense piston pump and the closed-centre control valve create a hydraulic system that delivers an exceptional metering for smooth control of all machine functions, while reducing "hydraulic noise".
More ergonomic design
The ergonomic travel controls with new cast aluminum travel pedals are optimized for foot placement, and afford smooth, confident control of the machine. When not in use, the travel pedals can fold forward for maximum foot room and easy cab clean-out.
Enhanced visibility
All-round visibility has been drastically improved. The E32/E35 have a 360° visibility with full view of the right track and the rear of the cab.
Brand new auto-idle
The auto-idle, which can be activated at the operator's discretion, automatically causes the engine to drop to idle if the excavator functions are not used for a period of about 4 seconds.
No compromises on operator space
Both the canopy and cab not only offer ample foot and leg room but also an extremely comfortable work environment. The cab version is equipped with heating or HVAC and radio/MP3 ready installation.
New auto-shift
The machine will shift in/out automatically from low to high speed or vice versa, giving the feel of a superb travel performance in all possible working conditions.
Specs
Key Specifications

| | |
| --- | --- |
| Operating Weight | 7,183 lb (3258 kg) to 8,089 lb (3669 kg) |
| Horsepower | 33.5 hp |
| Bucket Digging Force | 6,968 lbf (30,995 N) |
| Tail Swing Type | Conventional |