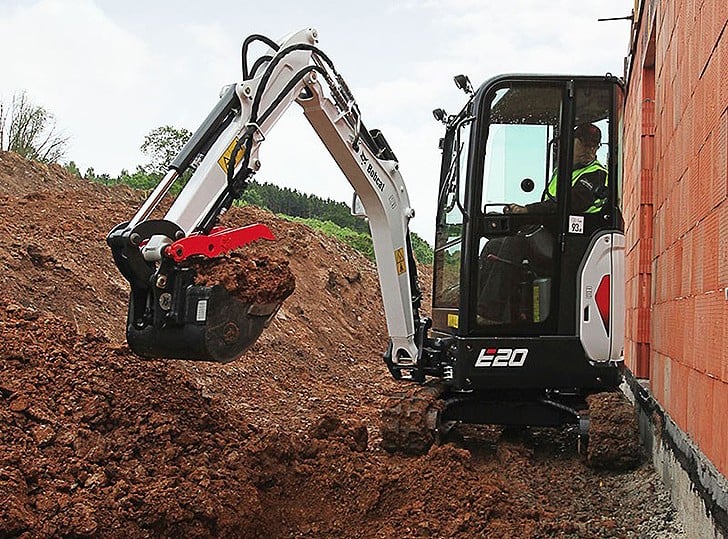 The Bobcat® E20 compact excavator (mini excavator) delivers impressive performance in tight areas with minimal repositioning. Hydraulically retract the undercarriage to only 39 inches to travel through gates or between homes, then expand to 54 inches for a wider footprint and greater performance. Equipped with a Tier 4 engine, the E20 has zero tail swing for versatility and maneuverability on the most compact of jobsites.
Features & Benefits
Selectable Auxiliary Hydraulic Flow
Three flow rates help you optimize the response of hydraulic attachments such as PowerTilt® and Hydra-Tilt™ swing accessories, clamps, grapples, hydraulic breakers and auger attachments.
Selectable Control Pattern
Easily change between "excavator" and "backhoe" patterns. No keys are required.
Auto-shift
Auto-Shift travel shifts the machine out of high range and back automatically, offering superb travel performance without having to manually downshift.
Fingertip Boom Swing Control
Bobcat® excavator controls allow you to make fine movements with low effort and maximum comfort – so you can get precise results in less time, with less fatigue.
Two-Speed Travel
Maneuver faster with the Bobcat two-speed option. The quicker you can move on your jobsite, the faster you can complete your work. Select low range for pushing and dozing and high range for increased jobsite mobility.
Retractable Undercarriage
Squeeze through the tightest workspaces by retracting the track on the Bobcat® 418 and E20 compact excavators. The hydraulically activated retractable undercarriage is ideal for access through gates and doorways.
In-Track Swing Frame
Bobcat® compact excavators are engineered to operate in the smallest of workspaces. All models feature the exclusive In-Track Swing Frame, which allows you to get closer to your work.
Protected Machine Components
Exposed hoses, weak components and inferior design may mean a trip to the shop when you need your machine the most. Bobcat® compact excavators are equipped with a durable tailgate, protected hydraulic lines, smart hose routing and a redesigned workgroup.
Minimal and Zero Tail Swing
For greater flexibility, choose a zero tail swing model; the rear of the house stays within the width of the tracks through full rotation. Slew and deposit soil where you need it, and reposition the machine fewer times.
Keyless start
The simple option ensures no time is lost on your worksite if you or your employees forget the keys in the shop. Start your machine by simply entering a set code number and pressing the start button.
Integrated Slew Brake
Integrated slew brakes hold your load steady on slopes for more accurate placement. It's easier to position the excavator, and you no longer need to manually engage the slew brake during transport.
Cab comfort
M-Series models continue the Bobcat tradition of comfortable, operator-focused machines. Enjoy more cab space, advanced climate control and reduced noise levels.
Ergonomic controls
Operator-friendly, ergonomic controls keep you productive all day long. Control attachments with precision, flexibility and low fatigue. Grade, level and backfill with less operator input. Head to the next jobsite using the one-hand travel control.
In-Cab Pattern Selector
A pattern selector allows you to change from an "excavator" to a "backhoe" control pattern. No keys or special tools are required.
Hydraulic Joystick Control
The hydraulic joystick control on the Bobcat® excavator delivers smooth, fluid operation and increased efficiency.
Centralized grease bank
A centralized grease bank makes fast, simple work of lubricating the slew bearing and slew pinion. With the large opening, it's simple and easy to reach the well-protected grease cylinder fitting and complete track tensioning.
Specs
Key Specifications

| | |
| --- | --- |
| Horsepower | 13.9 hp |
| Bucket Digging Force | 4,684 lbf (20,835 N) |
| Operating Weight | 4,306 lb (1,953 kg) |
| Tail Swing Type | Zero |