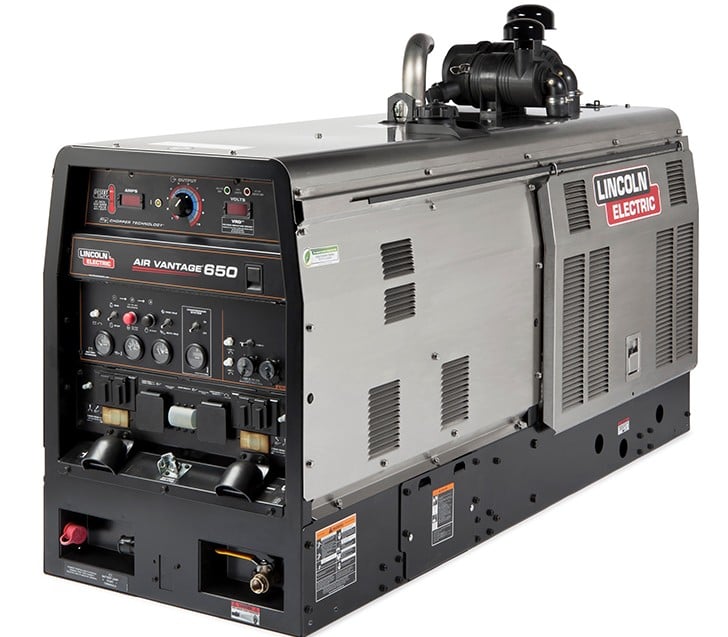 For repair work in the mining industry and other heavy duty applications, the Air Vantage® 650 responds to high output demands! Excellent for arc gouging with up to 1/2 in. (12.7 mm) carbons. Also supports large diameter wire welding with up to .120 in. (3.0 mm) Innershield® NS-3M and most 3/32 in. (2.4 mm) Lincore® hardfacing wires.
Features & Benefits
Rotary Screw Compressor
VMAC® brand rotary screw air compressor rated at 60 SCFM, 100 PSI, 100% duty cycle, delivers abundant air for arc gouging with up to 1/2 in. (12.7 mm) carbons, plasma cutting and air tools such as an impact gun.
Multi-Process Welding, Separate Arc Gouge Mode
Select one of five process modes, including CC-stick, downhill pipe (for stick), DC Touch Start TIG®, CV-wire or arc gouging mode which maximizes output with up to 1/2 in. (12.7 mm) carbon rods.
Plenty of AC Generator Power
20 kW continuous 3-phase 240V AC generator power will operate industrial equipment such as plasma cutters, pumps, inverter welders and grinders. 12 kW continuous 1-phase AC generator power for common construction tools and lights.
Stainless Steel Enclosure
Standard stainless steel roof, side panels and engine-access door deliver added protection, durability and corrosion-resistance. Eliminates need to replace these items due to paint damage or rust.
Reliable Engine
4 cylinder 1800 RPM Cummins® turbocharged diesel engine runs smooth and quiet.