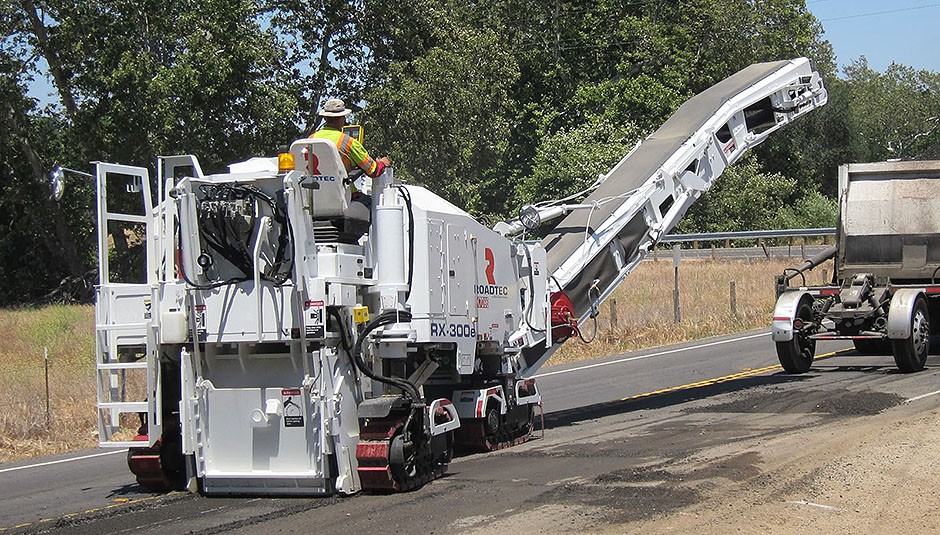 Roadtec's RX-300 compact milling machine combines maneuverability with high performance to easily operate in a wide range of applications. With a base cutting width of 48" (1.2 m) and the capability of cutting up to 12.5" (220 mm) deep, the RX-300 is excellent for both commercial applications and narrow milling projects. 100° load-out conveyor swing capability allows the machine to easily discharge material in a wider range of environments.
Features & Benefits
Cutter drum
The highly efficient hydraulic drum drive provides exceptional performance while reducing maintenance time.
OPERATOR COMFORT
The enhanced visibility and operator seat provide a high level of comfort on the RX-300. The simple control layout at the makes the operation more convenient and efficient.
DUAL WATER SPRAY BARS
Roadtec milling machines have two independent spray bars to inject water in the cutter housing. The front spray bar is primarily for dust suppression, the rear spray bar cools the cutting teeth.
VERSATILITY
The secondary conveyor of the machine swings 50° to each side allowing the operator to easily feed a truck in difficult areas such as cul-de-sacs.
FOLDING CONVEYOR STANDARD
A folding secondary conveyor comes standard on the RX-300 milling machine models to aid in transport and loading.