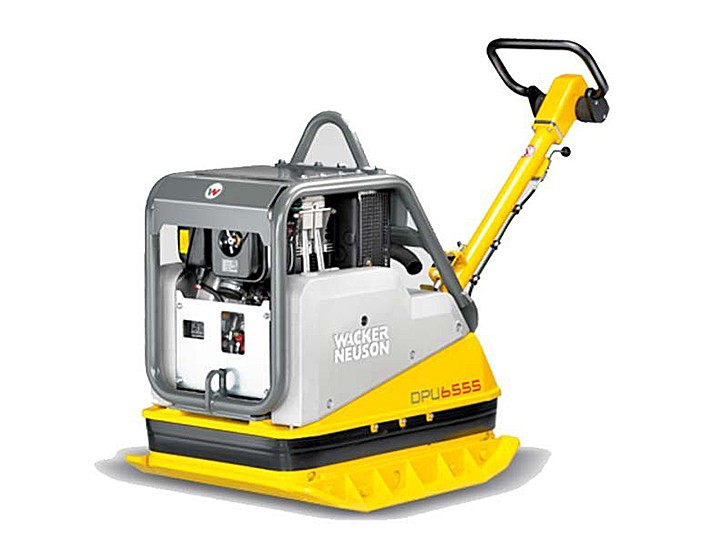 Thanks to its enormous compaction force combined with a quick forward and return travel, the DPU 6555 offers an extremely high level of productivity. It is a very versatile machine for all construction sites where extreme demands are placed on the performance efficiency of a unit. In addition, it offers excellent characteristics in terms of service life and operating comfort. Optimal application areas are the compaction of frost coverings and sub layers in street, path and parking lot construction as well as backfilling buildings. Thanks to a frequency of 4,140 vibrations per minute/69 Hz, the DPU 6555 is universally applicable and even reliably compacts heavy interlocking paving stones. The DPU 6555Hec is equipped with Compactec, the compaction control by Wacker Neuson. This is also available as a retrofit kit for all DPU 6555He models.
Features & Benefits
Speed control
Intuitive guide handle concept: By simply moving the handle forward and backward, the operator changes the driving direction and controls the speed.
Safety
An operator present system prevents the operator from being trapped between the unit and an object when working backward.
Ease of Operation
Extensive comfort functions, such as low oil shutdown, self-adjusting V-belts, maintenance-free alternator.
Engine
A large dimensioned diesel engine offers high power reserves and ensures for a high level of efficiency and long service life. Optionally available with a recoil starter of electric starter.
Compatec
Compatec: Easy to read display of the relative compaction progress. Warning for overload and overcompaction. Brightness adjustment of the lights to the ambient light. Extremely robust and reliable.